Storm Forecast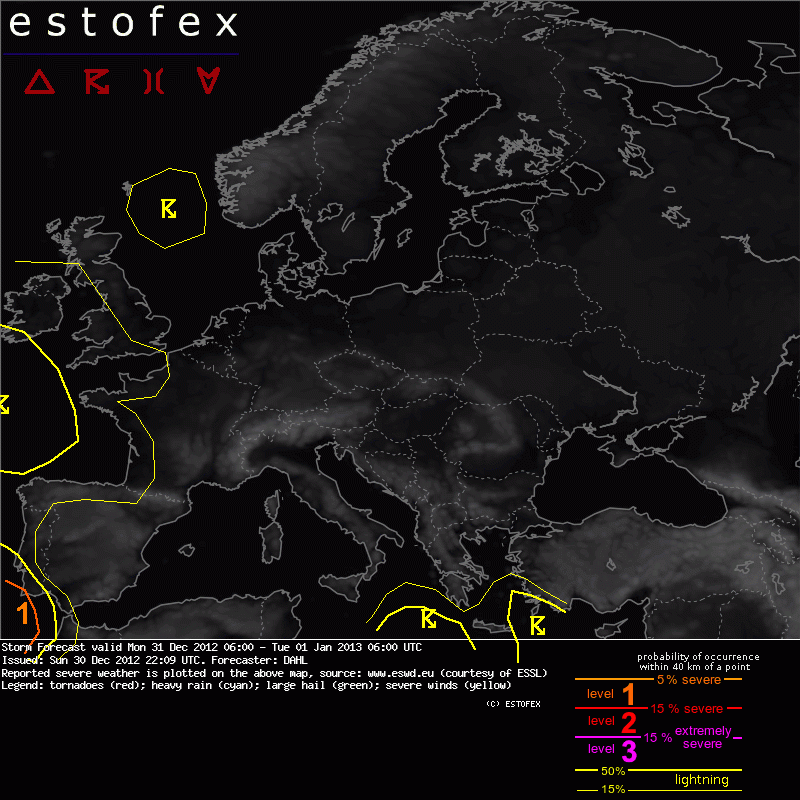 Storm Forecast
Valid: Mon 31 Dec 2012 06:00 to Tue 01 Jan 2013 06:00 UTC
Issued: Sun 30 Dec 2012 22:09
Forecaster: DAHL
A level 1 was issued across parts of the Atlantic Ocean off the Iberian coast mainly for severe wind gusts and hail.

SYNOPSIS

A wavy upper flow pattern persists on Monday, with a deepening longwave trough reaching western Europe late in the period. Ahead of this trough a plume of warm air is spreading across western and central Europe. A weakening upper low persists over the Aegean region.

DISCUSSION

... southern Ireland ... southern UK ... northern Iberian Peninsula ... French Atlantic coast ...

Showers and thunderstorms are anticipated to persist near the thermal trough axis over the Atlantic. Although the storm depth should become progressively more shallow as the system moves eastward, scattered lightning may still occur over the Bay of Biscay and adjacent coastal areas in the evening and overnight hours. It seems that there may be a small spatial overlap of decent shear (> 20 m/s DLS and > 10 m/s LLS) in the coastal regions of S Ireland/S UK and from NW Iberia to N France. This suggests that there may be a small risk of a few brief severe weather events, including a tornado or two. However, the threat is not robust enough to warrant a level 1 area.

... extreme southern Portugal ... extreme southwestern Spain ...

GFS advertises some CAPE also farther south within the theta-e plume ahead of the upper trough. DLS in excess of 20 m/s will exist over the western portions of the pocket of positive CAPE, which briefly skirts southern Portugal and extreme southwestern Spain early Tuesday morning. A chance of marginally severe wind gusts and some hail will exist with the strongest cells, with the severe threat maximized just offshore.

... southern Mediterranean regions ...

Scattered thunderstorms should persist underneath the Mediterranean upper low. Instability and shear parameters suggest a rather low severe threat. However, a waterspout or two cannot be excluded.