Storm Forecast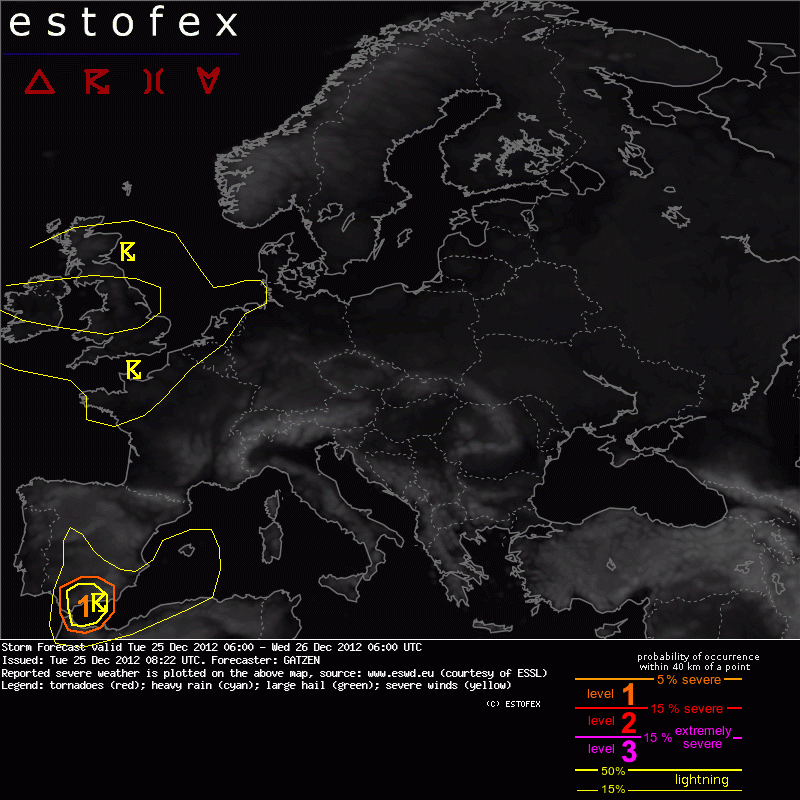 Storm Forecast
Valid: Tue 25 Dec 2012 06:00 to Wed 26 Dec 2012 06:00 UTC
Issued: Tue 25 Dec 2012 08:22
Forecaster: GATZEN
A level 1 was issued for southern Spain mainly for severe wind gusts.

SYNOPSIS

A deep trough moves into Europe today, the cold front will extend from eastern Poland to the eastern Alps to the west Mediterranean Sea at the end of the period. Ahead of this cold front, an unseasonably warm and moist air mass has been advected into west and central Europe. A broad warm air advection regime is located downstream across eastern Europe.

DISCUSSION

Spain and west Mediterranean

A cold front is crossing Spain from the west. Ahead of this cold front, a tongue of very rich boundary-layer moisture has spread into southern Spain in the morning hours. Low-level mixing ratio is as high as 9 g/kg. 00 UTC Casablanca sounding also indicates the presence of steep mid-level lapse rates between 850 and 600 hPa, resulting at least in weak CAPE. The large capping layer in Casablanca has obviously disappeared across western Spain where numerous thunderstorms have been reported in the morning hours. The lift associated with the advance of the trough and cold front is expected to spread eastward during the next hours. Steep lapse rates are also expected, whereas latest observations indicate strongly decreasing low-level moisture. As a consequence, storms are expected to weaken in the next hours and may disappear later on. Along the southern coasts, more substantial moisture can support deep moist convection along the cold front.

Strong vertical wind shear in excess of 15 m/s in the lowest 3 km can support storms organization, and multicells are likely. Given the weak CAPE, large hail is not likely and rather weak low-level winds do also not support a severe wind threat. However, a few isolated events are not completely ruled out. Additionally, a brief tornado may be possible given the strong (10 m/s) low-level vertical wind shear. Rather weak low-level buoyancy reduces this threat, though.

Late in the period, the trough will move into the west Mediterranean. As it weakens, lift and vertical wind shear will also decrease, leading to a weak potential of storm organization. Storms are expected to develop to the south of a cold front reaching the Balearic Islands at the end of the period.

The Channel region, Benelux countries

Western Europe is affected by a strongly-forced synoptic situation today. Latest water vapor satellite image indicates a dark region associated with the cyclonically-sheared flank of the mid-level jet stream. Strong QG forcing is expected and low-level winds have turned to south ahead of the cold front. A tongue of rich low-level moisture (6 g/kg) and neutral to slightly unstable lapse rates have lead to CAPE in the order of 200 J/kg as indicated by latest Brest sounding.

Latest radar images indicate groups of thunderstorms that have developed across the Channel region moving north-eastward. Although a line of thunderstorms did not evolve, storms may organize in the strongly sheared environment, and bowing segments are not ruled out. These may be capable of producing severe wind gusts given strong low-level winds and vertical wind shear (10-15 m/s in the lowest kilometer). However, the potential seems to be too low for a risk level. Main convective activity is expected to spread into the Benelux countries before the trough weakends across the North Sea and north-western Germany.

Across the British Isles, another trough will lead to QF forcing in a convectively mixed air mass from late Tuesday into early Wednesday. Showers and thunderstorms are expected. Given the strong vertical wind shear, isolated severe wind gusts are not ruled out. Tornadoes seem to be rather unlikely given the relatively weak low-level moisture.