Storm Forecast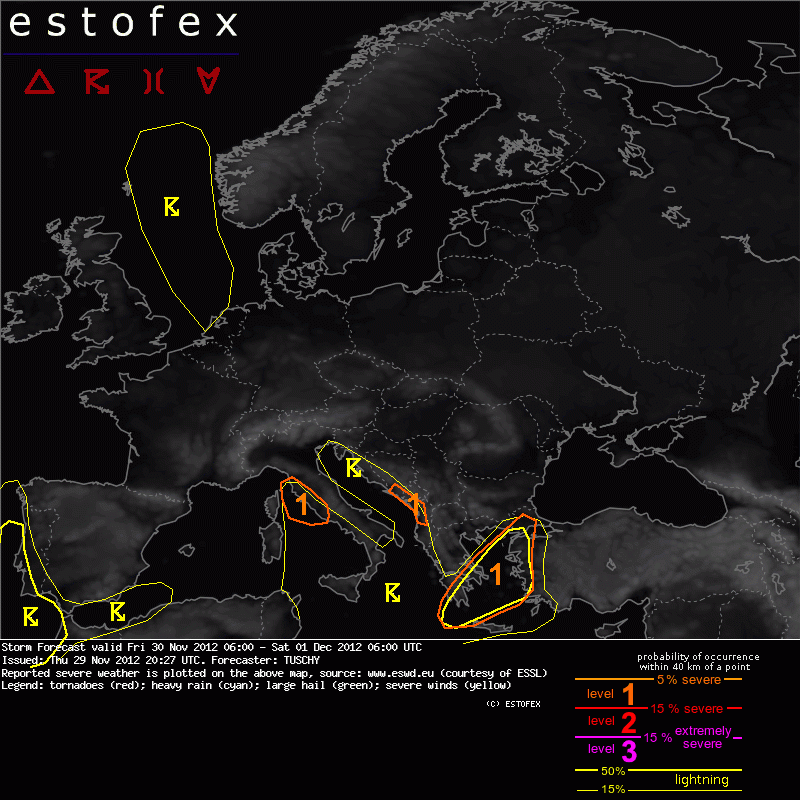 Storm Forecast
Valid: Fri 30 Nov 2012 06:00 to Sat 01 Dec 2012 06:00 UTC
Issued: Thu 29 Nov 2012 20:27
Forecaster: TUSCHY
A level 1 was issued for the Aegean Sea and SE Greece mainly for isolated large hail, severe wind gusts, heavy rain and an isolated tornado event.

Level 1 areas were issued for parts of the E-Adriatic Sea (heavy rain) and NE Tyrrhenian Sea (heavy rain and an isolated waterspout risk).

SYNOPSIS

A broad branch of the polar vortex covers most of Europe with cold air advecting far south. Disturbances along its fringes mark the foci for thunderstorm development. Isolated lightning activity is forecast over the North Sea beneath very cold mid-levels.

DISCUSSION

... Aegean Sea and adjacent areas ...

Brisk SW-erly flow affects the area of interest with DLS in excess of 20 m/s and enhanced LL shear mainly along the coasts. GFS evolves a weak wave/low south of Greece during the night, which moves to the northeast and results in enhanced backing of the LL wind field (increasing directional shear). Rich BL moisture and drier / cooler air atop assist in 500-1000, locally up to 1500 J/kg MLCAPE and therefore long-lived and deep convection is likely.
Well organized multicells race from SW to NE and produce severe wind gusts, isolated large hail and heavy rain. Given improving LL shear, an isolated tornado event is possible, too. Isolated excessive rainfall amounts can't be ruled out mainly along the coasts of the NE/E Aegean Sea with repeatedly onshore moving showers and thunderstorms.

... C-Mediterranean ...

Placed beneath cold mid-levels, isolated to scattered CI is forecast. The main activity is sub-severe, however, a few level 1 areas were issued to cover a heavy rainfall risk along the coasts and a waterspout risk north of the Tyrrhenian Sea.

Scattered thunderstorm development also occurs west of the Iberian Peninsula, but despite isolated marginal hail, nothing severe is expected.