Storm Forecast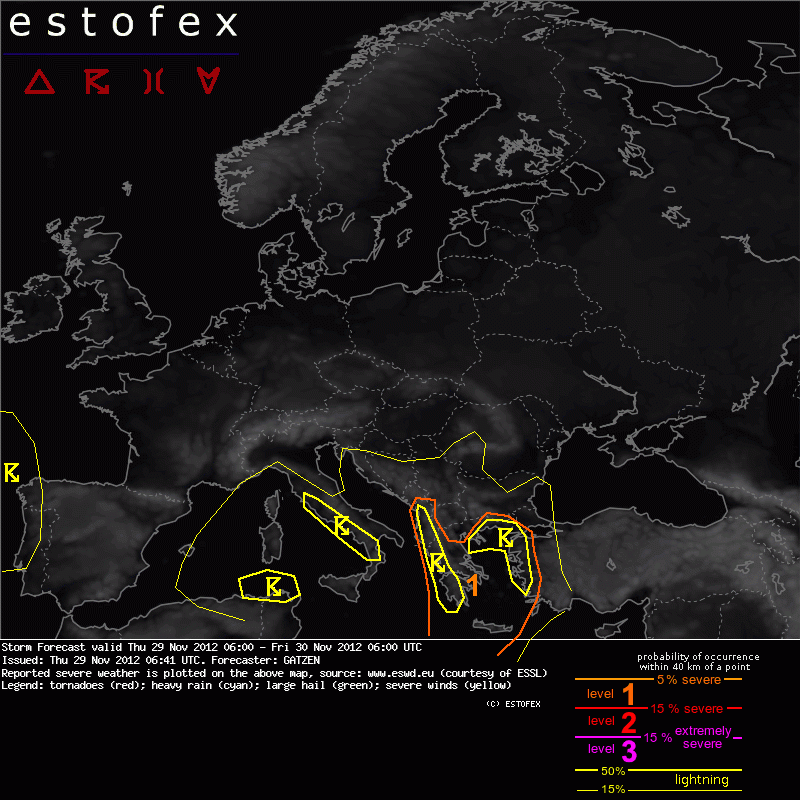 Storm Forecast
Valid: Thu 29 Nov 2012 06:00 to Fri 30 Nov 2012 06:00 UTC
Issued: Thu 29 Nov 2012 06:41
Forecaster: GATZEN
A level 1 was issued for the southern Balkans and the Aegean Sea region mainly for excessive precipitation.

SYNOPSIS

At the edge of low geopotenial across northern Europe, an intense Mediterranean trough moves north-eastward into eastern Europe today. A very strong jet streak will travel across the Balkans ahead of this trough and a tongue of warm air advects into the Black Sea region. In the wake of the jet streak, colder air masses will be present over most of the Mediterranean.

DISCUSSION

Southern Balkans, Greece, Aegean Sea region

While the main trough travels north-eastward into eastern Europe, the region is affected by a south-westerly flow. A cold front will move across the southern Balkans/Greece today and becomes quasi-stationary. Ahead of this cold front, a tongue of warm air advects northward. Especially near the Mediterranean Sea, this air mass is associated with rich low-level moisture. Additionally, latest models indicate that rather steep lapse rates are present, leading to CAPE. Strong forcing is expeced along the cold front and convective activity will go on. Backbuilding MCS and training storms are forecast to be capable of producing excessive rain as the main theat. Additionally, strong low-level vertical wind shear near the coasts may allow for embedded mesocyclones, and a tornado or hail event is not ruled out.