Storm Forecast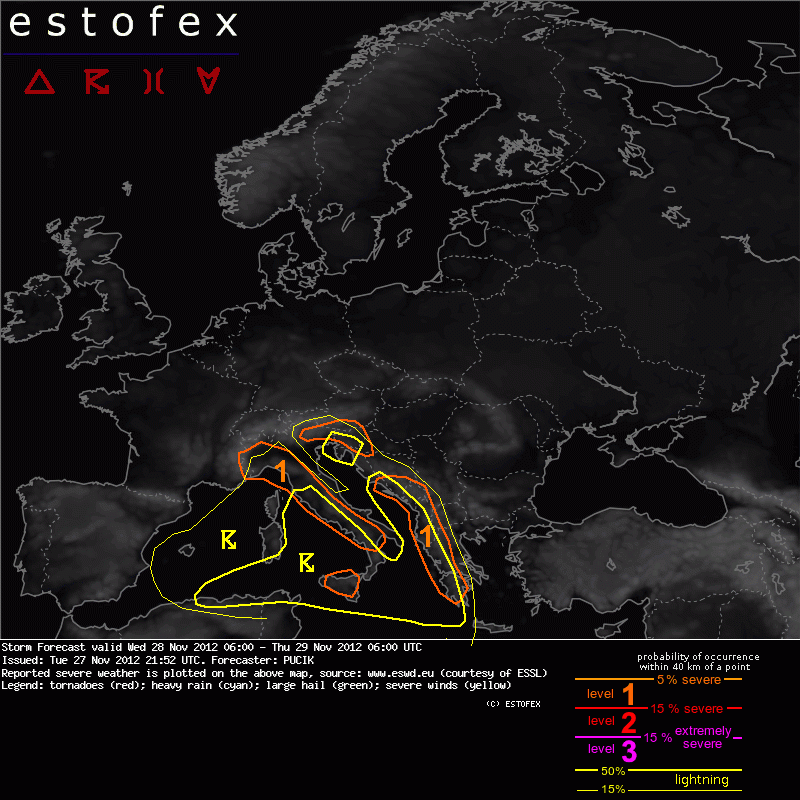 Storm Forecast
Valid: Wed 28 Nov 2012 06:00 to Thu 29 Nov 2012 06:00 UTC
Issued: Tue 27 Nov 2012 21:52
Forecaster: PUCIK
A level 1 was issued for the western coastal areas of the Central Mediterranean area mainly for excessive rainfall and to the lesser degree for tornadoes.

SYNOPSIS

Quite active period including convective weather is forecast especially over the Central Mediterranean and around the Alpine range. A deep trough will stretch from Scandinavia into the western half of Mediterranean, undergoing a slow cut-off process near its southern base. A short-wave will rotate around the base towards north/northeast, situated at the exit region of mid/upper tropospheric jet-streak. Strong forcing will contribute to the cyclogenesis over the Ligurian Sea. A quasi-stationary warm front will stretch from Austria into Poland, while the cold front will rapidly move over the Central Mediterranean. Here, widespread DMC activity is forecast. Elsewhere, conditions will be too dry or stable.

DISCUSSION

... Central Mediterranean area ...

Deepening surface low will contribute to the strengthening southwesterly to southerly low-level flow, advecting moister airmass towards north. Strong forcing, in conjuction to the falling mid-tropospheric heights will contribute to the build-up of latent instability, which should stay rather marginal (apart from the southern half of the area, where more abundant LL moisture will be present). Perpendicular flow to the western coastal areas (of the Ligurian, Tyrrhenian, Adriatic and Ionian seas) will contribute to low-level ascent, that could concentrate the redevelopment of new cells of a parallel-stratiform MCS in a certain location. Subsequent training pattern in any of these areas identified by Level 1 could result in excessive precipitation. Especially in the northern areas, stratiform rain will likely dominate, but embedded convection could greatly increase the precipitation rates. Threat will shift towards southeast as the forecast period ensues and as the cooler and drier airmass spreads behind the progressing cold-front. Also, isolated tornado event is not ruled out with the strong LLS/DLS and low LCLs during this setup. So far, Level 1 seems to be enough because of the general lack of very high LL moisture content and also quick translation of the mid-level trough, which should not allow for very prolonged heavy rainfall.