Storm Forecast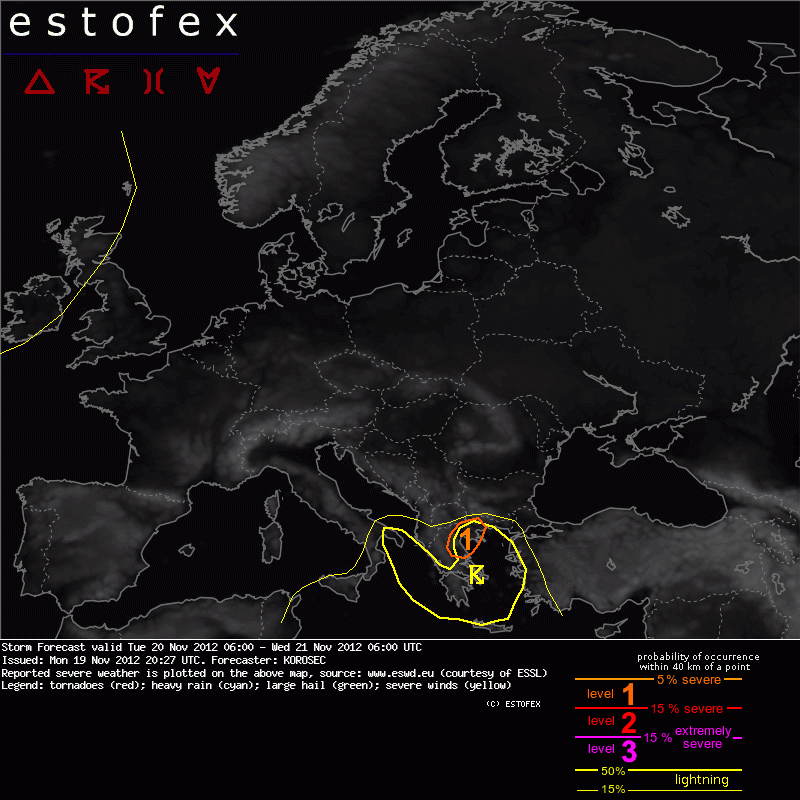 Storm Forecast
Valid: Tue 20 Nov 2012 06:00 to Wed 21 Nov 2012 06:00 UTC
Issued: Mon 19 Nov 2012 20:27
Forecaster: KOROSEC
A level 1 was issued for central Greece mainly for excessive convective rainfalls.

SYNOPSIS / DISCUSSION

Weak geopotential heights remain over S-CNTRL Mediterranean with a SFC low slowly weakening over southern Italy and Ionian sea. Persisting frontal convergence extending from western Greece towards southern Italy will be the focus for convective activity, within moderately unstable and weakly sheared environment. Some waterspouts could be possible in these areas, along with locally intense rain due to high PWAT and short storm motion vectors.

Further NE, persisting warm air advection from the SSE (Aegean sea) will be maintaining warm/unstable airmass towards central Greece wherecombination of intense orographic precipitation and convection should enhance flash floods risk. High amounts of rain are there possible. A level 1 was issued to cover this risk.

Short wave trough / cold front crosses western Europe and only some sporadic lightning activity might be possible within the cold maritime airmass over western UK.