Storm Forecast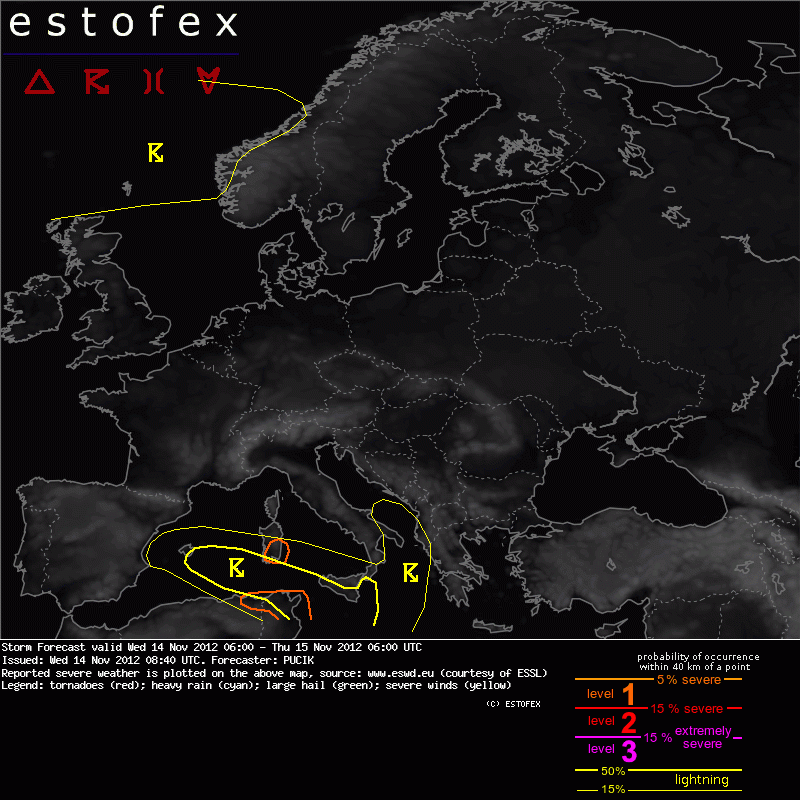 Storm Forecast
Valid: Wed 14 Nov 2012 06:00 to Thu 15 Nov 2012 06:00 UTC
Issued: Wed 14 Nov 2012 08:40
Forecaster: PUCIK
A level 1 was issued for southern Sardegna mainly for excessive precipitation.

A level 1 was issued for Tunisia coastlines mainly for excessive precipitation and to the lesser degree for marginally severe hail and tornadoes.

SYNOPSIS

An extensive surface high pressure system has began building over Central/Eastern Europe with attendant ridge at mid-troposphere stretching from Italy into Germany. Stable and dry conditions will dominate most of Europe in the forecast period. The only exception being a western coastline of Scandinavia where some low-topped, weakly electrified DMC might form ahead of the short-wave embedded in the strong zonal flow. Another focus will be a cut-off low that is moving eastwards from Algeria towards Tunisia.

DISCUSSION

... Tunisia coastlines and southern Sardegna ...

Strong forcing is expected on the northern and eastern flank of the cut-off low that should be moving eastwards. A belt of 20-25 m/s 850 hPa flow on its periphery should gradually weaken during the day. Southeasterly/easterly moist flow is advecting airmass with dewpoints between 15-20°C, while its overlap with steep mid-tropospheric lapse rates should result in roughly 500-1500 J/kg of MLCAPE. The primary threat will likely be excessive precipitation with high potential for back-building MCS (flow paralleling the forcing source) fed by very moist flow. In the morning and noon hours, strong DLS (LLS) might promote some well organised, dominant cells with slight chance of producing marginally severe hail or tornadoes. With degree of wind shear decreasing towards the afternoon, these threats should diminish.