Storm Forecast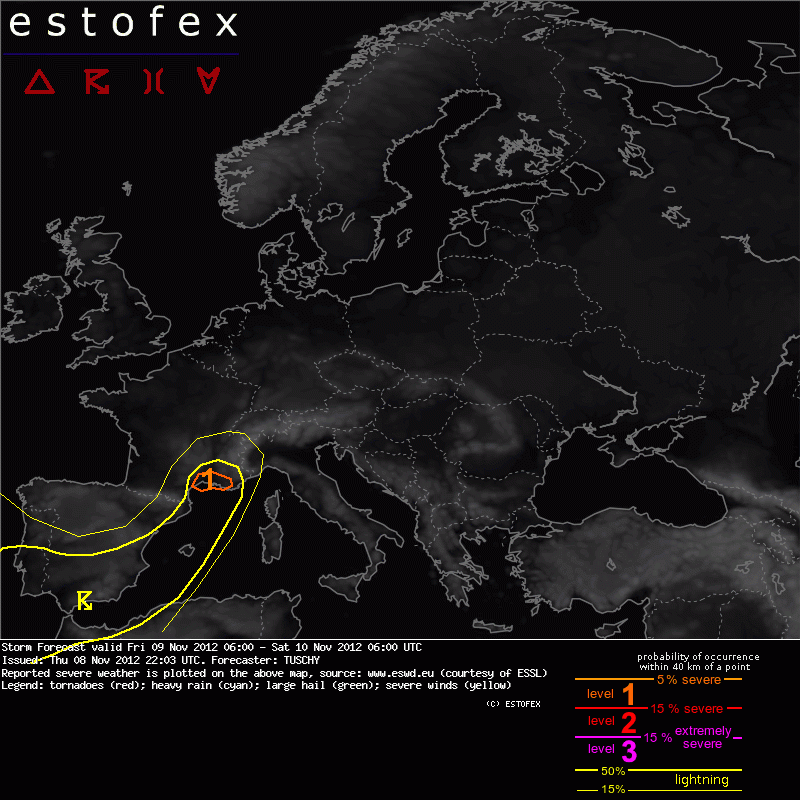 Storm Forecast
Valid: Fri 09 Nov 2012 06:00 to Sat 10 Nov 2012 06:00 UTC
Issued: Thu 08 Nov 2012 22:03
Forecaster: TUSCHY
A level 1 was issued for far S-France mainly for heavy rain.

SYNOPSIS

A cut-off approaches the Iberian Peninsula and weaves into the westerlies with a deep trough building far south over W-Europe. Ridging downstream becomes stronger with a 50 gpdm increase over C Europe during the forecast. Another trough over SE Europe evolves into a cut-off, which affects Turkey during the night.

Convective-wise, the main feature of interest will be a short-wave, which races from Spain to the NE during the day.

DISCUSSION

... S-Portugal, Spain, W-Mediterranean and S-France ...

Positive tilted trough remains in place over the Iberian Peninsula with a strong impulse racing NE-ward along its eastern fringe. Not much mid-level cooling is expected with that kind of tilt, but better moisture over the W-Mediterranean supports moderate CAPE of 500-800 J/kg offshore and a rapid decline onshore/along the coasts of Spain and S-France.

During the daytime hours, scattered thunderstorms are forecast over parts of Portugal and Spain, placed beneath cold mid-levels with modified maritime Atlantic air beneath. CAPE will be mainly elevated despite S-Portugal and S-Spain, where temporal diabatic heating and highest BL moisture may assist in a few near surface based storms. DLS in excess of 20 m/s may be adequate for a few strong storms with marginal hail and strong wind gusts, but the main activity remains sub-severe. I do not want to exclude an isolated large hail event over S-Spain, but confidence and coverage remain too marginal for a level 1. Also, repeatedly onshore moving storms may cause heavy rain with a few models showing more than 50 l/qm during the forecast in the mountains of S/SE Spain. The thunderstorm activity gradually diminishes until 00Z with longest duration over the elevated orography of SE Spain.

During the night, offshore activity over the W-Mediterranean increases and we expect scattered thunderstorm development at and noth of the Balearic Islands into S-France. Diffluent flow aloft and still strong capping signals in place point to the development of numerous elevated storms, clustering betimes and affecting the S-coast of France during the second part of the night. Heavy rain and strong wind gust will be the main hazard. A level 1 for heavy rain was issued due to some hints at temporarily training activity in case of stronger development of a LL vortex along the S-coast of France.

Further south, weak forcing but also less capping may result in isolated CI and with 20 m/s in place, we would not be surprised to see a few better organized storms with isolated large hail and strong wind gusts also affecting the Balearic Islands during the end of the forecast.

A plume of marginal MUCAPE spreads far north over France and a sporadic short-lived thunderstorm event is possible all the way to N-France. This risk however does not justify the issuance of a lightning area.