Storm Forecast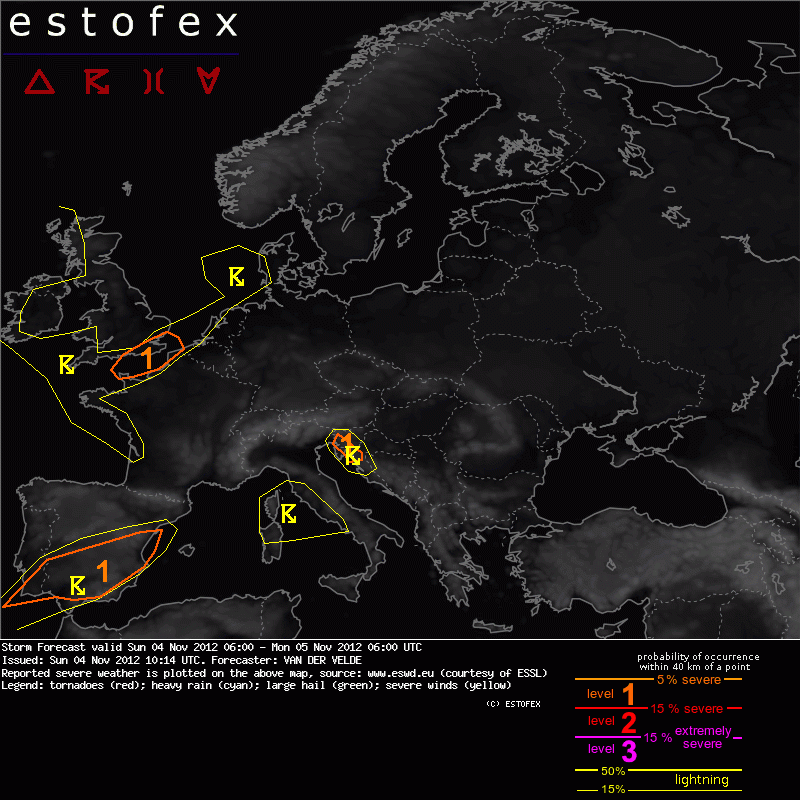 Storm Forecast
Valid: Sun 04 Nov 2012 06:00 to Mon 05 Nov 2012 06:00 UTC
Issued: Sun 04 Nov 2012 10:14
Forecaster: VAN DER VELDE
A level 1 was issued for southern England and northern France mainly for a chance of tornadoes.

A level 1 was issued for southern Spain mainly for a chance of tornadoes and severe convective wind gusts.

A level 1 was issued for parts of Slovenia, Croatia and northeastern Italy mainly for a chance of tornadoes.

SYNOPSIS

A multiple core low pressure area across the British isles and North Sea sends cold maritime air into Europe. The cold front is attached to the core moving through the English Channel and lies at the end of the period (Mon 06Z) over Poland, the Alps, Corsica and Balearic islands. On the warm side of the front very moist air is transported rapidly over Spain and Italy with local latent instability. Over the Mediterranean Sea the predicted weak MLCAPE appears mostly capped. Deep layer shear is 20-40 m/s over a large area.

DISCUSSION

...English Channel region...

At the occlusion wrapping around the low pressure core during late morning and afternoon, GFS predicts modest CAPE along with 300 mē/sē of 0-3 km SREH, 10-17 m/s 0-1 km shear and a large jet gradient. These factors can be quite favorable for tornadogenesis and a severe wind gusts is not ruled out either.

...southern Iberian peninsula...

GFS predicts a few hundred J/kg MLCAPE without much capping across this region until the evening. It coexists with 15-20 m/s low level shear and 150-200 mē/sē of 0-3 km SREH and LCL height of 600-800m, all of which is supportive for tornadogenesis. Mean 1-3 km winds of 22-30 m/s may locally be transported to the surface in convective storms and cause severe wind gusts.

...Slovenia area...

Late at night, slight CAPE may become uncapped in this region. With 400 mē/sē of 0-3 km SREH predicted and 15-25 m/s of 0-1 km shear tornadoes are likely if convection develops.