Storm Forecast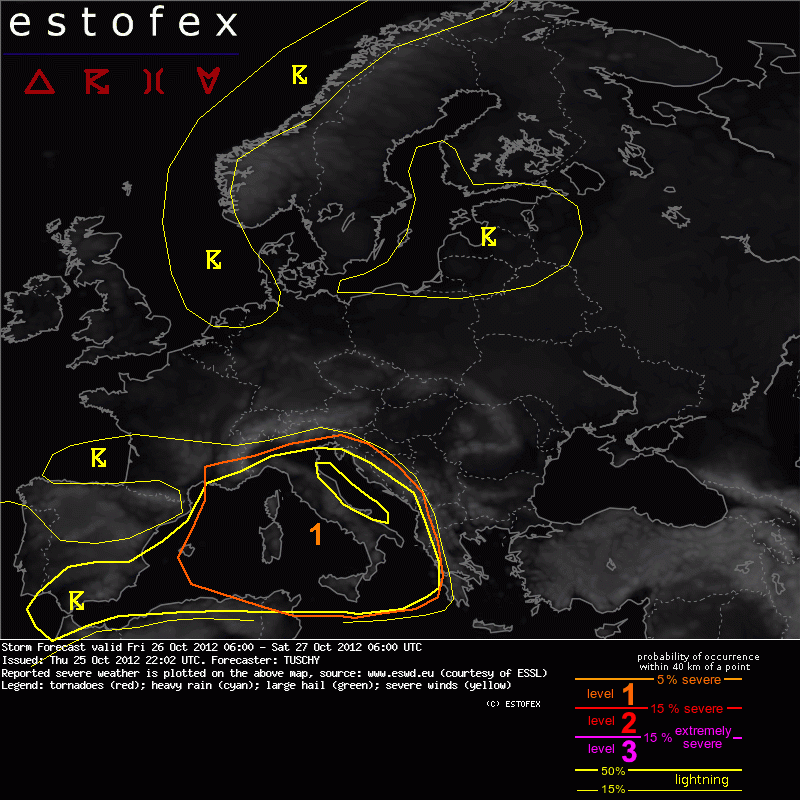 Storm Forecast
Valid: Fri 26 Oct 2012 06:00 to Sat 27 Oct 2012 06:00 UTC
Issued: Thu 25 Oct 2012 22:02
Forecaster: TUSCHY
A level 1 was issued for SE France, Italy, the Adriatic Sea and far Ionian Sea, Sardinia and Corsica mainly for heavy rain, isolated large hail, strong to isolated severe wind gusts and and an isolated tornado risk.

SYNOPSIS

The ancient upper low over the Iberian Peninsula involves itself into the pronounced and very cold vortex over N-Europe. Beside a weak appearance at upper levels, vorticity within the lower to mid troposphere increases and a gradually strengthening depression evolves over S-France and the Alps and moves east along a deepening and consolidating baroclinic zone. Cold and dry air from N-Europe advects far south and keeps DMC chances limited to the offshore areas.

DISCUSSION

... W-/C-Mediterranean Sea, Corsica, Sardinia, Italy, Adriatic and Ionian Sea ...

A messy forecast is ahead with conducive conditions for widespread DMC, especially along any westward facing coast.
A combination of weak and eastward traveling impulses at upper levels and diffluent flow cause a prolonged period for CI during the forecast. CI is from west to east with convection evolving west of Italy until sunset, spreading east thereafter.

With cooling mid-levels and SSTs of 17-24 °C (with an increase from N to S), widespread 500-1000 J/kg MLCAPE build-up is likley with local peaks approaching 1.5 kJ/kg, especially along westward facing coasts, where BL moisture piles up.

Consistent with the deepening LL vortex over S France, gradient flow strengthens and we expect 10-15 m/s DLS, increasing to 15-20 m/s during the night. Similar shear will be found in lower levels and also enhanced LL shear along the coasts.

Degree of shear and CAPE favor organized multicells with heavy rain, large hail, isolated severe wind gusts and a stray tornado risk (the latter risk mainly along the coasts). Within the broad risk of organized DMC, numerous areas might see some training / back-building activity due to strong LL flow with a near orthogonal inflow to the existing orography. The following regions may therefore see heavy to isolated excessive rainfall amounts: SE France and NW Italy between 06-18Z, W-coast of Italy between 18-06Z and coasts of the SE Adriatic / far N-Ionian Sea beyond 00Z. Right now, confidence in any specific area with a more serious rain risk remains below a level 2 threshold.

Heavy upslope rain event along the S Alps is likely, but snow levels decrease on a rapid rate during the forecast. This might keep the discharge on a lower than usual rate.

During the night, shear decreases west of Sardinia/Corsia with better LL CAPE present so an isolated waterspout risk is possible.

... Lightning areas over N-Europe ...

Non-severe CAA convection is forecast with strong wind gusts and isolated marginal hail. The activity continues all day long over offshore areas. An isolated spout may evolve along the coasts of NW Germany/Benelux during the night with 200 J/kg LL CAPE forecast.