Storm Forecast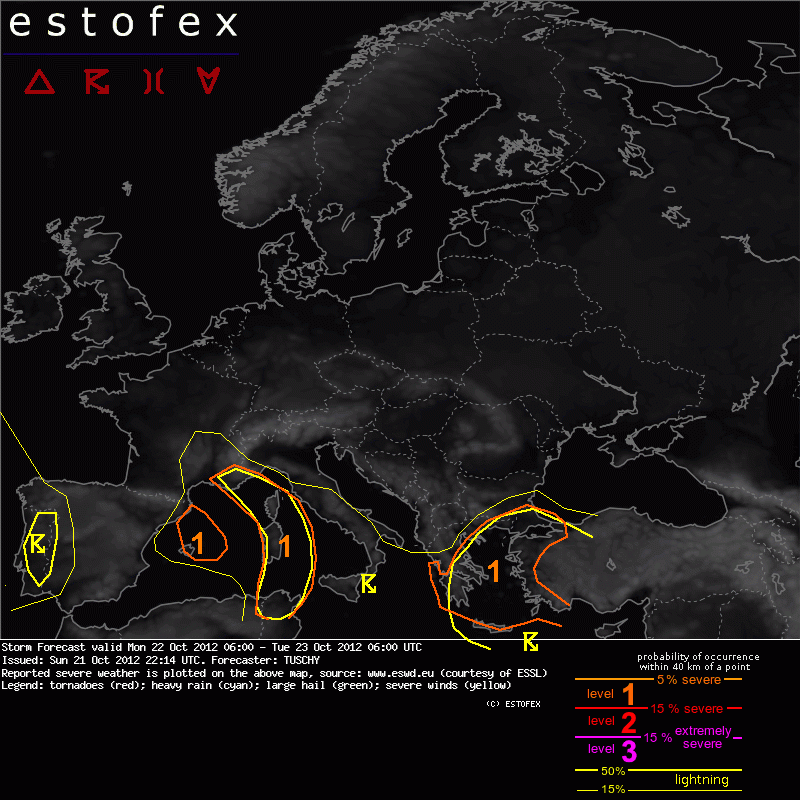 Storm Forecast
Valid: Mon 22 Oct 2012 06:00 to Tue 23 Oct 2012 06:00 UTC
Issued: Sun 21 Oct 2012 22:14
Forecaster: TUSCHY
A level 1 was issued for Corsica, Sardinia and surrounding areas mainly for heavy rain, isolated large hail and strong wind gusts.

A level 1 was issued for the Balearic Islands mainly for an isolated waterspout risk.

A level 1 was issued for the Aegean Sea and adjacent areas mainly for heavy rain and waterspouts.

SYNOPSIS

A persistent high pressure area over most of C Europe remains in place with various low pressure areas round that high. Two low pressure areas affect parts of the Mediterranean with showers and thunderstorms. A strong depression over the Atlantic advects a warm and moist airmass towards Portugal and causes unsettled conditions. Cold weather continues over N Europe with no organized DMC forecast.

DISCUSSION

...Far S-France, the Balearic Islands, Corsica, Sardinia and the Tyrrhenian Sea ...

A slowly eastward moving cold-core low and a dissolving but still eastward shifting cold front cause scattered to widespread showers and thunderstorms. The main focus for CI remains the cold front, although concentrated thunderstorm development during the daytime hours becomes more diffuse during the night and probably more widely spaced (also affecting Sicily and S-Italy).

Like the cold front, the mid-/upper level height gradients weaken with DLS in the 10-15 m/s range. This is still enough for a few well organized multicells with isolated large hail and strong wind gusts. The main risk however remains heavy rain, especially for far S-France, Corsica and Sardinia, where repeatedly onshore moving storms pose an enhanced flash flood risk. Storms also reveal slow storm motions, so isolated spots could easily see excessive rainfall with 24h amounts of up to 100 mm mainly over Corsica/Sardinia, where BL moisture is the best. Weak shear, a constant eastward shift of the cold front and lessening BL moisture preclude a level 2.

During the night, storms also affect areas east like the Tyrrhenian Sea, S-Italy and Sicily with locally heavy rain and an isolated large hail risk.

A level 1 was issued for the Balearic Islands mainly for an isolated waterspout risk due to better LLCAPE and weak background flow.

... Aegean Sea and adjacent areas, coasts of W/SW Turkey ...

A strong cut-off low remains atop the warm Aegean Sea. Good LL CAPE seems to be realized during the forecast and therefore waterspouts are possible, especially along mesoscale boundaries. DLS remains weak with 10 m/s or less, so another risk will be very slow moving storms, capable of producing heavy rainfall amounts with local flash flood problems. This also affects NW/W and SW Turkey (especially the coastal areas). A broad level 1 should cover that activity, which continues all day long. Despite having issued only a level 1 risk, an isolated excessive rainfall event is well possible along the coasts with rainfall amounts up to 100 mm/24h, as seen in past few local model runs.

... Portugal ...

A plume of subtropical air spreads onshore over Portugal. Moderate MLCAPE evolves with 15 m/s DLS, so strong but mostly sub-severe thunderstorms are forecast. Only modest shear, weak lapse rates and thick cloud cover preclude anything severe so no level 1 was issued for now.