Storm Forecast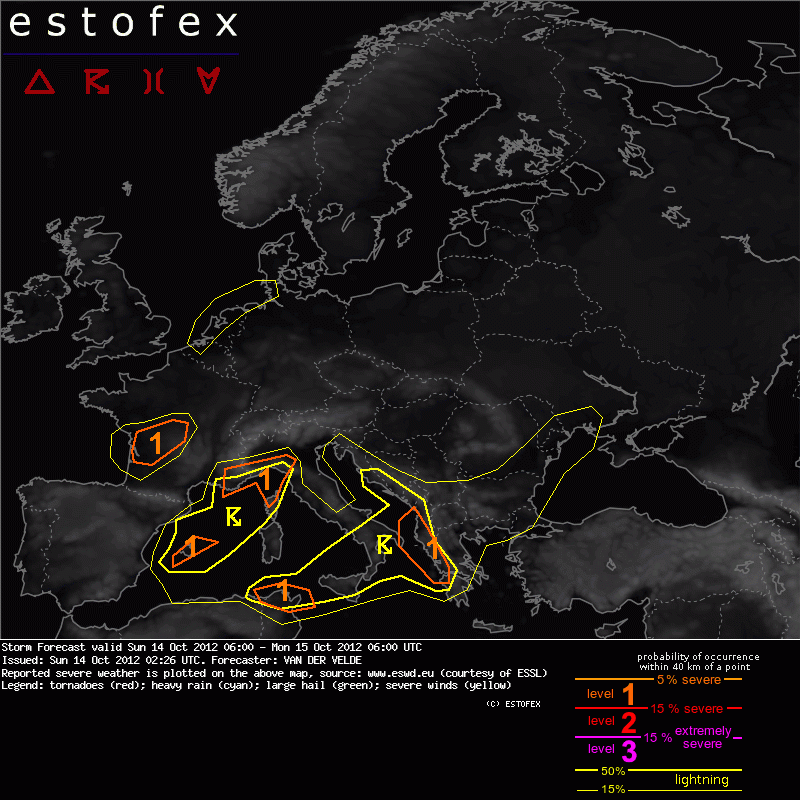 Storm Forecast
Valid: Sun 14 Oct 2012 06:00 to Mon 15 Oct 2012 06:00 UTC
Issued: Sun 14 Oct 2012 02:26
Forecaster: VAN DER VELDE
A level 1 was issued for SW France mainly for tornado chance.
A level 1 was issued for SE France, NW Italy mainly for local excessive convective precipitation, isolated tornado/hail chance.
A level 1 was issued for the Balearic islands mainly for local excessive convective precipitation.
A level 1 was issued for N Tunesia mainly for isolated large hail.
A level 1 was issued for SW Balkan mainly for local excessive convective precipitation.

SYNOPSIS

Almost entire Europe is under the influence of a large low, with advection of warm air northward into southeastern and central Europe, and cold air entering western Europe. At 12Z, two separate surface low pressure cores are present, one over the southeastern North Sea with an active occluded swirl, the other over France. The latter will move northeastward and continue as a trough shifting to Germany. Dynamically this system is very active, there is a jetstreak over it and strong PV anomaly. The frontal wave will move from the Atlantic coast to western Germany. The cold front will affect the western Mediterranean Sea region where CAPE will be reinforced and lift concentrated along the front. Another disturbance moves across Sicily and southern Italy to Greece.

DISCUSSION

...SW France...

GFS and Hirlam models agree on a zone of CAPE around the occlusion point of the wave entering France. More than 25 m/s DLS is found under the jet and low level shear and SREH may overlap this CAPE region partially. The hodographs show phenomenal low-level veering. A tornado event appears possible.

...SE France, Corsica, NW Italy...

The cold front will likely start producing storms over SE France, where DLS is sufficient for perhaps a large hail event. Waterspout tornadoes could occur as well. The main threat is excessive precipitation, most likely over Liguria where the front will drag over during the night, pulling in CAPE to supply backbuilding storms.

...Balearic islands...

An isolated excessive precipitation event may occur if storms move in the convergence line Barcelona-Mallorca and encounter orographic lifting. It is well-sheared and isolated large hail is not ruled out, as are any tornadoes/waterspouts.

...N Tunesia...

Any afternoon storms in the north may profit from 250 mē/sē SREH and produce large hail. Forcing is weak though, after passage of the upper trough.

...W Greece, Albania...

Moderate shear and 1000-2000 J/kg MLCAPE can organize into large MCSs. To the south/southeast the CAPE is capped. Triggering appears favorable with the mid/upper trough coming in after 21Z. Excessive rain, large hail and waterspout type tornadoes may occur.