Storm Forecast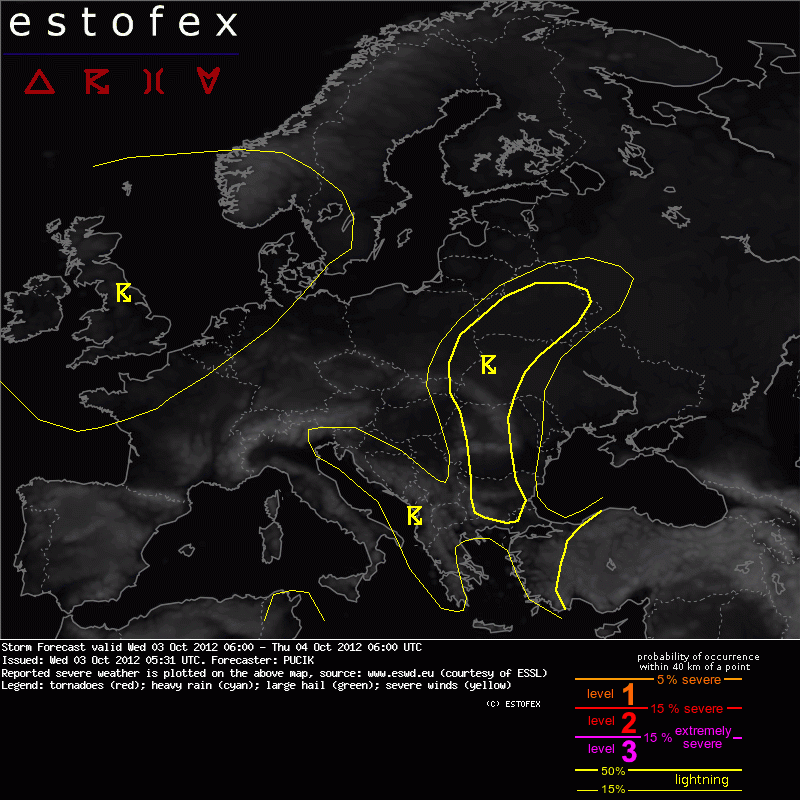 Storm Forecast
Valid: Wed 03 Oct 2012 06:00 to Thu 04 Oct 2012 06:00 UTC
Issued: Wed 03 Oct 2012 05:31
Forecaster: PUCIK
SYNOPSIS

Generally speaking, lower geopotentials prevail over most of Western and Central Europe, with most significant disturbances associated with the jet-stream that will stretch across Atlantic into N France / S England and further towards Scandinavia. Several vorticity maxima should be embedded in this enhanced flow, associated with upward motion. Most of latent instability should be present ahead of the wavy cold front crossing Balkans, Ukraine and Belarus. Detrimental factor should be rather weak vertical wind shear, limiting potential for good DMC organisation. Nevertheless, some very isolated severe, especially excessive precip (slow cell motion vs orography) or marginally large hail is not ruled out.

DISCUSSION

... Northern France towards BENELUX and extreme NW Germany ...

Strong mid-level flow, exceeding 20/25 m/s at 500 hPa level should contribute to rather high values of DLS (bulk values of approximately 25 m/s). Passage of the vort-max at upper levels, in conjuction with developing wave on the frontal boundary should contribute to the enhancement in the low level flow. Subsequently, LLS values will likely be around 10-15 m/s during the afternoon / early evening hours. Steepening mid-level lapse rates will contribute to the slight destabilisation, but rather poor low level moisture should preclude any significant CAPE values. Another questionable factor is the development of large stratiform cloudiness shield.
All in all, chance for well organised convection (supercells or LEWP within quasi-linear MCS) will be present, capable of severe wind gusts and/or tornadoes, but strongly limited by poor latent instability and the presence of broad stratiform rain shield. Thus, no level is warranted attm.