Storm Forecast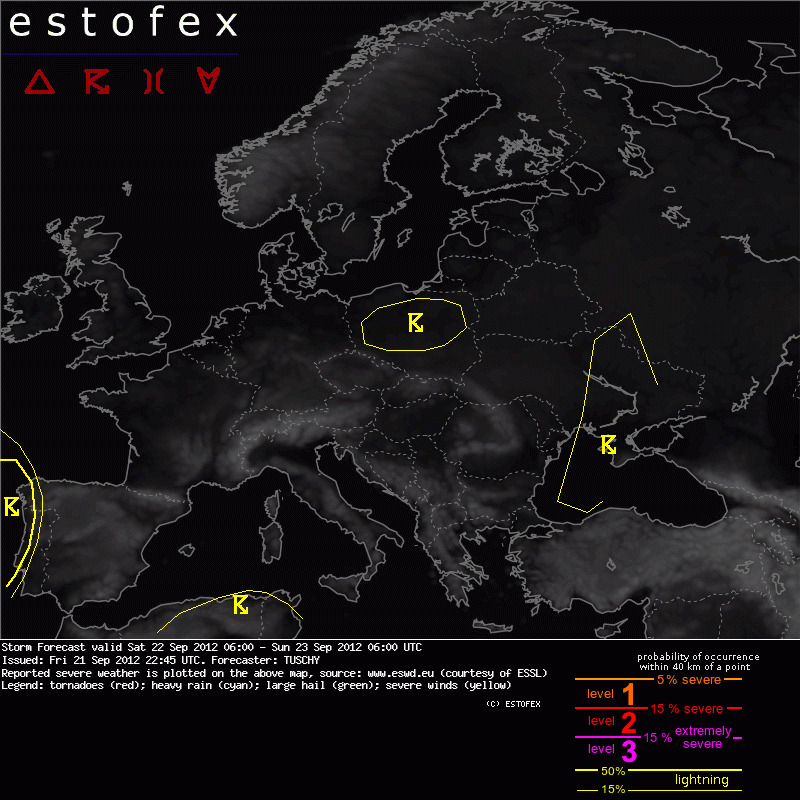 Storm Forecast
Valid: Sat 22 Sep 2012 06:00 to Sun 23 Sep 2012 06:00 UTC
Issued: Fri 21 Sep 2012 22:45
Forecaster: TUSCHY
SYNOPSIS and DISCUSSION

No major changes in the steering pattern compared to yesterday. A broad cyclonic vortex is still placed over N-Europe with a cold-core low moving slowly east over the Black Sea.

Models still diverge in how to handle/intensify the depression west of the Bay of Biscay during the forecast and onwards.
A SE-ward surging cold front approaches that developing depression from the NW during the day, but no real impact is seen until 06Z (23rd). Therefore, convectively driven latent heat release has at least 24h left for some kind of thermodynamic core modification, probably representing a warm seclusion process. I do not yet want to exclude some subtropical characteristica, but close proximity of more stable stratified air (stratocumuli clouds) to the west and increasing baroclinity may keep time for any more serious transformation too limited. This system also battles very dry low stratospheric air. Nevertheless, good upper divergence, temporarily weakening shear and influx of true tropical air (TPW well in excess of 40 mm) may counteract aforementioned more negative facts. Cool mid-levels atop SSTs of 18-20 °C (verified by buoy data) may also reinforce convective activity next to the depression's center.
To combine all that, a gradually organizing and strengthening depression is forecast, but it won't have any impact on the current forecast.

A few low probability lightning areas were issued but limiting CAPE precludes any severe risk. Sporadic lightning activity may occur over the Mediterranean but the coverage is too limited for any lightning area.

The only risk of a few strong to isolated severe thunderstorm events may occur over far NW Spain/W-Portugal during the night. Influx of subtropical moisture may assist in heavy rain, but no level threshold will be exceeded.