Storm Forecast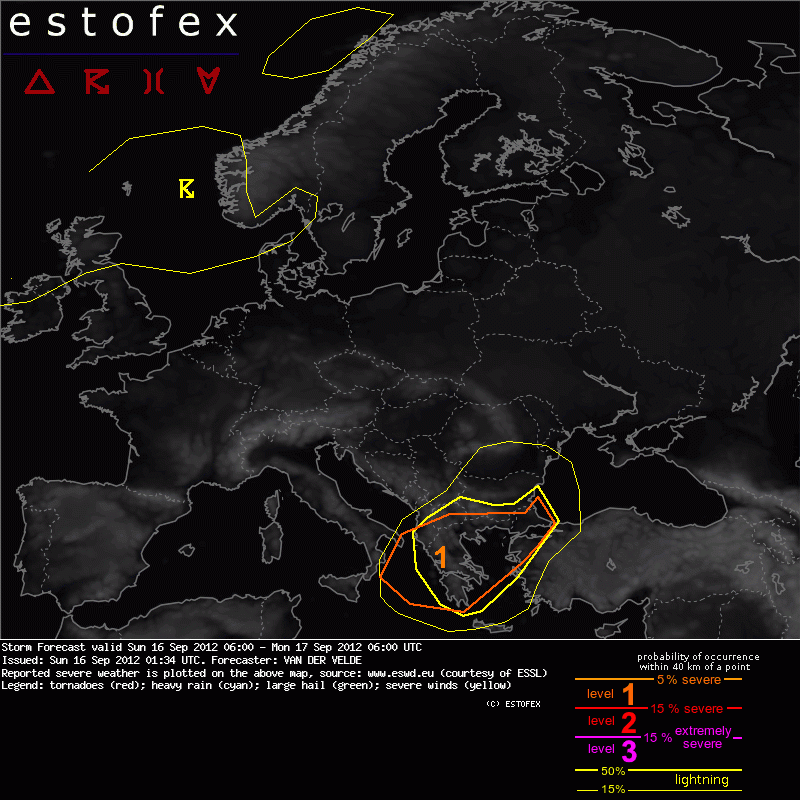 Storm Forecast
Valid: Sun 16 Sep 2012 06:00 to Mon 17 Sep 2012 06:00 UTC
Issued: Sun 16 Sep 2012 01:34
Forecaster: VAN DER VELDE
A level 1 was issued for Greece, Albania and western Turkey mainly for local excessive convective precipitation.

SYNOPSIS

High pressure from Spain to Poland maintains stable conditions. A north Atlantic depression affects the British Isles and Scandinavia and another affects the southern and eastern Balkan.

DISCUSSION

..Greece, Albania and western Turkey...

This area is divided in two regimes slowly shifting eastward. The western half is weakly capped and has low LCLs and borders on moderate shear. The eastern half is well sheared with SREH over 250 mē/sē with steep lapse rates, but capped for surface-based parcels. Some elevated storms may occur there but most will not profit from the shear in the lower levels.
Due to coastal convergence storms will concentrate along the western Balkan during the morning and shift to central and eastern Greece. Storm motion then is from the Aegean inland and may train over the same areas for a while, causing large rain sums. Large hail by supercells is not excluded, especially along the surface-based to elevated convection dividing line.
Waterspouts are likely over the Ionean Sea, where storm motion is slow, capping very weak, and vorticity enhanced.