Storm Forecast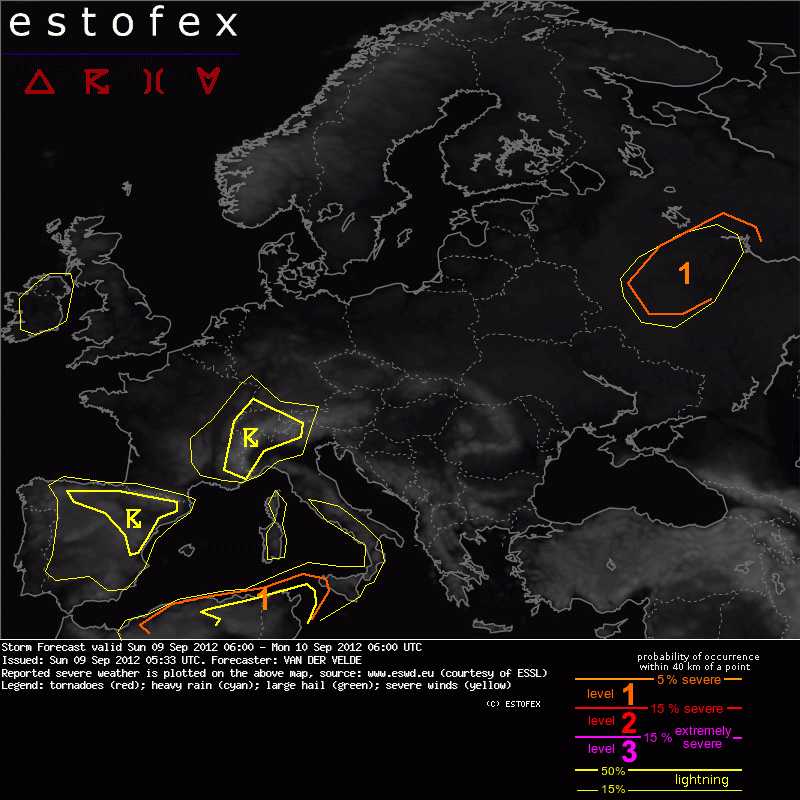 Storm Forecast
Valid: Sun 09 Sep 2012 06:00 to Mon 10 Sep 2012 06:00 UTC
Issued: Sun 09 Sep 2012 05:33
Forecaster: VAN DER VELDE
A level 1 was issued for Algeria and Tunesia mainly for large hail.
A level 1 was issued for western Russia mainly for a chance of tornadoes.

SYNOPSIS

Weather in Europe is mostly stable today due to the influence of a large ridge of high pressure with a maximum over Poland. Some instability is present over land masses around the western Mediterranean, but vertical wind shear and storm motion is weak, except near the African coast. Forcing is present in the shape of weak vorticity maxima over southern Spain and northern Italy. Over Ireland a frontal system will pass with some weakly capped CAPE and not so cold cloud tops.The most active system on the map moves over western Russia, wrapped by a strong jet, but weak instability.

DISCUSSION

...Algeria and Tunesia....

15-20 m/s DLS and locally 200-300 mē/sē SREH support development of rotating updrafts in storms, favorable for generation of large hail. LCL 1500-3000m is also a supporting factor and may help also isolated wind gusts. Storm coverage should be small because of capped lower terrain except for Tunesia.

...Russia...

Slight CAPE is predicted along the front and occlusion. The jet blows mostly over the southern part of the unstable air, but the left exit has some overlap of 15-20 m/s deep shear and 10-15 m/s low level shear. LCL heights are below 800m. Forcing will be linear with a strong PV anomaly over the front. 20 m/s winds in the 1-3 km layer can support severe convective wind gusts. In these conditions tornadoes cannot be ruled out, despite MLCAPE being less than 200 J/kg.