Storm Forecast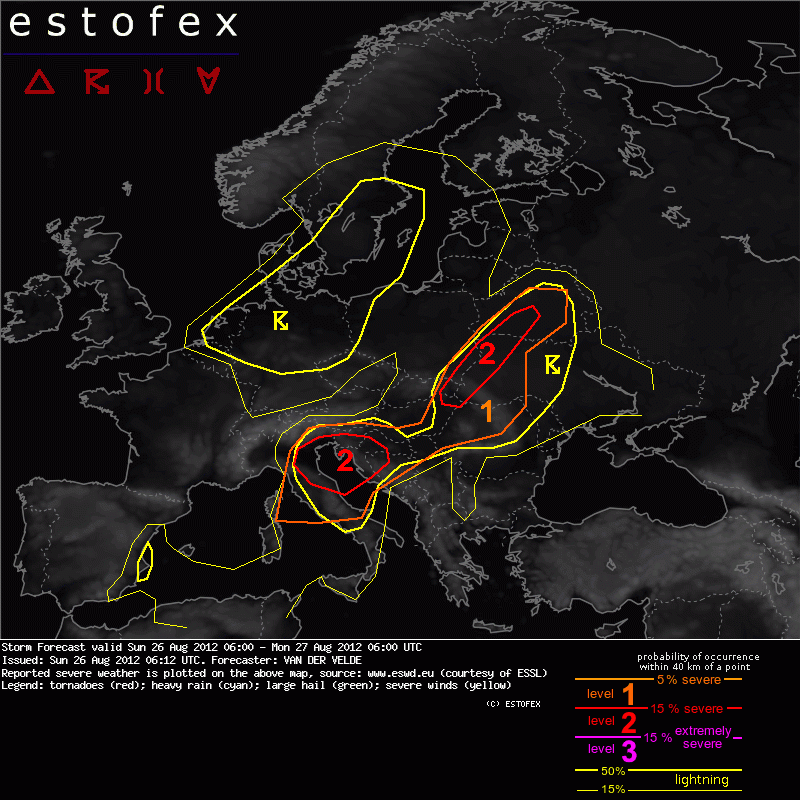 Storm Forecast
Valid: Sun 26 Aug 2012 06:00 to Mon 27 Aug 2012 06:00 UTC
Issued: Sun 26 Aug 2012 06:12
Forecaster: VAN DER VELDE
A level 2 was issued for northeastern Italy, western Balkan mainly for excessive precipitation, very large hail and local severe wind gusts.

A level 2 was issued for eastern Slovakia/Hungary/Poland and western Ukraine/Belarus mainly for severe wind gusts and large hail.

A level 1 was issued for other parts of Italy to Romania/Ukraine/Belarus mainly for large hail.

SYNOPSIS

A cold front that started invading western European mainland on Saturday is today wrapping around the Alps and moving through Poland, Slovakia, Hungary and western Balkan. The front will stall over eastern Spain. The low-level air ahead of the front is warm and moist and MLCAPE values should reach over 1000 J/kg in many places and 1500-2200 J/kg may be reached in the lee of the Alps. A PV intrusion will become negatively tilted as it moves over the Alpine region into the Balkan during the evening and night. A weak back-bent occlusion extends over southern Sweden, Denmark, Netherlands and Germany, where the cooler airmass has CAPE values up to a few hundred J/kg.

DISCUSSION

...northeastern Italy, western Balkan...

Large CAPE values mentioned before will be converted into very strong thunderstorms under the influence of strong lifting across the cold front and mid/upper vorticity advection. The storms also profit from around 15 m/s deep layer shear, mostly with straight hodographs. Enhanced SREH forecast by models appears on the cool side of the front and therefore will not be considered favorable, but the bulk shear will be sufficient to promote excellent storm organization and several storms with rotating updrafts with large or very large hail. However, LCL heights will be 800-1500m which rather favors the precipitation risk along with high PW and shear parallel to upper forcing and low level flow lifting over the mountain ranges. This setup usually triggers slow-moving cells with large local excessive rain threat and the developments during the night already proved this once again. The threat will shift during the afternoon/evening to coastal and mountainous areas of Slovenia, Croatia and Bosnia-Herzegovina.
Delta theta-e indicated by models, resulting from very moist low levels and dry mid levels, reaches over 20 degrees, implying a risk of strong downburst winds and potential for wet microburst.

...eastern Slovakia/Hungary/Poland and western Ukraine/Belarus...

With 20 m/s deep layer shear and 250-350 mē/sē of 0-3 km storm-relative helicity overlapping the region with CAPE, supercells are a likely convective mode. LCL heights of 1500-2000 m are supportive of very large hail and severe wind gusts with storm motion vectors of 20-25 m/s but aligned with the forcing orientation. This means linear mode may quickly become dominant, with segments more perpendicular to the SSW-NNE directed shear being more prone to a severe gust threat.

...Netherlands, Germany, Denmark...

Quite strong winds may prevent the otherwise nice moist unstable vertical profiles (00Z soundings some daytime heating) to produce spout-type tornadoes. Hodographs are predicted to be quite small, but with up to around 15 m/s storm motion vectors. This also means low level shear is enhanced to 7-10 m/s. But probably with the absence of jet stream not favorable for true tornadogenesis. Still an event is not ruled out.