Storm Forecast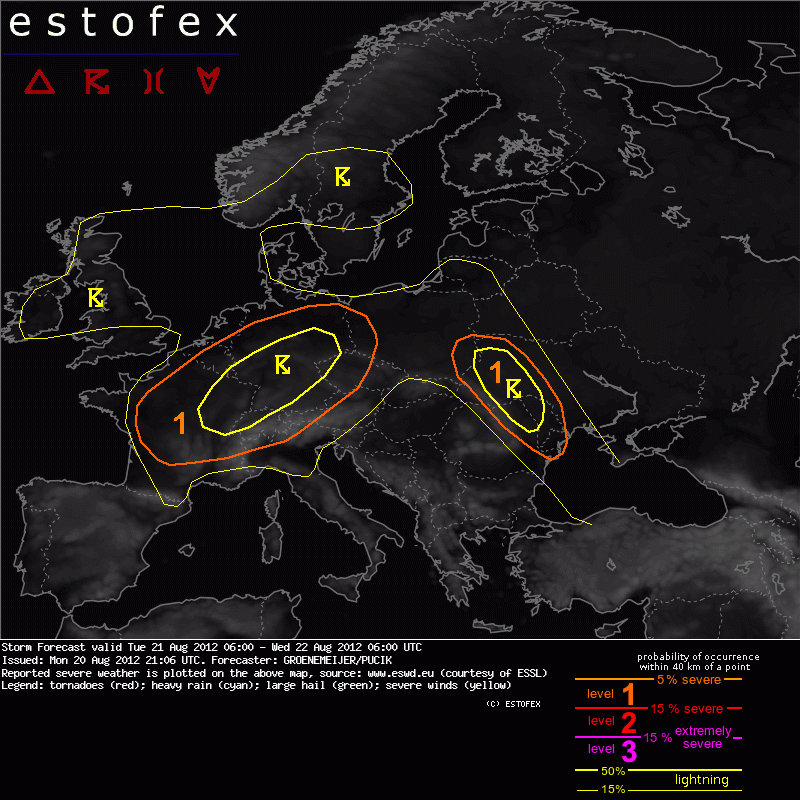 Storm Forecast
Valid: Tue 21 Aug 2012 06:00 to Wed 22 Aug 2012 06:00 UTC
Issued: Mon 20 Aug 2012 21:06
Forecaster: GROENEMEIJER/PUCIK
A level 1 was issued across central, N, and NE France, SE Benelux, much of Germany, W Poland, the Czech republic and the western and central Alps and the plains to their north. The main threats are large hail and severe wind gusts.

A level 1 was issued across E Poland, W Ukraine, N Romania and Moldova, mainly for large hail and severe wind gusts.

SYNOPSIS

The mid-level flow has become less amplified compared to Monday and features a very broad longwave ridge in which a couple of subtle shortwaves travel eastward. During the 06-06 UTC forecast period, a first one moves from western Poland to the northern Black Sea coast, and a second one moves from N France to Central Poland. Further upstream, a more intense trough moves from around 15 west to northern Germany. Near and ahead of that trough, a strong westerly mid/upper-level jet is present with 35 m/s at 500 hPa, possibly enhanced by the outflow of former hurricane Gordon.

DISCUSSION

Western level 1...

NE France, Benelux, N and central Germany, Poland

Within the transition zone between warm air under the ridge and cooler air over the Atlantic, substantial low level moisture should be present, with 18-20 C dew point expected. Lapse rates are expected to be less steep than on Monday. There should also be less convective inhibition. This suggests that CAPE will be less. It appears likely that scattered storms will develop during the day, and some may already be ongoing early in the day. Wind shear will increase as the aforementioned jets overspreads this air-mass, which should yield a large area with an overlap of 1000-1500 J/kg and 20-25 m/s DLS. Storms developing here will include supercells and bowing segments capable of producing large hail and severe wind gusts. It may be that a level 2 will be issued later for part of the area.

SE Germany, Alps, Czech Republic...

Further to the SE towards and across the Alps, convective inhibition will be a bit stronger and isolated. However, isolated storms are expected to develop here as well. These may produce some large hail and severe wind gusts.

E Poland, W Ukraine, N Romaina, Moldova...

A moderate shear and CAPE overlap is expected on the warm side of the baroclinic zone. Multiple MCS are expected to travel along this zone. Despite the fact that neither the thermodynamics nor the shear are by themselves extraordinary, a few marginally severe wind and hail events may occur, warranting the level 1.