Forecast Update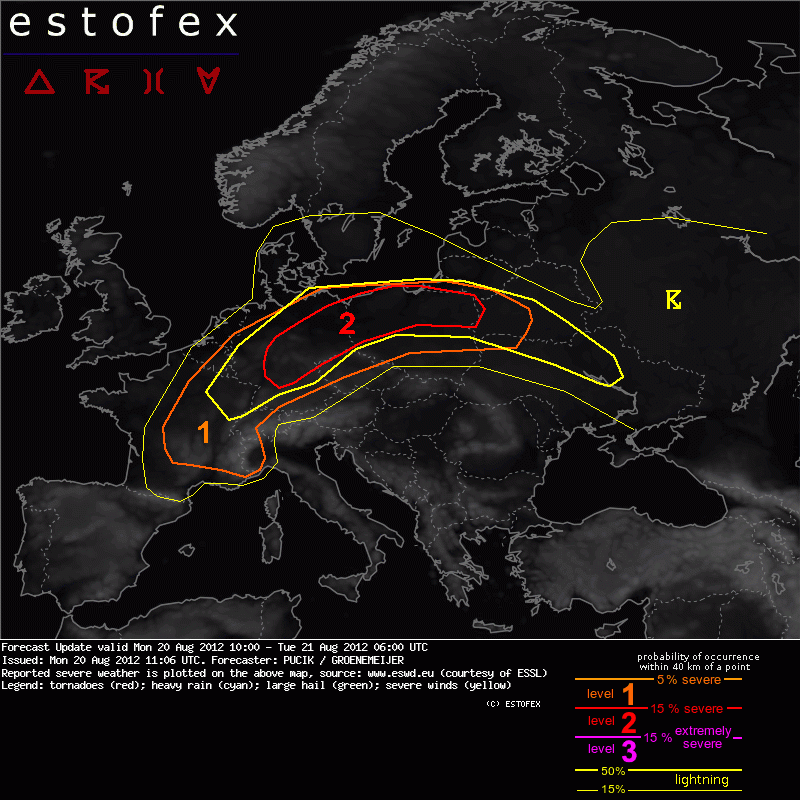 Forecast Update
Valid: Mon 20 Aug 2012 10:00 to Tue 21 Aug 2012 06:00 UTC
Issued: Mon 20 Aug 2012 11:06
Forecaster: PUCIK / GROENEMEIJER
A level 2 was issued for Germany to Northern Poland mainly for severe wind gusts and large hail.

SYNOPSIS

Refer to the convective forecast

DISCUSSION

... Germany to Poland ...

An update to Lvl 2 is issued as a more widespread severe weather event is forecast for this region. Two well developed MCS are observed on the borders of Germany/Poland and over NE Poland. Moderate to strong unidirectional wind profiles paralleling the low level frontal boundary, along with steep mid-level lapse rates point to the threat of severe wind gusts with these systems. It is well possible that as bow-echoes develop, severe wind gusts might become more widespread, with even extreme wind gusts, over 32 m/s, not ruled out. Large hail is also well possible with more isolated and strong updrafts.

A band of elevated showers/thunderstorms has developed over France and is lifting towards Germany. 00/06 UTC soundings suggest "loaded-gun" situation with strong capping and moderate unidirectional wind shear. Capping will likely weaken during the course of the day, enabling some surface based convection, especially if strong cold pool manages to develop. A one or more MCS with severe wind gusts and also isolated large hail is forecast across the Central to NE Germany once cold pools of individual storms merge, moving towards NE/ENE from France. Also, more isolated convection, including well organised multi/supercells might be capable of large to very large hail.