Storm Forecast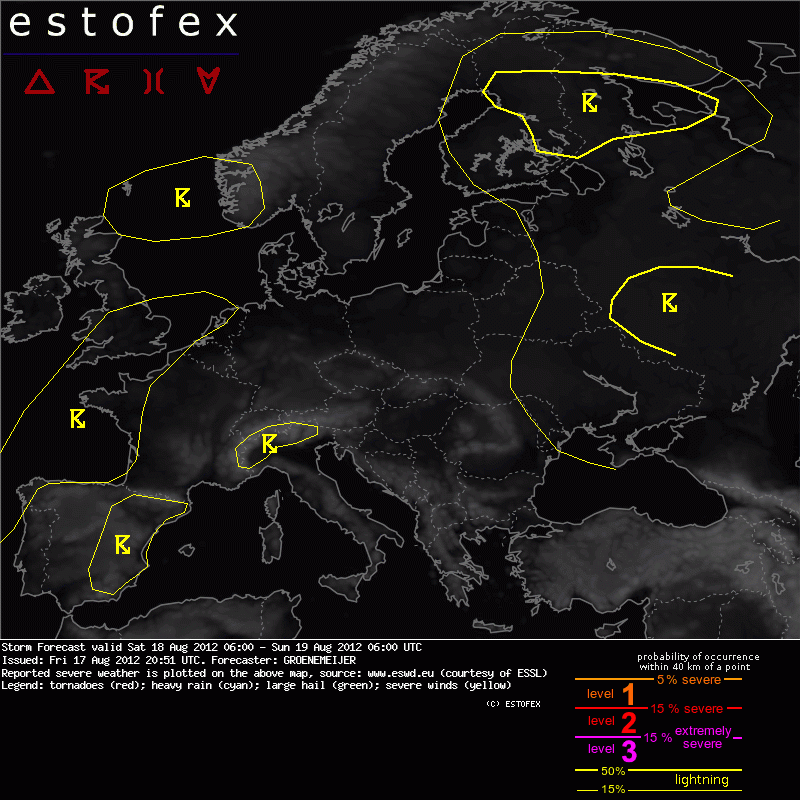 Storm Forecast
Valid: Sat 18 Aug 2012 06:00 to Sun 19 Aug 2012 06:00 UTC
Issued: Fri 17 Aug 2012 20:51
Forecaster: GROENEMEIJER
SYNOPSIS

A large quasi-stationary ridge along an axis from southern Sweden to the western Mediterranean dominates the mid- and upper-level flow pattern. A very warm elevated mixed layer is advected northward across western Europe. A cold low over northern Scandinavia moves southward into Finland.

DISCUSSION

Northern and eastern Europe...

Convection is expected to develop early across central Finland and Russian Karelia. Weak lapse rates and wind shear should limit the severe threat. Some organization may occur along a cold front that moves southward cross the area during the day.

Isolated to scattered deep, moist convection is forecast develop across much of extreme western and across southwestern Russia, Belarus and large parts of the Ukraine. Low CAPE and weak shear indicate that the threat for any severe weather with these storms is low.

Western Europe...

Some isolated high-based storms may develop very locally across eastern Spain. These should be isolated and non-severe.

Some mostly elevated convection may occur on the western boundary of the elevated mixed layer across the eastern Atlantic Ocean and Bay of Biscay offshore of France and Spain, and across Brittany. Coverage is expected to remain very low as a lift will be minimal.

Some surface-based convection may form during the day across Britain. Although the storms would develop in a strongly-sheared flow their development is uncertain enough not to warrant a threat level at this time.