Storm Forecast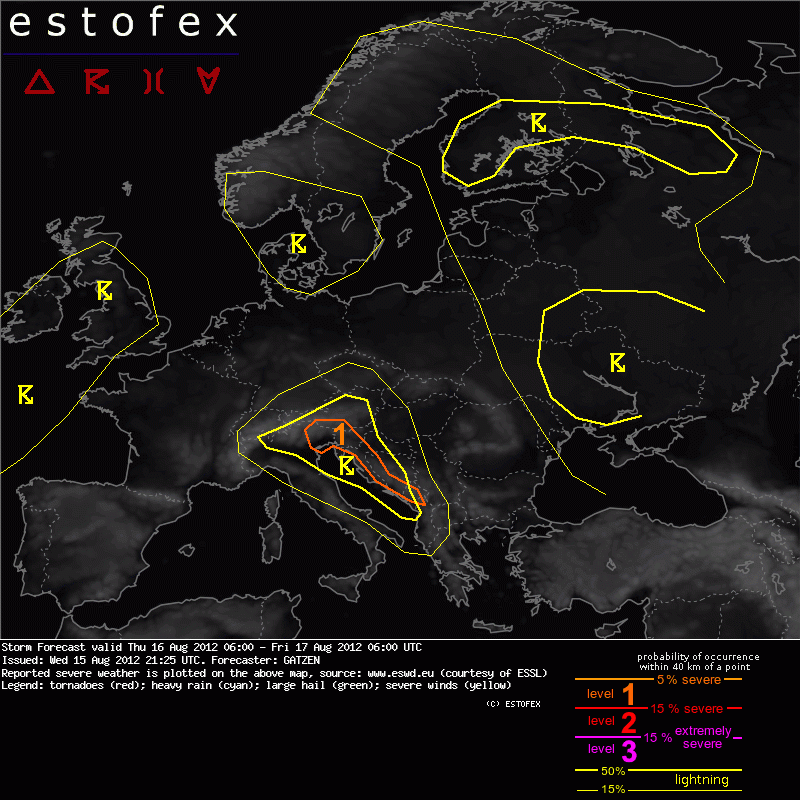 Storm Forecast
Valid: Thu 16 Aug 2012 06:00 to Fri 17 Aug 2012 06:00 UTC
Issued: Wed 15 Aug 2012 21:25
Forecaster: GATZEN
A level 1 was issued for the northern Adritatic and the western Balkans mainly for large hail.

SYNOPSIS

Between a north-ward moving trough across north-western Europe and a quasi-stationary trough over eastern Europe, the south-European ridge will amplify again, leading to weakening mid-level winds across central Europe. A short-wave trough will move into the ridge axis across central Europe, while further east another short-wave will affect Turkey.

DISCUSSION

Northern Adriatic to western Balkans

In the wake of the Alps, rich low-level moisture will be in place with south-easterly winds. In mid-levels, a north-westerly jet will spread across this air mass leading to deep layer vertical wind shear of 15 m/s combined with rather large CAPE. Some lift is expected underneath the mid-level trough axis moving eastward. Together with upslope flow and low-level convergence, lift is expected to break the capping inversion. GFS indicates quite early initiation before noon. Given the moderate deep layer vertical wind shear, some storms may be capable of producing large hail. Given the high moisture, excessive precipitation is not ruled out as well. Storms will likely become isolated especially in the afternoon and evening hours as the trough axis moves eastward. As a consequence, large-scale sinking and increasing CIN is forecast. Some storms may go on until the evening and than will likely dissipate.

Further east, additional storms are forecast across the western Balkans. With 15 m/s deep layer bulk shear, some of these storms may produce large hail as well.

British Isles

In the wake of the trough axis, warm air advection especially at mid levels will affect the British Isles. At low-levels, rather weak moisture advection is forecast, and instability is forecast to be rather marginal and shallow. Current thinking is that storms will not develop. However, storms that may manage to form may become supercells given the strong low-level vertical wind shear and favorably veering profiles. In that case, a tornado is not ruled out.