Storm Forecast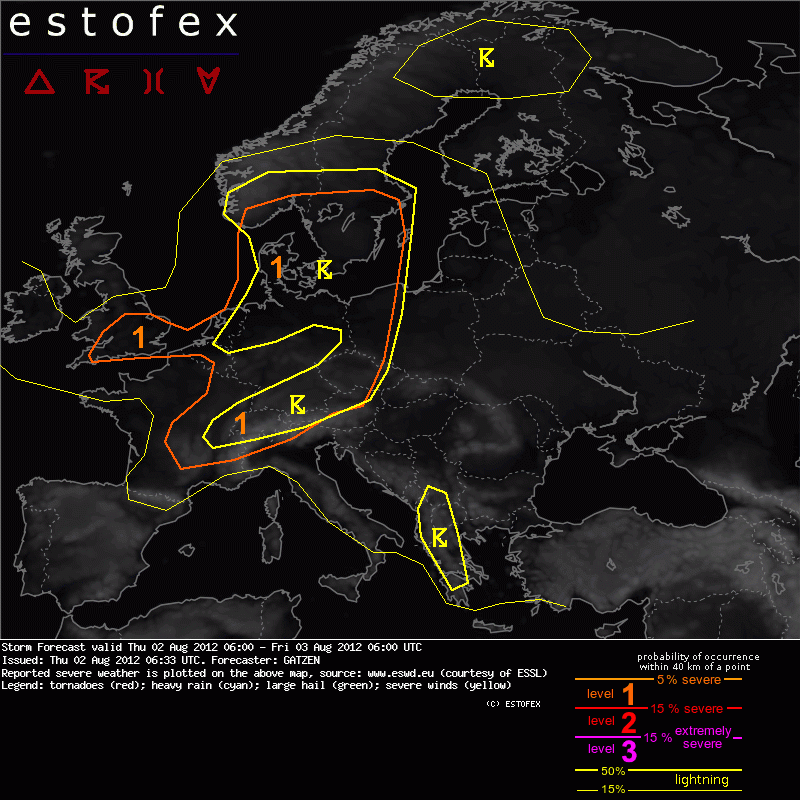 Storm Forecast
Valid: Thu 02 Aug 2012 06:00 to Fri 03 Aug 2012 06:00 UTC
Issued: Thu 02 Aug 2012 06:33
Forecaster: GATZEN
A level 1 was issued for southern France into the Alps and south-western Germany mainly for large hail.

A level 1 was issued for the Benelux countries into southern Scandinavia mainly for large hail and tornadoes.

A marginal level 1 was issued for central and eastern Germany and surroundings mainly for large hail.

A level 1 was issued for the Czech Republic and surroundings mainly for excesssive precipitation.

A level 1 was issued for the southern British Isles mainly for tornadoes.

SYNOPSIS

A mid-level trough is located to the west of the British Isles. A intense mid-level jet stream has developed at its southern flank. Downstream, a broad trough extends across eastern Europe.

DISCUSSION

France, Germany, southern Scandinavia, and surroundings

A tongue of warm air has spread into Germany. Latest soundings indicate steep lapse rates from the Alps to the North Sea that will expand across northern Germany today. Low-level moisture is rather limited over most places, but locally, CAPE of more than 500 J/kg was indicated, especially along the cold front over the Benelux countries. Latest satellite imagery indicates a MCS across the North Sea already.

Low-level moisture analysis indicates a tongue of moist air extending from northern Germany to southern Scandinavia with surface dewpoints exceeding 15°C. Current thinking is that the steep lapse rates further south-west will likely overlap with this moisture during the day. Main uncertainty exsists about the low-level heating and resulting instability. Latest observations indicate a lot of clouds and the boundary-layer may be rather cool. The strong QG forcing associated with a trough axis moving eastward and the strong lift along the cold front will support deep moist convection today.

Showers and thunderstorms will spread eastward. Expect moderate low-level heating, CAPE in the order of 500 J/kg is well possible. Vertical wind shear will be rather weak, with 10 m/s 0-3 km bulk shear. However, favourably veering profiles and rather large hodographs with 0-3 km SRH exceeding 150 m²/s² are expected to support organized convection. Multicells are forecast and also some supercells may develop, capable of producing large hail. Tornadoes may be possible especially along the coasts where the cold front and sea breeze fronts are present. Storms will merge into clusters given the strong forcing and will move into southern Scandinavia where they may be active well into the night, but low-level cooling will lead to decreasing severe potential.

Further south, the cold front will be associated with thunderstorms across souhern Germany, but rather weak vertical wind shear will limit the severe potential initially.

Behind the cold front, another vort max associated with a jet streak will move into France and western Germany today. As a consequence, warm air advection is expected to expand into France and the Alpine region. Below rather steep lapse rates, low-level moisture will increase during the day, and GFS indicates CAPE around 1000 J/kg in the afternoon.

Together with the strong QG forcing, the vertical wind shear will increase during the day to 20 m/s across southern France and south-western Germany. Best hodographs are forecast along the southern flank of the surface front from southern France to western Switzerland. Current thinking is that supercells can evolve in this region affecting the western Alps and suroundings. Large hail seems to be the main theat, although severe wind gusts and tornadoes are not ruled out. Further north, multicells are most likely that may merge into MCSs capable of producing severe wind gusts and excessive precipitation.

Convective activity will spread into southern Germany and Austria, where large hail seems to be the main threat due to supercells in the rather strong shear enironment.

During the night hours, continuing forcing is expected along the jet streak moving into the Czech Republic. Storms may merge into a large system capable of producing excessive precipitation and locally severe gusts across the Czech Republic and surroundings.

Southern British Isles

At the cyclonically sheared flank of the west European jet streak, QG forcing is expected over the southern British Isles today. Affected air mass is characterized by rather steep lapse rates, while the boundary-layer moisture increases during the day due to south-westerly winds. In the afternoon hours, the axis of warm air mass will cross southern England, associated with lift. Current thinking is that convection can develop. Given strong low-level vertical wind shear below a 20 m/s low-level jet max at 850 hPa, these stoms may produce tornadoes in the afternoon and evening hours. Severe potential rapidly decreases during the night as drier air masses spread south-westward later on.