Storm Forecast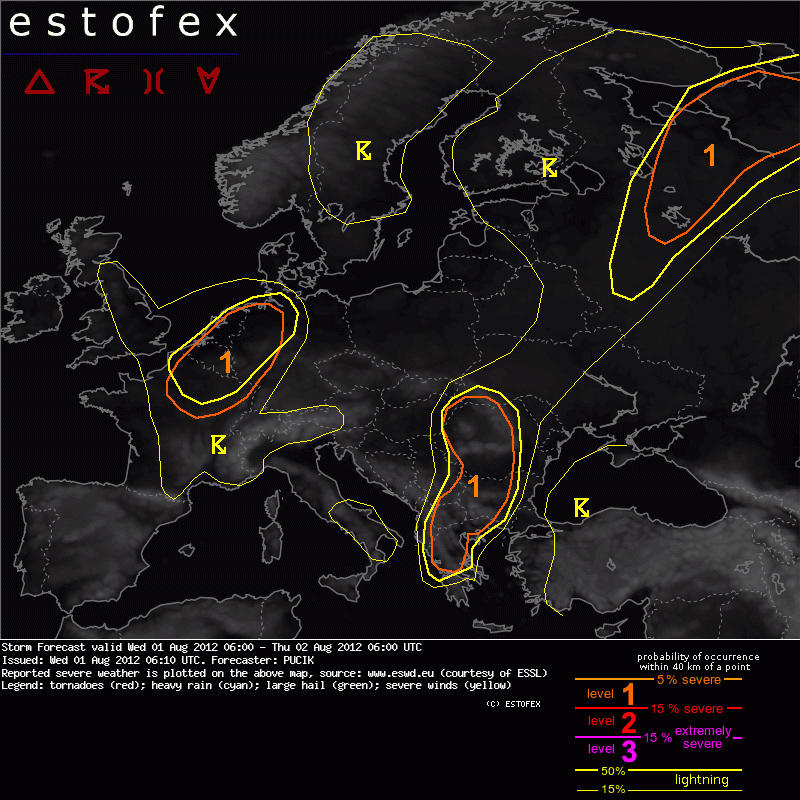 Storm Forecast
Valid: Wed 01 Aug 2012 06:00 to Thu 02 Aug 2012 06:00 UTC
Issued: Wed 01 Aug 2012 06:10
Forecaster: PUCIK
A level 1 was issued for Northern France, BENELUX and NW Germany mainly for marginally large hail, severe wind gusts and to the lesser extent tornadoes.

A level 1 was issued for Greece, Macedonia, Bulgaria and Romania mainly for excessive precipitation.

A level 1 was issued for N Russia mainly for severe wind gusts and excessive precipitation.

SYNOPSIS

The main macrosynoptic features at mid-levels will be two large cyclonic vortices over the Atlantic and Scandinavia. Their troughs will affect Western Europe and Baltic region / Finnland / NW Russia during the day. Between the trough of the Atlantic low and a ridge stretching from NW Africa, a belt of strong westerlies will cover most of Iberia. A large, but shallow cut-off low will remain mostly stationary over the Black Sea.

Closer to the surface, a deep and occludded low pressure system is forecast to remain over the Atlantic with its cold front crossing Western Europe during evening / night hours. A WAA regime will set over Central Europe as a high pressure system will begin building over Eastern Europe with center over the Baltics.

DISCUSSION

... Northern France to BENELUX and NW GErmany ...

A tongue of mildly steep mid-level lapse rates will advect from the Pyrrennees region ahead of the cold-front, contributing to development of a latent instability as the day-time heating commences. The degree of instability will likely be marginal at best, with several hundreds of J/kg available. Moderate wind shear is forecast, with DLS values between 15-20 m/s and spotty patches of LLS around 10 m/s. Ahead of the surface trough, some veering of winds with height might be observed. Initiation of the storms will likely be aided by the front and the passage of the vort-max in the evening hours. Timing of the storms is not certain attm with ECMWF being slower and much less aggresive with development than GFS. A low-end lvl 1 is issued for marginally large hail and severe wind gusts if some well organised storms (possibly including supercells) manage to develop and thrive in this setup. A tornado is not ruled out in case that isolated supercellular storms persist and LLS increases towards the evening as NWP simulates.

... Eastern coastline of Spain ...

Very steep mid-level lapse rates will be a significant contributor in the development of moderate CAPE values in the region. Favorable kinematic setup with strong DLS would promote well organised storms, including supercells. Significant capping, as suggested by high CIN values and caused by very warm temperatures between 925-700 hPa level will likely completely limit CI and no thunderstorms are expected in this environment.

... Northern Russia ...

Quickly translating trough will affect the region with an attendant cold front. Moderately strong mid-level flow will likely overspread the warm sector, which should be characterised by low to moderate degree of latent instability. Plentiful storms are expected thanks to the strong forcing, likely turning into a large MCS towards the evening hours. Such system might pose threats of excessive rainfall and/or severe wind gusts and Level 1 seems to be warranted for the region.

... Greece towards Bulgaria and Romania ...

In the very weak prevailing mid and upper level flow, cooler mid-level temperatures continue to contribute to the steep lapse rates and moderate degree of latent instability in the region. Even though DMC will likely stay in the pulse-nature with only chaotic multicells developing, some of clusters might be almost stationary in the rich topographic setting and resulting in excessive precipitation over some areas. 00 UTC Cluj-Napoca sounding shows a very favorable conditions for strong downpours with very weak flow and almost saturated profile. Therefore, Level 1 seems to be warranted for this setup.