Storm Forecast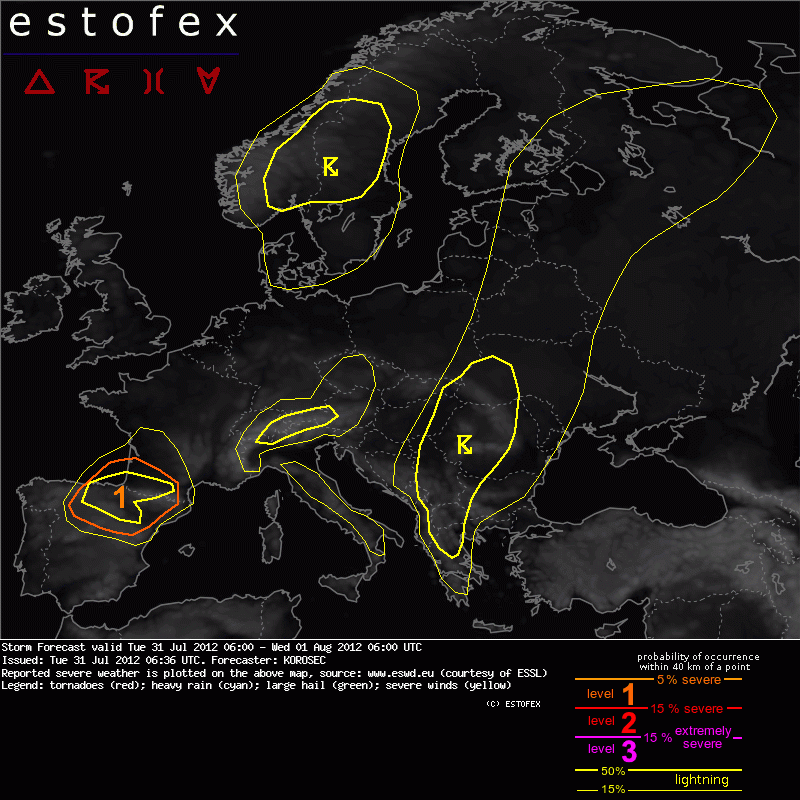 Storm Forecast
Valid: Tue 31 Jul 2012 06:00 to Wed 01 Aug 2012 06:00 UTC
Issued: Tue 31 Jul 2012 06:36
Forecaster: KOROSEC
A level 1 was issued for N Iberia into SW France mainly for large hail and strong winds.


SYNOPSIS / DISCUSSION

The upper trough/low over NW Europe slowly weakens on Tuesday while Azoric ridge slowly spreading towards central Europe. Weak geopotential falls will support daytime driven convective activity over several places, especially over the central Balkans. There, an abundant CAPE will result in widespread thunderstorms, but in very low to zero shear which should limit storms organization towards severe limits. Expect lots of slow moving pulsating storms, which might cause some flash floods threat locally. But too marginal threat precludes a level 1 attm. Some storms could also form northwards from Balkans towards NW Russia along the difuse frontal boundary as well.

Some activity in expected beneath the belt of EML spreading across SW Europe with moderate shear/instability overlapping in the mid/late afternoon. A marginal level 1 level was issued for these areas, despite a rather limited coverage. The most intense storms could support large hail and a strong to severe wind gusts.

A short wave trough moves over SW Scandinavia, causing some instability to build up across central Sweden and Norway, but remaining mostly behind the front. Expect scattered storms and showers in colder maritime airmass during the daytime heating hours.