Forecast Update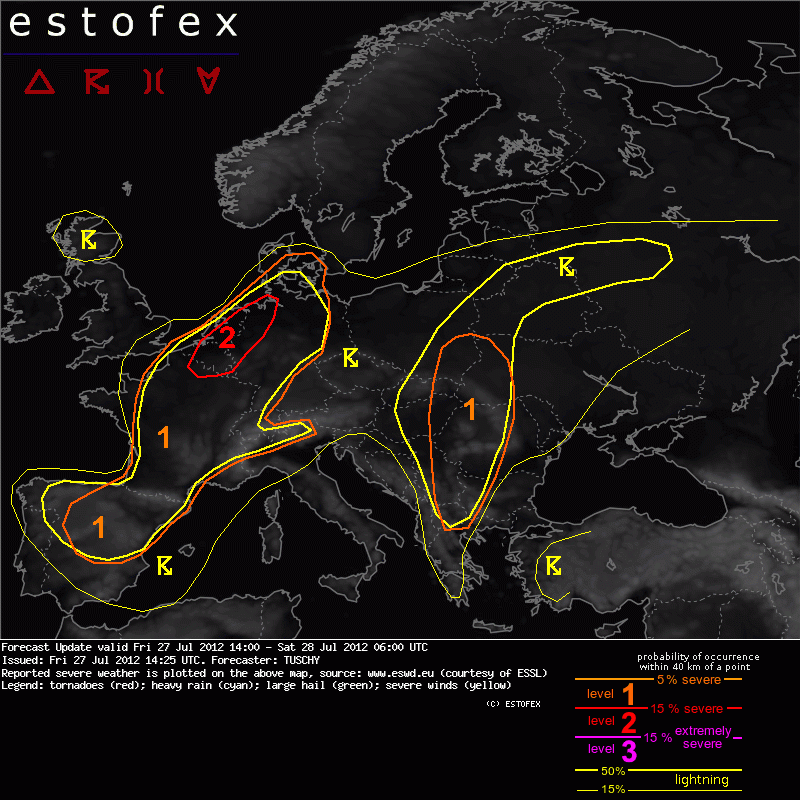 Forecast Update
Valid: Fri 27 Jul 2012 14:00 to Sat 28 Jul 2012 06:00 UTC
Issued: Fri 27 Jul 2012 14:25
Forecaster: TUSCHY
A level 2 was issued for extreme NE France, Benelux and far NW Germany mainly for excessive rainfall amounts.

Next to the level 2, a level 1 was issued for Benelux mainly for large hail and strong to severe wind gusts.

A level 1 was issued for N-Spain, France and NW Italy mainly for large hail (a few very large hail events are possible), strong to severe wind gusts and heavy rain.

A level 1 was issued for parts of Germany mainly for strong to severe wind gusts, an isolated large hail and tornado event and heavy rain.

A level 1 was issued for SE-Poland, W-Romania/Bulgaria, Serbia, parts of Hungary and Slovakia mainly for excessive rainfall, a few funnel/tornado events, isolated large hail and strong wind gusts.

SYNOPSIS

Please refer to the main outlook issued at Thu 26 Jul 2012 21:59 Z.

DISCUSSION

The main reason for updating/upgrading the outlook is the healthy looking cyclonic vortex in model data, which crosses Benelux and far NW Germany during the overnight hours. Also, we now expect a gradually evolving LL depression with this vorticity maximum, which enhances convergence over Benelux during the night. In fact, a quasi-stationary SW-NE aligned convergence zone is forecast, as both features slowly move to the NE.

12Z soundings over N-France depict this air mass very well with PWAT in excess of 40 mm and adequate CAPE. The main concern will be slow moving storm clusters along this convergence zone with excessive rainfall amounts and an high-end risk of flash flooding likely. We expanded the level 2 a bit into NW-Germany, as storm clusters also affect that area in the course of the night.

Next concern with this stronger vorticity maximum will be a stronger wind field to its south (overspreading its ill defined warm sector), which affects C/NW-Germany during the night. 0-1 km shear increases up to 15 m/s with 0-3 km shear up to 20 m/s forecast. DLS remains on the moderate side with 10-15 m/s. Models like GFS/WRF have a hard time to initiate convection over C-Germany during the night due to weak synoptic-scale subsidence just to the south of the vorticity maximum. However, at least isolated CI is possible and well organized multicells are likely. Given a moist air mass, LCLs below 1 km over W-Germany and expected shear, we add an isolated tornado risk for overnight's thunderstorm activity, next to isolated large hail, strong to severe wind gusts and heavy rain.

The next area of concern is the W-Mediterranean, where a few elevated storms now managed to evolve. The activity over the Balearic Islands was probably induced by a mixture of enhanced LL convergence (e.g. a roll cloud like feature SW of those islands with surface dewpoints in the mid twenties) and ongoing strong WAA regime. Storms now cross the islands with clearing behind. Hence, no level 1 was added but given extreme amount of well mixed and dry air beneath high-based convection, an isolated severe wind gust/large hail report can't be ruled out with that activity. Despite the mentioned downswing of storm activity in the near term, more elevated storms (on the isolated scale) can be exected during the night. Coverage and uncertainty preclude a level area for that activity.

The level 1 over NE-Spain was expanded to the east mainly due to that elevated activity and more optimistic model forecasts for CI that far to the east. Latest HVIS imagery indicates rapid thunderstorm development over NE Spain with a risk of a few very large hail events. Despite the serious hail risk, expected upscale growth into one or more storm clusters and the narrow corridor with adequate weakly capped CAPE/shear overlap (e.g. Madrid, 12Z) preclude a level 2 issuance.