Forecast Update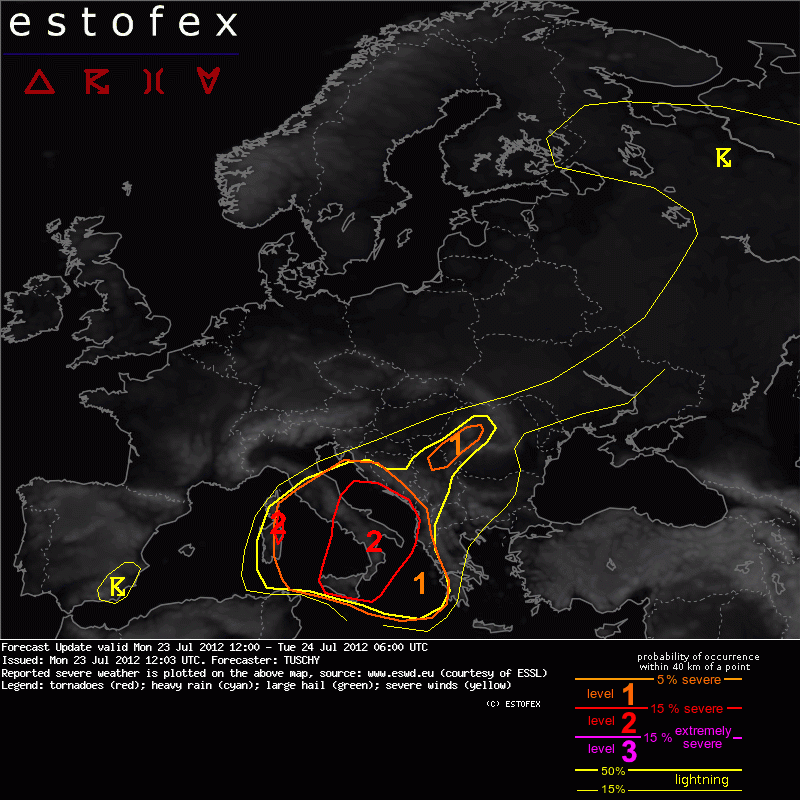 Forecast Update
Valid: Mon 23 Jul 2012 12:00 to Tue 24 Jul 2012 06:00 UTC
Issued: Mon 23 Jul 2012 12:03
Forecaster: TUSCHY
A level 2 was issued for parts of C/S Italy and parts of the Adriatic Sea mainly for excessive rainfall amounts, large to very large hail, severe wind gusts and tornadoes.

A level 2 was issued for NE-Sardinia/SE Corse mainly for excessive rainfall amounts.

A level 2 was issued for Sicily mainly for excessive rainfall amounts.

A level 1 was issued for all of the C-Mediterranean area mainly for large hail, heavy rainfall, strong to severe wind gusts and isolated tornadoes.

A level 1 was issued for C-Serbia and W-Romania mainly for isolated large hail.


SYNOPSIS

Please refer to the main outlook, issued at 23:29 Z

DISCUSSION

Issued this update to perform a few changes.

The major level 2 area was expanded to the SW and now includes all of Sicily. Latest HVIS imagery and model data indicate an increasingly favorable environment, where advection and propagation of any thunderstorm cancel each other out. This set-up supports back-building or training thunderstorm activity with a significant heavy rainfall risk. Although major storm clusters currently evolve mainly offshore of Sicily, the approaching LL depression from the NW assists in further increase of the LL flow beneath a weak mid/upper level flow regime, so any convergenze zone could become the focus for excessive rainfall amounts.

For the rest of the outlook, only minor changes were performed.

Meanwhile, a broad but ill defined low level circulation center has evolved atop the Tyrrhenian Sea, verified by synop, ASCAT and SSMI data. However as proposed, thermodynamic stratification seems to become worse (at least on a temporarily basis) from NW to SE with strongest DMC over the SE-Tyrrhenian Sea. With expected eastward development of strongest clusters towards C/E Italy and the Adriatic Sea during the night, chances for significant developement of the LLCC until 06Z seem to remain slim. This is also in line with latest cyclone phase diagram forecasts of the FSU. Nevertheless, the consolidating depression has already impacts on our forecast (upgrade of Sicily), so we will continue to monitor its evolution.