Storm Forecast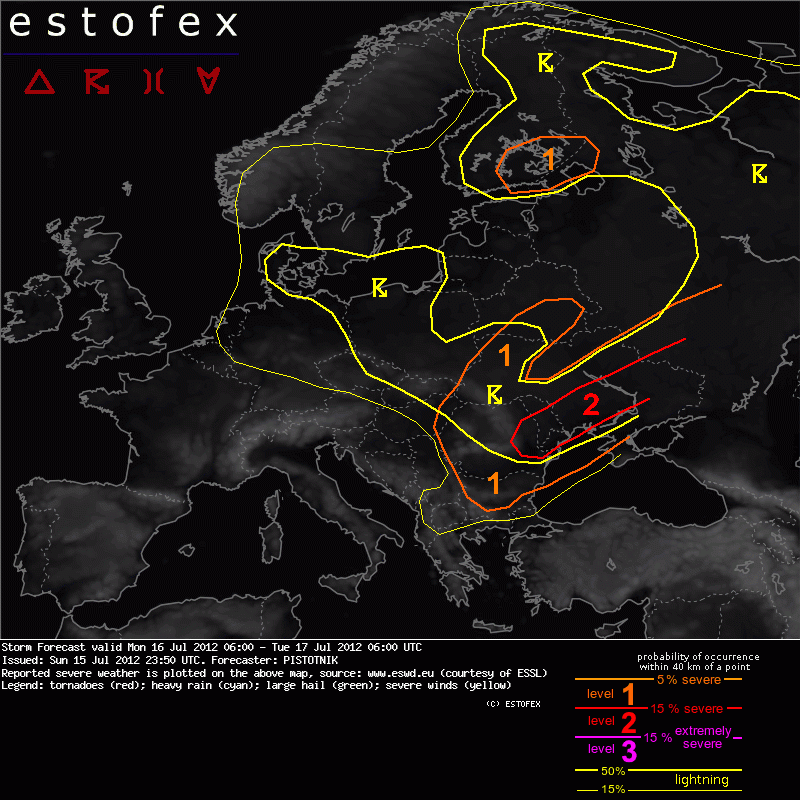 Storm Forecast
Valid: Mon 16 Jul 2012 06:00 to Tue 17 Jul 2012 06:00 UTC
Issued: Sun 15 Jul 2012 23:50
Forecaster: PISTOTNIK
A level 2 was issued for E-ern Romania, most of Moldova, E-ern Ukraine and adjacent Russia for severe wind gusts, large hail and excessive precipitation.

A level 1 was issued for Bulgaria, W-ern Romania, E-ern Hungary, W-ern Ukraine and parts of Belarus for severe wind gusts and large hail.

A level 1 was issued for the S-ern Finland for an isolated water-/landspout event.

SYNOPSIS

Extending southward from a steering low pressure system centered over Finland, a long-wave trough slowly progresses from Central into Eastern Europe. A still unseasonably strong upper- and mid-level jet stream surrounds it from the British Isles via Northern Italy into Romania and the Ukraine. Several vorticity maxima travel eastward within this flow, the two most prominent ones moving over Hungary and Romania, and over Eastern Germany and Poland during daytime on Monday.
Beneath the long-wave trough, a cooler maritime air mass has spread into Northern and Central Europe and further moves into Romania, the Ukraine and Russia, whereas hot air is present ahead of the ill-defined cold front over Southeastern Europe.
The Western half of the continent sees comparably tranquil conditions. Increasing surges of warm air advection result in plentiful large-scale precipitation spreading from the British Isles into Germany, whereas France and the Iberian Pensinsula are influenced by a high-pressure system with dry and hot conditions.

DISCUSSION

... Bulgaria, E-ern Romania, Moldova, E-ern Ukraine into adjacent Russia...

A still impressive overlap of moderate to high CAPE (in the 1000 to 2000 J/kg range) and strong deep layer shear (in the 20 to 30 m/s range) will be present in this region, as the flow ahead of the long-wave trough continues to take up remnants of an elevated mixed layer, which originated over Northern Africa. Like the day before, a moderate to strong cap will likely not allow a lot of convection in the first half of the day. However, diurnal upvalley and sea breeze circulations, outflow boundaries and finally the wind shift line of the cold front itself provide enough sources for low-level lift, which will weaken and finally break the cap. First storms are expected to form by early afternoon over the Eastern Carpathian mountains, followed by more initiations further east- and northeastward in the late afternoon and evening hours. Well-organized multi- and supercells will probably be the dominant mode. The deep convective boundary layer (with expected maximum temperatures between 30 and 35°C and dew points in the upper tens) will favor large hail and severe wind gusts, again with a possibility of isolated extremely severe events (i.e., hail over 5 cm in size and wind gusts higher than 32 m/s). The rather high cloud bases and the not significantly enhanced low-level shear will keep the tornado threat comparably low, but an isolated tornado cannot be completely ruled out, either.
The arrival of a vorticity maximum will probably result in rather widespread thunderstorms in the level 2 area in the evening hours and keep the activity going well into the following night. Whereas the hail and wind threat will be slightly lower in the Ukrainian and Russian part of the level 2 area (as compared to the Romanian and Moldovan part), the almost parallel orientation of the decelerating cold front to the Southwesterly upper-level flow may result in multiple rounds of thunderstorms with a pronounced threat of excessive precipitation (various forecast models agree on precipitation maxima >100 mm within 12 hours in a strip along the front).
The main sources of uncertainty which preclude a level 3 are the currently (Sun 23 UTC) ongoing convection over much of Romania and the Ukraine, and the northerly surface winds with incipient cold air advection at low levels which are forecast to evolve over Moldova and inland Romania already early in the day, both of which may act in a preterm reduction of CAPE.
Further South into Bulgaria, convective initiation becomes increasingly questionable due to the stronger capping and the weaker lifting support. Nonetheless, isolated thunderstorms may form especially over the mountains and pose a threat of large hail and severe wind gusts, which was reflected by a level 1 area.

... Central and East-Central Europe...

Numerous regions in Central and East-Central Europe will see diurnally driven showers and thunderstorms again in the moderately cool, maritime air mass. In the level 1 belt from Eastern Hungary into Belarus, low to moderate CAPE overlaps with still moderate deep-layer shear in the periphery of the long-wave trough. Patches of positive vorticity advection will facilitate the formation of scattered storms, which may bring severe wind gusts and marginally large hail locally.
Further West, wind shear decreases notably, therefore the convection with the next short-wave trough, maximized from Denmark in the morning hours to Poland, the Czech Republic and Slovakia in the afternoon hours, will likely not be associated with severe weather any more.

... Finland, Baltic Sea ...

Even in the absence of steep lapse rates, rather rich low-level moisture will result in low to moderate CAPE around 500 J/kg over Finland and parts of the Baltic Sea. Scattered showers and thunderstorms are forecast to form. Low cloud bases and weak vertical wind shear are a typical environment for funnel clouds and spout-type tornadoes, whenever convergence zones form. A level 1 was drawn over Southern Finland and the Gulf of Finland where this threat seems to be maximized near the center of the low pressure system. An isolated waterspout cannot be ruled out over other parts of the Baltic Sea, either, especially over Denmark in the morning hours and near the shore of the Baltic states late in the period.