Storm Forecast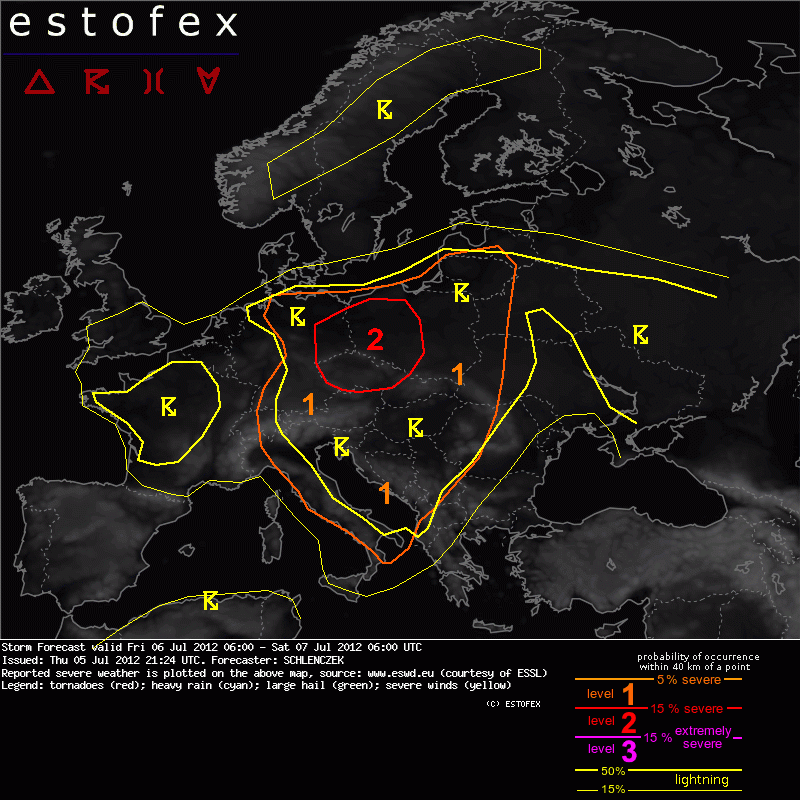 Storm Forecast
Valid: Fri 06 Jul 2012 06:00 to Sat 07 Jul 2012 06:00 UTC
Issued: Thu 05 Jul 2012 21:24
Forecaster: SCHLENCZEK
A level 2 was issued for E Germany, W Poland and Czech Republic mainly for widespread large and isolated very large hail, severe wind gusts and excessive precipitation.

A level 1 surrounds the level 2 for large hail, severe wind gusts and excessive precipitation.

SYNOPSIS

An upper cut-off low over France will slowly translate to the north. Between this low and a high pressure area extending from the N Maghreb States towards SE Europe and Finland, a plume of hot and very moist air is advected into portions of central and SE Europe. This leads to high instability (> 2 kJ/kg CAPE) over most places of central, SE and E Europe. Due to the fact that the vertical gradient of Theta-E is steep, almost every storm in this environment may produce large hail and severe wind gusts. The regions with the highest probability of widespread severe events are covered with a LVL2.

DISCUSSION

...central Europe...

High instability but rather low (approx. 10 m/s) deep layer shear is expected for most of the LVL1 and LVL2 areas. As also seen on Thursday, storms will initiate along local maxima of instability and/ or local convergence zones. Some locally enhanced 0-3 km shear and veering will lead to some slightly enhanced SRH3 which supports mesocyclogenesis. Storms may develop as isolated multicells and supercells which tend to merge into a few MCSs. Therefore, the large hail threat should be most prominent shortly after the first storms appeared. Severe wind gusts will be the main threat with organized multicellular systems as a steep vertical gradient of Theta-E is in place over most of the area (16 to 20 °C). Where a large system persists for a longer time, excessive precipitation and flooding are expected. The severity of the storms should gradually decrease in the night hours but severe wind gusts and excessive precipitation are not excluded at any time. In the region where the highest dewpoints are expected, an isolated tornado is not ruled out either.

...Italy, Adriatic and Balkans...

Towards the south, instability is a bit reduced but a steep vertical gradient of Theta-E may allow some thunderstorms with severe wind gusts and isolated large hail. Convective initiation over Italy is questionable but a low coverage of storms will likely increase their individual severity.

...France...

In the vicinity of the upper cold core, some 15 - 20 m/s deep layer shear are in place combined with a few hundred J/kg CAPE. As the cloud base is expected to be fairly low, an isolated funnel/ brief tornado event is not ruled out. Some marginal hail and gusty winds are possible as well but the expected severity does not justify a threat level.