Storm Forecast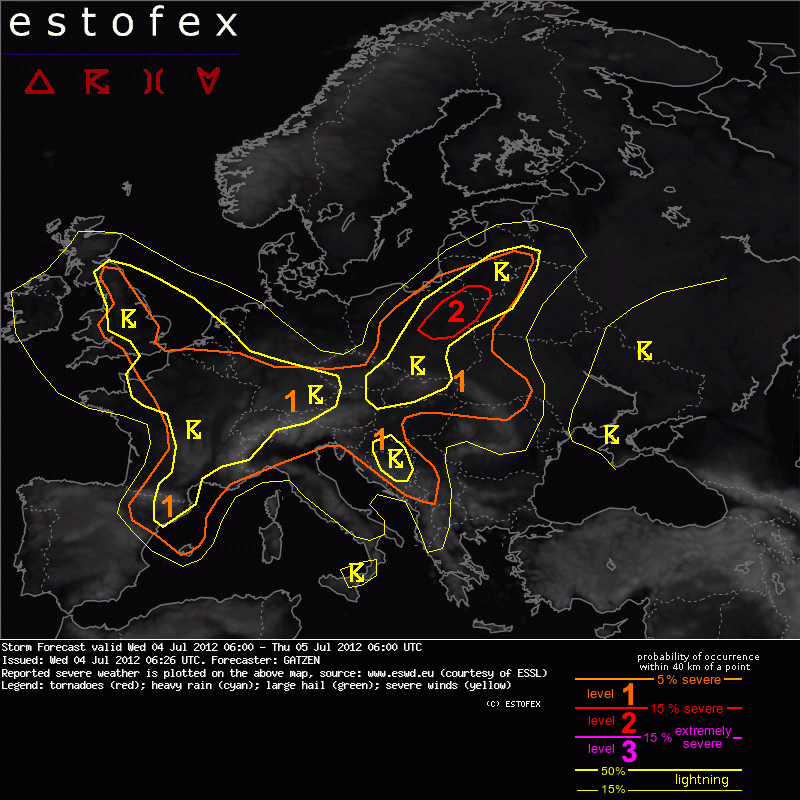 Storm Forecast
Valid: Wed 04 Jul 2012 06:00 to Thu 05 Jul 2012 06:00 UTC
Issued: Wed 04 Jul 2012 06:26
Forecaster: GATZEN
A level 2 was issued for north-eastern Poland and southern Lithuana mainly for large hail and excessive precipitation.

A level 1 was issued for north-eastern Spain mainly for large hail.

A level 1 was issued for the western Balkans, the Alpine region, Italy, south-eastern France, and southern Gemany mainly for large hail and excessive precipitation.

A level 1 was issued for northern France and the British Isles mainly for excessive precipitation.

SYNOPSIS

A rather weak mid-level flow affects Europe ahead of low geopotential centred to the west of the British Isles. With southerly winds ahead of this trough, warm air advection is forecast over a broad region. A cold front enters south-western Europe during the period.

DISCUSSION

Slovakia and Czech Republic, Poland, southern Baltic States and western Belarus

With the south-westerly mid-level flow, a short-wave trough currently across Austria moves north-eastward during the day. It provides QG forcing spreading north-eastwards along a frontal boundary that extends from the central Balkans to the Baltic States. Warm air advection has increased and latest observations indicate a frontal wave over the Czech Republic that slowly propagates north-eastward. The warm air mass is characterized by a well developed elevated mixed layer and rich low-level moisture as indicated by latest soundings, and thunderstorms have already initiated across eastern Austria and surroundings.

Current thinking is that the convective activity will spread north-eastward during the day. Latest satelite imagery indicates sunny conditions across eastern Poland where CAPE may exceed 1500 J/kg. Together with the strongest forcing, numerous thunderstorms are forecast to form along the frontal boundary from the Czech Republic and Slovakia northward across Poland into the Baltic States and Belarus later on.

Together with the short-wave trough, a mid-level south-westerly jet streak of 15 m/s will travel north-eastwards, leading to increasing deep layer shear over the region, exceeding 15 m/s 0-6 km bulk shear aross northern Poland. Additionally, latest models indicate an increasing low-level jet atop of the frontal boundary associated with 0-3 km bulk shear in the order of 10 m/s. Given the favorably veering profiles and 0-3 km SRH of 100-150 mē/sē along the front, supercells are forecast capable of producing large of very large hail and excessive precipitation. Tornadoes are not ruled out especially across north-eastern Poland and southern Lithuania, where best low-level vertical wind shear and low-level moisture is expected in the evening hours. The evolution of an MCS is indicated by latest GFS model run that will move into the Baltic States and Belarus during the night hours. Excessive precipitation is forecast to be the main threat with this system. Severe wind gusts are not too likely given the weak low-level winds.

North-eastern Spain

Favorably veering profiles are expected to evolve during the day with south-easterly surface winds and westerly winds at mid levels. Although the winds are rather weak, around 15 m/s 0-3 km bulk shear are forecast together with about 100 mē/sē 0-3 km SRH. Latest soundings indicate a well developed EML that will overlap with increasing low-level moisture during the day. GFS indicates CAPE around 500 J/kg. Main uncertainty will be the rather large capping inversion. However, increasing large-scale ascend ahead of the approaching trough as well as upslope flow seems to support initiation over the mountains in the afernoon hours. Supercells may develop capable of producing large or very large hail. Severe wind gusts and excessive precipitation are not ruled out.

The western Balkans, the Alpine region, Italy, France, the British Isles, and southern Germany

In the broad warm air advection regime, current soundings indicate steep lapse rates in the eastern parts and neutral to slightly unstable lapse rates in the western portions. Rich low-level moisture will be present and CAPE will reach from 500 J/kg in the north-west to about 3000 J/kg across the Balkans. The instability will be mostly uncapped in the northern parts while the capping will increase near the Mediterranean Sea and across the central and eastern Balkans.

Convective initiation is forecast given the large-scale support by warm air advection. Storms are expected especially across the Alps and from central France to the British Isles along and ahead of a surface cold front from the west. Although large-scale vertical wind shear is weak, local enhancement of the low-level helicity may support some supercells capable of producing very large hail. Excessive precipitation and large hail are also forecast with the stronger pulse storms.

Main threat will shift from excessove precipitation in the nothern and western parts to large hail in the southern and eastern portions. Severe wind gusts seem to be most likely given inverted-v proviles.