Storm Forecast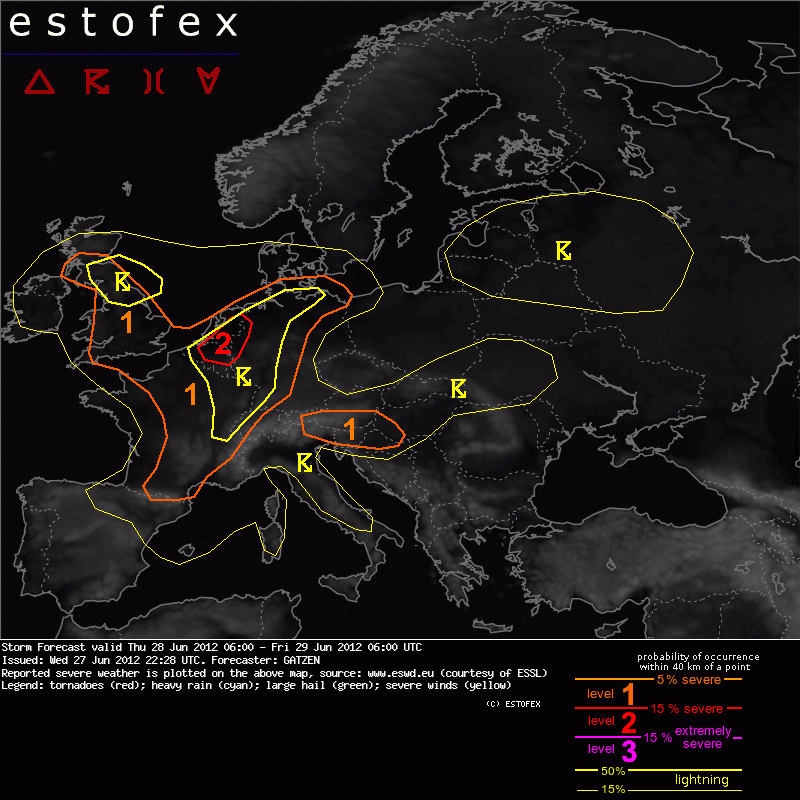 Storm Forecast
Valid: Thu 28 Jun 2012 06:00 to Fri 29 Jun 2012 06:00 UTC
Issued: Wed 27 Jun 2012 22:28
Forecaster: GATZEN
A level 2 was issued for the Benelux countries mainly for large hail and severe wind gusts.

A level 1 was issued for portions of the northern British Isles mainly for tornadoes.

A level 1 was issued for the central and southern British Isles mainly for large hail.

A level 1 was issued for France mainly for large hail.

A level 1 was issued for western and northern Germany mainly for severe wind gusts.

A level 1 was issued for southern Austria and surroundings mainly for large hail.

SYNOPSIS

An Atlantic trough moves into western Europe pushing a ridge into central Europe. An elevated mixed layer currently across France will spread north-eastward on Thursday, and rich boundary-layer moisture is expected underneath the cap from eastern France to eastern England and the Benelux countries. Over eastern Europe, rather cool/dry air will remain.

DISCUSSION

The Benelux region

The nose of the warm low-level air will move into the Benelux countries ahead of the surface cold front. Moisture pooling and diurnal heating will result in CAPE around 2000 J/kg given the elevated mixed layer spreading northward. Additionally, strong vertical wind shear will be in place.

Favorably veering profiles and rather isolated convection in the afternoon hours pose a threat of supercells capable of producing large or very large hail and maybe a tornado. Later in the period, a linear MSC may develop ahead of the cold front. The increasing low-level jet is forecast to increase the potential of severe wind gusts with this MCS that will spread into western Germany. Excessive rain is also not ruled out.

British Isles

Warm air advection will continue during the night and morning hours from England into Scotland. This warm air is characterized by steep mid-level lapse rates. The warm air advection will increase, and a low-level jet is expected to strengthen on Thursday ahead of the approaching cold front.

Latest satellite images indicate widespread convective/stratiform clouds spreading eastward ahead of the approaching trough and associated jet streak. Until the morning hours, these clouds will spread across much of the forecast area. During the day, especially the southern portions will be placed below the anticyclonic flank of the approaching jet streak, and weak forcing may result in rather strong daytime heating.

Furthern north, QG forcing will be stronger. Elevated storms in the warm air advection regime may root to the boundary-layer in the noon and afternoon hours. Storm motion vectors close to the cold front are expected to result in a squall line with excessive rain the main threat. The severe wind threat is expected to be rather low given the expected slow propagation of the squall line.

Further north, storms are expected to be more isolated. Although instability will be weak, these storms may organize given strong vertical wind shear. Mesocyclones will pose a threat of tornadoes.

Across the southern British Isles, weak QG forcing will remain through-out the period. Along the cold front, some storms may evolve especially during the the second half of the day, when low-level heating and rather rich moisture will result in CAPE of 1000 J/kg. Strong vertical wind shear will overlap with this instability, and storms that form will rapidly organize. The potential of supercells is expected to decrease from the west during the day, and mostly multicells are forecast, capable of producing large hail and strong to severe wind gusts. However, supercells are not ruled out especially across the eastern portions where larger hodographs will persist well into the afternoon hours ahead of the cold front. Isolated very large hail may be possible when supercells indeed will form. The convective activity will decay during the evening hours in the wake of the surface cold front.

France

A very unstable air mass will be situated across France, and MLCAPE of more than 3000 J/kg is forecast. A cold front will move eastward and weak cold air advection expands across western France during the day. Current thinking is that thunderstorms will develop along the surface front across eastern France during the afternoon. Isolated cells are forecast that may become supercells given some low-level veering. However, weak deep layer vertical wind shear is expected and long-lived storms are not likely. Large or very large hail is forecast to be the main threat.

Across southern France, easterly upslope surface winds are forecast, resulting in about 15 m/s 0-3 km vertical wind shear. Supercells may form capable of producing very large hail. Storm will likely weaken after sunset.

Southern Austria and surroundings

A short-wave trough will travel south-eastwards ahead of the ridge axis, with its right entry region moving across southern Germany into southern Hungary in the afternoon hours. The affected air mass will be slightly unstable due to diurnal heating, although the boundary-layer moisture is still questionable. Storms that are forecast to develop over the mountains especially across southern Austria may organize and supercells are forecast to be capable of producing large hail. Convective activity will decay in the evening hours.