Forecast Update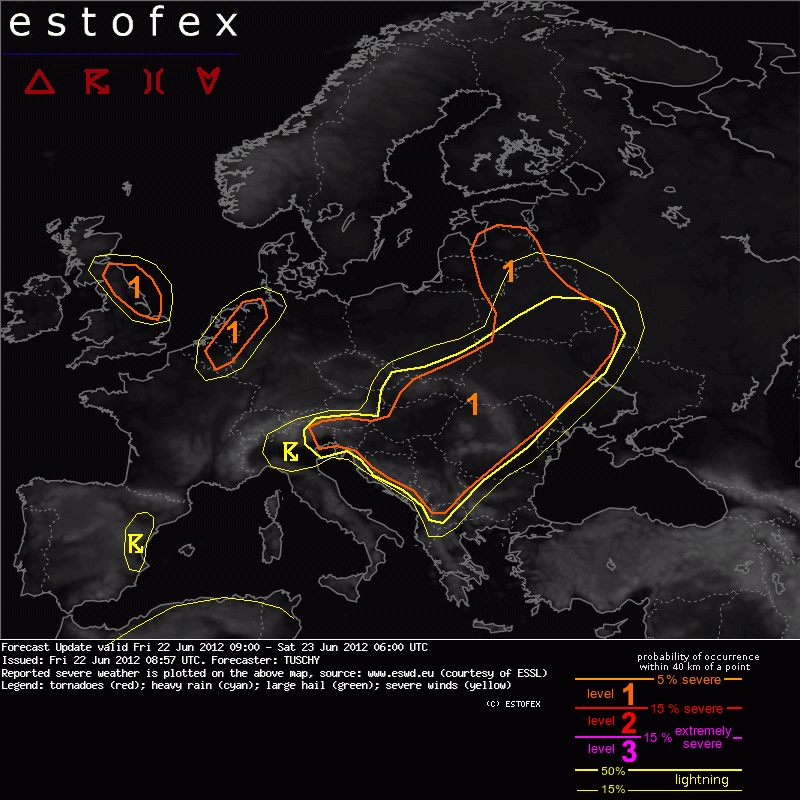 Forecast Update
Valid: Fri 22 Jun 2012 09:00 to Sat 23 Jun 2012 06:00 UTC
Issued: Fri 22 Jun 2012 08:57
Forecaster: TUSCHY
A level 1 was issued for NE Italy, S-Austria, Hungary, SE-Poland, Slovakia, the Balkan States, Romania, Ukraine and parts of Belarus mainly for large to very large hail, excessive rainfall amounts (locally life-threatening flash flood events possible), and an isolated severe wind gust and tornado event.

A level 1 was issued for NW-Belarus and parts of Latvia and Lithuania mainly for heavy rainfall amounts.

A level 1 was issued for Benelux and extreme NW-Germany mainly for an isolated tornado event.

A level 1 was issued for E-UK/far SE Scotland mainly for an isolated tornado and flash flood event.

SYNOPSIS

Please refer to the main outlook, issued at Fri 22 Jun 2012 02:19 Z.

DISCUSSION

The main reason for updating was the significant NW-ward expansion of the 50-% thunderstorm and level 1 areas over Slovakia and SE-Poland and to add E-Austria and SE-Czech Republic into the 50-% thunderstorm area. Morning synop data reveals adequate moisture with abating anvil contamination from overnight storms to the south. Main forcing mechanism will be a weak mid-level impulse, which affects those areas during the afternoon hours. Slow moving thunderstorm clusters with heavy rain will be the main concern.

We kept the level 1 over Latvia and Lithuania despite the tendency of models to shift CI for elevated overnight storm activity more into the morning hours. Still some heavy rain possible in my forecast period.

We enlarged the thunderstorm probabilities over N-Italy a bit to reflect somewhat better agreement in isolated CI areawide. However we kept the level 1 confined to NE-Italy. We also expanded the level-1/50-% thunderstorm probability areas over S-Austria a bit to the north, to account for a potential overnight cluster of storms.

Despite an ongoing severe MCS over far S-Hungary, no level 2 was yet added as this feature seems to weaken a bit....at least temporarily. Still expect level-2 events on the local scale with slow moving storms and torrential rain.

No changes were performed for the rest of the outlook.