Storm Forecast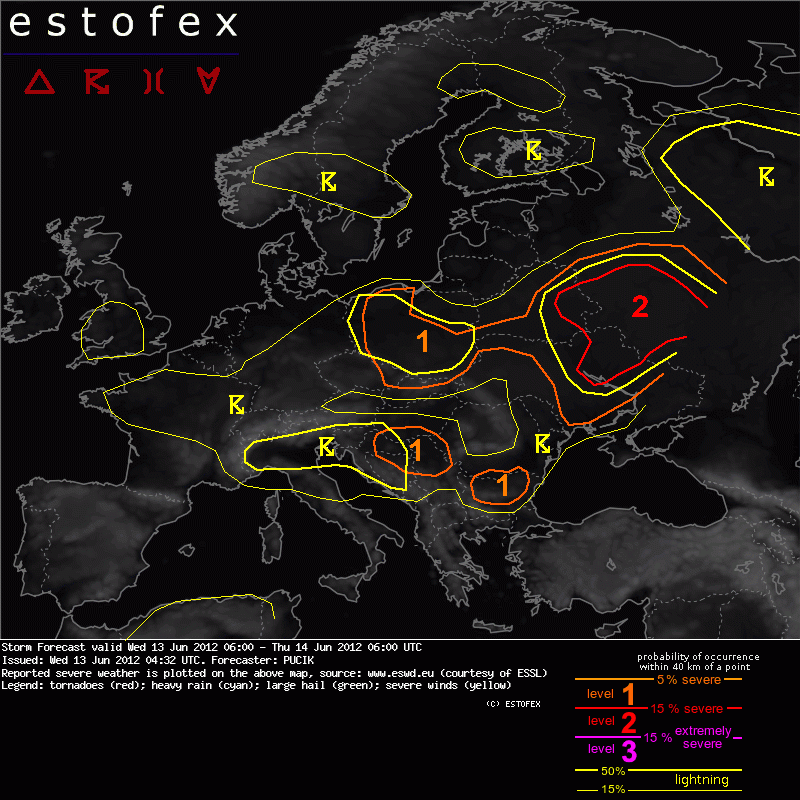 Storm Forecast
Valid: Wed 13 Jun 2012 06:00 to Thu 14 Jun 2012 06:00 UTC
Issued: Wed 13 Jun 2012 04:32
Forecaster: PUCIK
A level 2 was issued for Northern Ukraine and Southwestern Russia mainly for large to very large hail, damaging wind gusts and tornadoes.

A level 2 was issued for Eastern Belarus mainly for excessive precipitation, large hail and to the lesser extent for tornadoes and severe wind gusts.

A level 1 was issued for Central Ukraine mainly for large hail and severe wind gusts.

A level 1 was issued for Southern Belarus, Poland, Northern Slovakia and Northeastern Czech Republic mainly for excessive precipitation.

A level 1 was issued for Eastern Croatia, extreme Southern Hungary, Eastern Bosnia and Herzegovina, Northern Serbia mainly for large hail and severe wind gusts.

A level 1 was issued for Northern Bulgaria mainly for large hail and severe wind gusts.

SYNOPSIS

An active weather pattern over Europe continues with a large long-wave trough stretching over Nortwestern and western half of Central Europe and de-amplifying during the forecast period. A strong westerly to southwesterly flow is simulated at mid to upper levels of troposphere with two major vorticity maxima, one crossing Northern Adriatics and another one ejecting from Ukraine, through Belarus and W Russia towards NE. A wavy frontal boundary will stretch from Balkans, towards Western Russia with numerous low pressure centers, connected especially to the vorticity maxima travelling along the (south)westerly flow aloft. Especially in the warm sector ahead of the wavy boundary, moderately to strongly unstable airmass will be in place, albeit capping can limit DMC initiation especially over the southern regions, which are further away from the front.

DISCUSSION

... N Ukraine, E Belarus, SW Russia ...

Associated with a fast-travelling short-wave trough, in an exit region of a mid and upper level jet-streak, surface cyclone will progress towards NE, with a wavy frontal boundary. As a warm front lifts northwards, moist and unstable airmass with dewpoints likely in range of 16-20°C will overspread the region. With mid level cooling and height falls, moderate instability should develop, with MLCAPES around 1000 J/kg, possibly over 1500 J/kg in the southern part of Level 2. Very strong vertical wind shear is forecast, with 500 hPa windspeeds in the range of 25-35 m/s and 300 hPa windspeeds in the range of 40-50 m/s. With backing surface flow due to the pressure falls ahead of the surface low, DLS values should reach over 25 m/s and SREH values south of warm front over 250 J/kg in the 0-3 km layer. Towards the evening, LLS is forecast to increase, with bulk values over 10 m/s close to the warm front.

Initiation will not be an issue, with strong forcing both along the front and from the short-wave trough. Storm coverage should decrease towards the south. With very favorable vertical wind shear, well organised DMC is anticipated, including possibility of long-lived supercells. Especially for northern and northwestern part of Level 2, quick clustering of storms into MCS is forecast, which will quickly travel towards NE.

Limiting factors of situation is a questionable moisture return from the Black Sea region and influence of the overnight convection and thus possiblity of limited insolation if cloudiness proves to be more plentiful.

A full spectrum of severe weather is possible, including large to very large hail, damaging wind gusts and especially towards the evening, tornadoes. If well developed supercells are maintained along the warm front around 18 UTC, a strong tornado is not ruled out either. To the NW of Level 2, MCS might contribute to the excessive rainfall.


... Central to Southern Ukraine, Bulgaria ...

Moderate to strong DLS should overspread a moderately unstable airmass ahead of the frontal boundary. Well organised multicells or supercells are possible, posing a threat of large hail or severe wind gusts. However, initiation might be an issue with forcing concentrated to the north of this area. Still, enhanced convergence in the frontal trough might result in an isolated DMC and we issue a Level 1 for the area, where at least some model runs simulate convective precipitation.

... Poland, Southern Belarus, NW Slovakia, NE Czech Republic ...

In rather weak upper level flow a moist airmass will advect from NE over the region with marginal to moderate instability in place. Very moist RHs at lower levels along with slow storm motion and low LCLs might result in an isolated excessive precipitation threat from multicells, especially in case that a training effect establishes. The highest threat will likely exist over Southern Poland, due to the orographic enhancement.

... NE Croatia, E Bosnia and Herzegovina, N Serbia, SW Hungary ...

The main factor in destabilisation and initiation of DMC is an approach of a low amplitude short-wave trough from west with highest threat likely in the late afternoon to evening hours. Moderate to strong DLS will ovespread the region with MLCAPE values staying rather marginal and not very likely exceeding 1000 J/kg. Still, strong vertical wind shear might promote some mesocyclogenesis within DMC and such storms might thereafter pose a risk of marginally large hail and severe wind gusts.