Forecast Update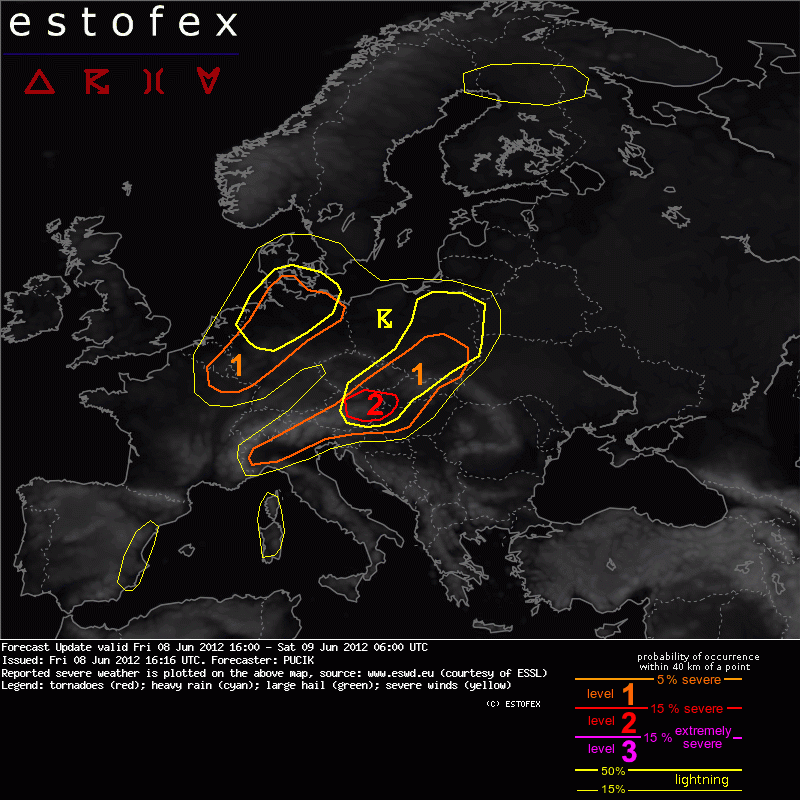 Forecast Update
Valid: Fri 08 Jun 2012 16:00 to Sat 09 Jun 2012 06:00 UTC
Issued: Fri 08 Jun 2012 16:16
Forecaster: PUCIK
A level 2 was issued for Central to Eastern Austria mainly for damaging wind gusts, large hail and to the lesser extent tornadoes and excessive rainfall

SYNOPSIS

Refer to the convective forecast.

DISCUSSION

... N Italy ...

Soundings show meager instability for the area, but very strong DLS. Some models advertised improved instability towards evening and despite bad prospects regarding CI at the region, will maintain Level 1 for well organised isolated convection, including long lived supercells, that might occur once DMC becomes better established, posing conditional threats of large hail and severe gusts.

... Austria ...

Mesolow on the wavy frontal boundary is strengthening low level wind field over Eastern Austria with sfc dew points around 15°C. Enhanced easterly low level flow towards the developing LEWP should contribute to the strong inflow (with enhanced streamwise vorticity in conjuction to the increasing SREH) towards the system with potential for damaging wind gusts and isolated large hail. Isolated supercells might develop ahead of the system but will likely be engulfed by accelerating MCS. Excessive precipitation might occur especially towards the north and in case that well developed LEWP establishes over the region, an isolated tornado is not ruled out either.

Minor changes have been applied to other areas, e.g. eastern extent of Lvl 1 was moved towards Hungary as MCS might translate further eastwards than predicted.