Storm Forecast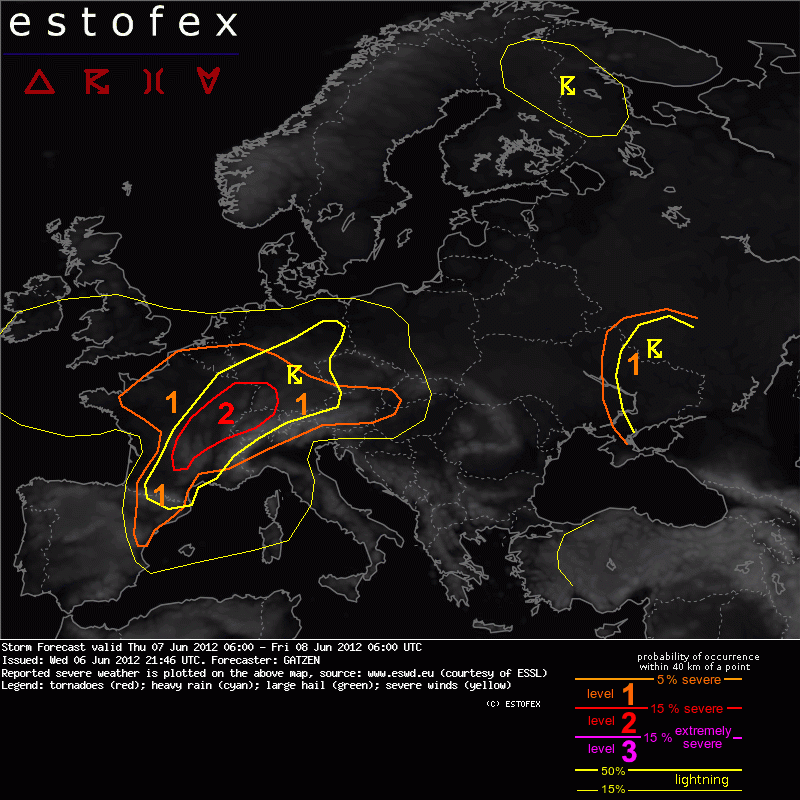 Storm Forecast
Valid: Thu 07 Jun 2012 06:00 to Fri 08 Jun 2012 06:00 UTC
Issued: Wed 06 Jun 2012 21:46
Forecaster: GATZEN
A level 2 was issued for central and eastern France and south-western Germany mainly for severe wind gusts.

A level 1 was issued for north-eastern Spain and southern France mainly for large hail.

A level 1 was issued for northern France and western Germany mainly for tornadoes.

A level 1 was issued for the Alpine region mainly for large hail and severe wind gusts.

A level 1 was issued for eastern Ukraine mainly for large hail.

SYNOPSIS

A long-wave trough moves into western Europe at Thursday, while a ridge axis will move from the Benelux countries to Poland at the end of the forecast period. In the wake of the ridge axis, a strong low-level south-westerly flow will expand from the Iberian Peninsula across France and further into the Alpine region. This leads to warm air advection. The nose of the warm air mass is expected from the northern Balkans to eastern Germany at Friday morning.

DISCUSSION

Southern France to south-western Germany

Cyclogenesis has set in across the eastern Atlantic and an intense low pressure system is forecast centred over Ireland during the period. Its frontal system will affect the forecast region with warm air advection from the Iberian Peninsula into the Alpine region. The cold front will cross France during the day and will enter Germany and the Alpine region in the evening/night.

In the warm sector, rather steep lapse rates will spread into France. Both soundings from Barcelona and Nimes indicate an elevated mixed layer that is forecast across eastern France and the Alps at Thursday, 12 UTC. The boundary-layer moisture has also started to recover due to south-easterly surface winds. Latest model forecasts indicate further moisture increase below the elevated mixed layer across eastern France and southern Germany during the day. Although some mid-level clouds can be expected in the warm air advection regime, diurnal heating will lead to sufficient instability. GFS indicates about 1000 J/kg MLCAPE in the afternoon hours.

Focus of QG forcing will be the mid-level trough axis spreading across France and north-western Germany/Benelux during the afternoon. This trough axis will extend from the North Sea to south-western Germany at Thursday evening affecting the cold front that spreads eastward across France in the afternoon hours. Along the cold front, lift will be rather strong. Therefore, first thunderstorms are forecast to develop in the late morning hours across western France. Given the strong linear forcing, a squall-line is expected that will enter south-western Germany in the evening hours.

Current thinking is that the strong winds will lead to a rapid movement of this squall-line. Squall-line bow echoes seem to be possible that will pose a threat of severe wind gusts. The highest potential is forecast from central to eastern France, where low-level convergence may support the development of bow echoes. Additionally, 0-6 km deep-layer bulk shear of 25 m/s is expected over this region. Along the leading gust front, tornadoes are also forecast that may be strong as latest GFS indicates a broad overlap of 10 m/s 0-1 km bulk shear with the unstable air mass.

Despite severe wind gusts and tornadoes, storms may produce large hail especially across the southern portions of the squall-line, where isolated storms may evolve. Given the strong vertical wind shear, supercells are expected, and even very large hail may be possible. Excessive precipitation is not ruled out.

When the storms approach south-western Germany in the evening hours, decreasing instability and deep-layer vertical wind shear are forecast to result in weakening convection. The severe potential is therefore expected to decrease gradually when the convective line moves into Germany. However, severe wind gusts are not ruled out especially across south-western Germany.

Northern France to central Germany

Along the warm air advection regime, rather stable and cool low-level air is expected. Clouds may limit low-level heating and instability release is questionable. However, rather rich low-level moisture is expected, and diurnal heating may be sufficient for CAPE. Strong forcing is forecast especially along the approaching cold front. Any storm that forms will have a potential to organize and produce tornadoes as favourably veering hodographs, low LCL heights and strong low-level vertical wind shear are forecast. The potential seems to be highest across central France, where low-level buoyancy is expected to be higher compared to Germany and Belgium.

Alpine region, southern Germany

Warm air advection is expected across the Alpine region. Steep lapse rates currently across southern France and increasing low-level moisture will lead to CAPE during the day especially to the north and east of the Alps. While the strongest forcing remains to the west, some isolated storms may fire in the afternoon hours. Given about 20 m/s deep layer vertical wind shear and favourably veering profiles, these storms may evolve into supercells, capable of producing large hail. Excessive precipitation is not ruled out. Storms are forecast to weaken in the evening hours before the cold front enters southern Germany. Along the cold front, a squall-line may be possible across southern Germany, posing a threat of severe wind gusts. Convection is forecast to weaken during the night given decreasing instability.

Eastern Ukraine

An unstable air mass will be pushed east by a cold front during the day. Along the cold front, thunderstorms are forecast. Although vertical wind shear will be rather weak, steep lapse rates and moderate instability support a threat of large hail with the stronger storms. Convection will move out of the forecast region during the day.