Storm Forecast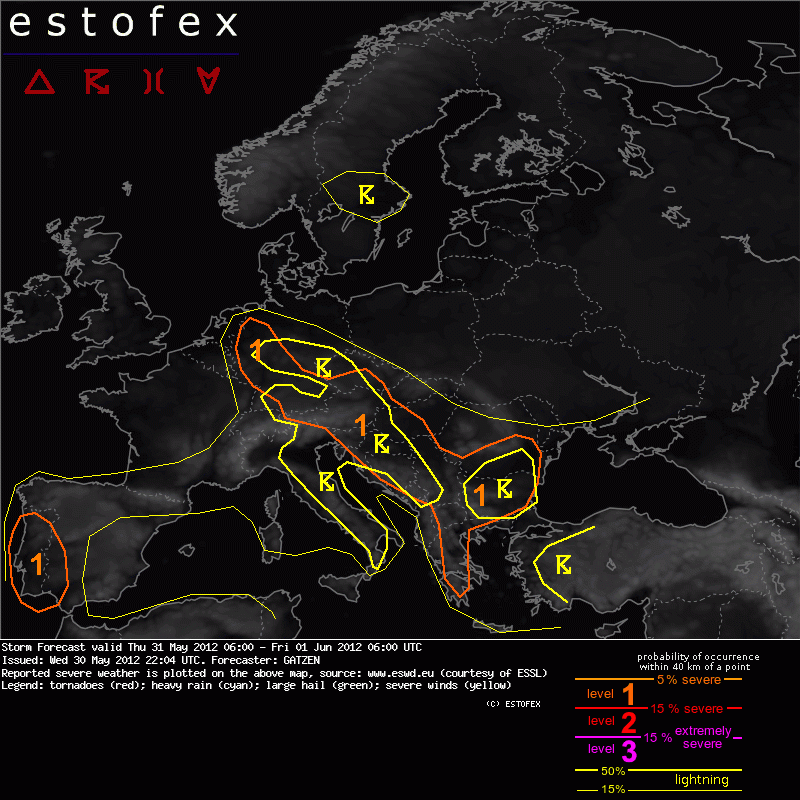 Storm Forecast
Valid: Thu 31 May 2012 06:00 to Fri 01 Jun 2012 06:00 UTC
Issued: Wed 30 May 2012 22:04
Forecaster: GATZEN
A level 1 was issued for southern Portugal and surroundings mainly for large hail.

A level 1 was issued for south-eastern Germany, the Czech Republic, Austria, Hungary, Slovenia, Croatia, Serbia, Bosnia and Herzegovina, Montenegro, Greece, Bulgaria, and south-eastern Romania mainly for large hail and excessive precipitation.

A level 1 was issued for western and central Germany mainly for tornadoes.

SYNOPSIS

At the southern flank of a deepening Scandinavian trough, cool air masses spread into Europe from the north-west. A cold front will be situated from southern France across the Alps to the Black Sea at Thursday morning. Due to a short-wave trough travelling with the westerly flow, a frontal wave will develop during the day, associated with warm air advection from central Germany to the Balkan region. Relatively steep lapse rates can return northward while rich low-level moisture currently across France will spread eastward. In response to diurnal heating, CAPE will develop from eastern France to southern/central Germany in the warm sector of the frontal wave. To the south and east, moist and unstable air masses of the last days will remain across Italy and the Balkans. A trough will affect Turkey.

DISCUSSION

South-east Germany to the Balkans and the Black Sea

Latest soundings indicate steep lapse rates and rich low-level moisture over most of the region. At Thursday, diurnally driven thunderstorms are forecast. The vertical wind shear is weak and storms will be rather unorganized except for pulse storms and clusters. Locally, large hail and excessive precipitation is forecast, and given the large coverage of storms, a level 1 is issued. Across south-eastern Germany, deep-layer vertical wind shear will increase in the evening hours to more than 15 m/s. An overlap of this shear with the decreasing instability is questionable, but a better organized multicell-storm or supercell is not ruled out. Large hail seems to be the main threat with this convection.

Central Germany to southern Benelux

As the frontal wave passes by, a tongue of rich low-level moisture will advect north-eastward into western Germany. Although lapse rates are weak, QG forcing ahead of an approaching mid-level jet streak may provide enough lift to enable CAPE. Latest GFS indeed indicates weak CAPE during the day. Given the strong forcing and weak CIN, showers and thunderstorms are expected. Most updrafts will be weak due to the weak CAPE. However, vertical wind shear will increase along the northern nose o the moist air mass due to the approaching jet streak, and deep-layer vertical wind shear may exceed 20 m/s in the late afternoon hours. Additionally, the 0-1 km bulk shear will be strong along the warm front (10 m/s) and favourable veering profiles are expected. Some storms may therefore evolve into supercells capable of producing tornadoes. The main thread seems to exist in the afternoon and evening hours, when the mid-level jet approaches and the overlap of vertical wind shear and CAPE will be greatest. However, the greatest uncertainty will be the cloud-coverage and rain leading to a cool boundary-layer and weak chanced for thunderstorms. Later observations will indicate if the scenario of storms will really come true.

Southern Portugal and surroundings

Broad warm air advection is expected across the Iberian Peninsula at Thursday. Within the ridge, only weak QU forcing is expected. An elevated mixed-layer will spread northward during the day. At low levels, some moisture has been advected southward and concentrates along northern and western Iberia. This will be associated with CAPE in the afternoon and evening hours. Given rather high CIN and weak forcing, initiation is questionable. Best potential exists over the mountains and over southern Portugal, where strongest low-level convergence is forecast due to a weak mid-level trough spreading northward. Storms that will develop across southern Portugal will profit from strongly curved low-level hodographs due to easterly surface winds and westerly winds aloft as well as rather high CAPE values. Large of very large hail is not ruled out with these storms that may spread northward during the night together with mid-level trough axis.