Storm Forecast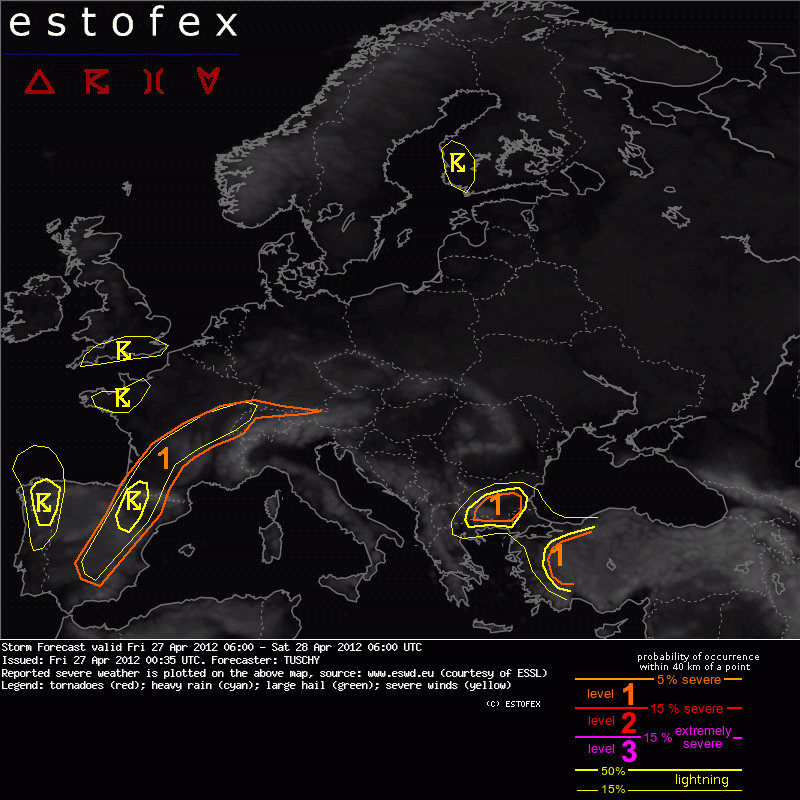 Storm Forecast
Valid: Fri 27 Apr 2012 06:00 to Sat 28 Apr 2012 06:00 UTC
Issued: Fri 27 Apr 2012 00:35
Forecaster: TUSCHY
A level 1 was issued for parts of Bulgaria and W-CNTRL Turkey mainly for large hail.

A level 1 was issued for N-CNTRL Spain, parts of France, far W/N-Switzerland and far SW-Germany mainly for large hail and severe wind gusts.

SYNOPSIS

Cut-off process atop the Bay of Biscay is well underway during the end of the forecast period. The cut-off low reveals only low-end shift to the south (towards Portugal/NW Spain), whereas the northern part of the ancient trough lifts out to the NE atop the N-Sea to Norway/Sweden.

Downstream of that feature, prominent cold-core low over Romania/Bulgaria drops further to the south, leaving behind a strengthening and westward expanding high pressure area over the Ukraine.

This results in a well defined baroclinic zone which runs from the Iberian Peninsula to Germany all the way to the Baltic Sea. No real net motion of that boundary is forecast from Spain to SW-France with a northward shift over Germany and Baltic Sea due to strengthening WAA regime, especially during the night hours.

DISCUSSION

... Spain and SW/CNTRL- France ...

Yesterday's 12Z soundings over the W-Mediterranean captured strong EML plume very well, which advects onshore atop E-Spain/S-France during the forecast. Ongoing onshore flow of a moist Mediterranean air mass and strengthening convergence along that boundary may assist in surface dewpoints in excess of 10 °C with also deepening BL moisture forecast. Overlap of grazing EML plume and concentrated swath with better LL moisture allow MLCAPE build-up of 500 J/kg with even higher MUCAPE values possible. Forecast soundings over CNTRL/NE Spain and SW-France show defined time frame for initiation, either forced by weak high-level divergence due to transient coupled jet configuration or adequate diabatic heating especially on higher terrain....roughly between 15 and 21 Z. Initiation away of that bounday (here: to the east) becomes unlikely with strong cap in place.

0-6 km shear up to 30 m/s, 0-3 km shear between 15-20 m/s and enhanced helicity would support well organized storms. However, limited CAPE will be the main inhibiting ingredient for now. Isolated large hail and severe wind gusts are likely with any storm.

After midnight, impressive WAA regime will be underway over W-France and we don't want to exclude a few elevated storms along the northward sliding warm front with low-end MUCAPE present. No lightning area was added due to very sporadic nature of thunderstorm coverage.

Thunderstorm activity over N-Portugal/far NW-Spain, far NW-France and S-UK will be daytime driven with peak activity during the afternoon/evening hours. Best CAPE/shear remains displaced with marginal hail/strong wind gusts expected.

... Far E-France, far NW/N-Switzerland, parts of Germany and NW-Poland ...

Gradually deepening moisture profiles are forecast along the frontal zone although surface moisture quality is handled bad in numerous models with unrealistic 24-hrs surface dewpoint increase forecast. Good daytime heating likely especially over S/E- Germany as EML plume mixes northeastwards. 1-2 km AGL heats up but forecast soundings east and south of the baroclinic zone reveal deeply mixed profiles with weak cap left. No forcing is detectable until 18Z. Virtually all models keep thunderstorm initiation unlikely over CNTRL/E-Germany with seesaw changes over E-France and far SW-Germany/NW and N-Switzerland. Hence a non thunder level 1 was issued for parts of the W-Alps, as forecast thunderstorm activity may even not match the 15-% criterion.

Main focus therefore arises just along the northward advancing warm front from far E-France to CNTRL/NE Germany and far NW-Poland at 18Z onwards. As opposed to the daytime hours, past model cycles of numerous models had all signs for sporadic to isolated initiation along the northward lifting warm front. Bad handling of northward spreading EML plume also seen in nighttime MUCAPE forecast, with values ranging from a few hundreds of J/kg up to 1 kJ/kg with peak magnitude over CNTRL/E Germany. NE-ward lifting upper trough grazes the baroclinic zone from SW to NE during that period and may assist in initiation for elevated storms (initiation probably also bound to more complex topography). High resolution models also show numerous convergence zones on the meso gamma/beta scale, partly crossing the consolidating warm front and locally increasing both LL forcing and potential moisture pooling within the BL (however still not yet adequate for initiation regarding latest model output).

Strong to intense shear, degree of lapse rate strength at mid-levels and deep/mixed subcloud layer would favor severe wind gusts and large hail with any somewhat more persistent updraft. Exact evolution of the LL air mass and warm front have to be monitored closely for initiation.

Right now, no level 1 / 15-% thunderstorm area will be added for those areas due to large QPF spread, significant spread in thermodynamic profile forecasts and uncertainty of exact evolution of features on the mesoscale.

... Bulgaria and NW Turkey ...

Beneath the well defined cold-core low, scattered showers and thunderstorms are forecast with peak activity between the afternoon and early night hours. Cold mid/low-levels favor a few large hail events with stronger storms next to gusty winds.

A few pulsating storms occur over W-CNTRL Turkey and again, isolated large hail is possible, too. Therefore the level 1 was expanded eastwards.