Storm Forecast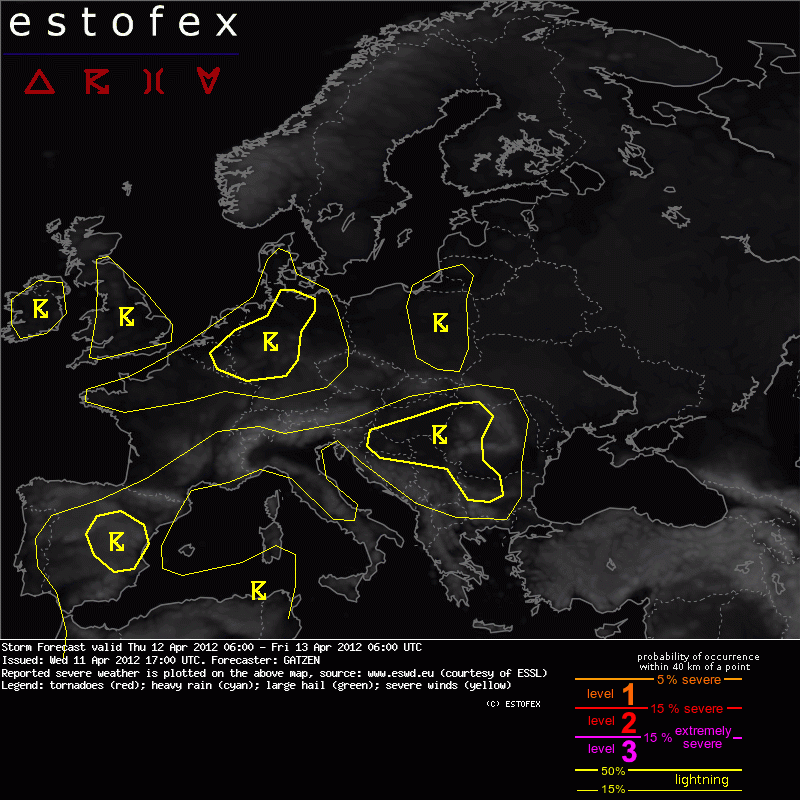 Storm Forecast
Valid: Thu 12 Apr 2012 06:00 to Fri 13 Apr 2012 06:00 UTC
Issued: Wed 11 Apr 2012 17:00
Forecaster: GATZEN
SYNOPSIS

Cold mid-level air masses are present over most of Europe. The through center with the coldest air and well-mixed lapse rates up to 400 hPa is situated across the North Sea region and will expand into Scandinavia during the period. The low geopotential also extends into Iberia, while a ridge is situated over the east Mediterranean.

In the cold air, steep low-level lapse rates can evolve in response to diurnal heating. Best low-level moisture is situated along a broad frontal boundary from the Iberian Peninsula to the Alps, the northern Balkans, and the Baltic States, where a couple of convergence zones exist.

DISCUSSION

Eastern Spain, southern France, southern Alps, northern Balkans, eastern Poland

At the frontal boundary, the boundary layer moisture has increased to about 6 g/kg in the lowest km. Diurnal heating will likely result in weak CAPE that will be nearly uncapped. Showers are forecast. Some of these showers may also be deep enough to produce lightning. The best potential is forecast over eastern Spain and the northern Balkans with the bst synoptic forcing due to a westerly mid-level jet streak, but isolated lightning may also be possible over the southern Alpine region and over eastern Poland. Most of these storms will be rather short-lived given the weak instability and vertical wind shear. However, given about 10 m/s 0-3 km bulk shear that may be locally enhanced by southerly low-level winds, some well-organized multicells or supercells are not ruled out. Large hail seems to be the primary threat.

British Isles, northern France, Benelux, Germany

Within the deep polar air mass, diurnal heating will likely result in thunderstorms. The best synoptic forcing is expected across Germany at the cyclonically sheared flank of a mid-level jet streak. Weak vertical wind shear is expected and well-organized storms are not forecast. Marginally severe hail is not ruled out given the low wet-bulb zero.