Storm Forecast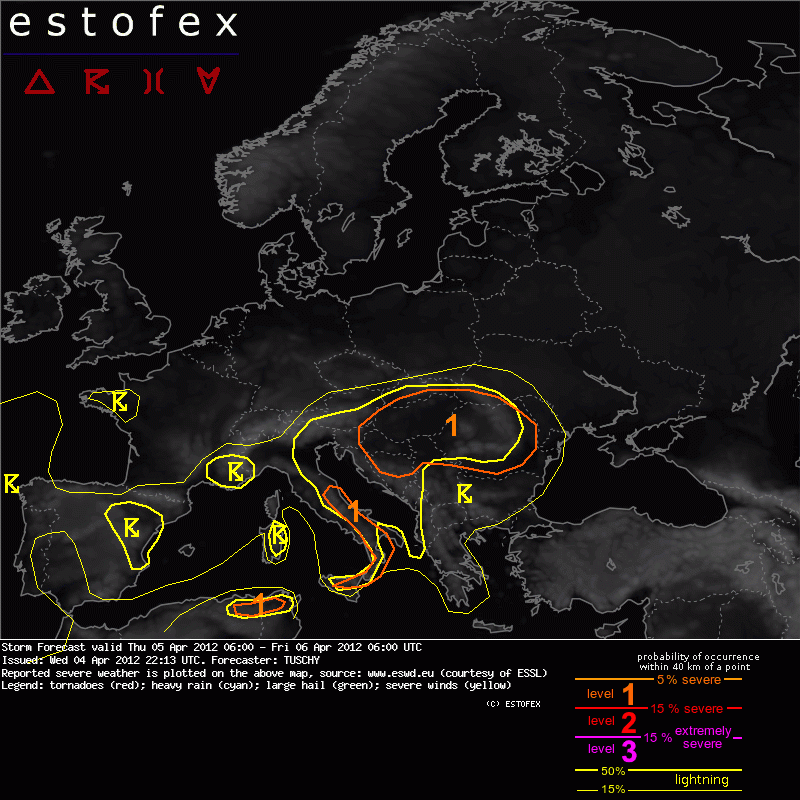 Storm Forecast
Valid: Thu 05 Apr 2012 06:00 to Fri 06 Apr 2012 06:00 UTC
Issued: Wed 04 Apr 2012 22:13
Forecaster: TUSCHY
A level 1 was issued for Hungary, S-Slovakia, extreme W-Ukraine, Romania, N-Serbia, parts of Bosnia and Herzegovina and Croatia mainly for large hail, strong to isolated severe wind gusts and locally heavy rainfall amounts.

A level 1 was issued for parts of CNTRL/S Italy mainly for large hail and strong wind gusts.

A level 1 was issued for N-Tunisia and NE-Algeria mainly for large hail and strong wind gusts.

SYNOPSIS

Well established rex block pattern persists over Europe with no major pattern shift forecast during the forecast period. The positive tilted upper trough over the Iberian Peninsula becomes reinforced as another shot of cold air approaches from the Bay of Biscay. Downstream ridging assists in ongoing WAA pattern over SE/E-Europe with scattered showers and thunderstorms forecast. Quasi-stationary cyclonic vortex over NE Europe continues to advect cold and dry air to the south.

This set-up results in a strengthening baroclinic zone from Austria to Russia, where better LL moisture becomes established.

DISCUSSION

... Italy, the Balkan States, Austria, Slovakia, Hungary and Romania ...

An active day is in store for widespread showers and thunderstorms.

21 Z (4th April) surface observations reflect robust LL moisture with dewpoints in the lower to mid tens over Italy and the coastal areas of the Adriatic Sea. Also, constant moisture recovery was seen over parts of Slovenia, Croatia and Bosnia and Herzegovina with Tds at or above 10°C. Further east, over Bulgaria and Romania, a northward progression of the 10 °C isodrosotherm was noted, too. Another region with potentially enhanced thunderstorm activity may arise along a wavy moisture convergence zone, which becomes established roughly from SE Germany to Slovakia to W-Ukraine. Some moisture pooling may locally increase the depth of the moist BL.

Well structured EML plume (warming lower troposphere beneath cold mid-levels) expands northeastwards with strongest lapse rates over S-Italy into Romania...decreasing slightly to the west. Strength of EML was sampled well by yesterday's soundings (e.g. S-Italy), so confidence is high that an extensive area will see an overlap of good BL moisture and steep lapse rates atop. 500 - 1000 J/kg MLCAPE are forecast, although on the mesoscale, even higher values could verify given high dewpoint gradients within the highlighted area.

Shear remains weak over most places. 1-8 km shear however will be enhanced over Bulgaria into Serbia with up to 20 m/s possible (although model uncertainties remain). Another spot with 20-25 m/s 0-6 km bulk shear is present over N-Tunisia to S-Italy, where strong polar front and subtropical jet phase up.

The 50-% thunderstorm areas were introduced as a consequence of supportive complex topography, augmented BL moisture and the aforementioned convergence zone. The extensive level 1 area was issued mainly due to a pretty cold troposphere (also lowered WBZ), steep mid-level lapse rates, a well mixed and dry subcloud layer (LCLs in excess of 1km) and locally strong CAPE signals (> 1kJ/kg MLCAPE). We expect a few large hail events with stronges storms. Strong to isolated severe wind gusts are possible, too, also fostered by supportive pattern for strong outflows. Slow storm motion may favor locally heavy rainfall amounts. The level 1 outruns the 50-% thunderstorm area over E-Romania due to limited storm coverage. The environment however remains favorable for an isolated large hail event (also keeping slightly stronger anvil-layer flow in mind).

The same for the level 1 over CNTRL/S-Italy.

Similar hazards are also forecast in the level 1 area over NE-Algeria and N-Tunisia. Main activity forecast along the E-Tell Atlas region with decreasing strength after sunset.

After sunset, thunderstorm intensity decreases, but clustering of various messy organized clusters keeps going, so expect thunderstorm activity well into the night with marginal hail, gusty winds and locally heavy rainfall.

... Iberian Peninsula ...

The atmosphere responds to the approach of a well structured cold-core low, which gradually slides SW-wards over the Bay of Biscay to Portugal until 06Z. While Portugal and areas offshore see a constant increase in mid-level lapse rates, LL moisture is meager to say at least. Further east, over parts of Spain, mid-levels see a slight warm-up with weak lapse rates but better LL moisture with persistent influx from the east (W-Mediterranean). DLS of 10-15, locally up to 20 m/s would be adequate for organized multicells, but weak CAPE signals preclude a more robust severe risk. Therefore, a few strong pulsating storms are forecast, mainly along the complex topography. Marginal hail and strong wind gusts accompany that activity. No level was added for that event.

... Rest of the thunderstorm areas ...

No severe weather is anticipated with marginal hail and gusty winds. Storms wane after sunset.