Storm Forecast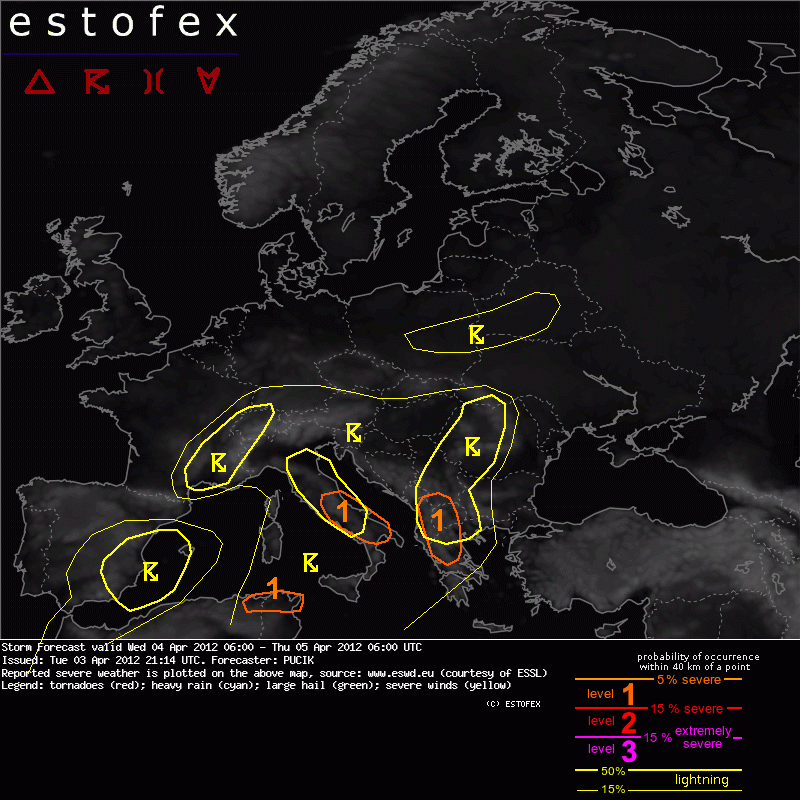 Storm Forecast
Valid: Wed 04 Apr 2012 06:00 to Thu 05 Apr 2012 06:00 UTC
Issued: Tue 03 Apr 2012 21:14
Forecaster: PUCIK
A level 1 was issued for Northern Tunisia mainly for severe hail and severe wind gusts

A level 1 was issued for Southern part of Italy mainly for severe hail.

A level 1 was issued for Nothern Greece and Macedonia mainly for severe hail and severe wind gusts.

SYNOPSIS

A complicated synoptic setup is forecast over Europe for the given forecast period. At midlevels, a large trough will extend from Scandinavia into Iberia and northwestern Africa. Several small scale disturbances are forecast to rotate around the trough. Three dominant are briefly described - the first one will affect as a separate cyclonic vortex Western Europe during the day, slowly translating towards Iberia. The second and third in form of the short-wave troughs, one crossing northern half of Central Europe during the day and the third one ejecting from N Africa towards the Ionian Sea during the night hours. Even smaller scale disturbances will be well possible, but are not easily discernible by model simulations.

At lower levels, a widespread low pressure region is anticipated for the Western and Central Mediterranean, as well as Western and Central Europe, including numerous separate low centers. A main frontal zone will extend from Spain into France/Germany and a new wave will develop over Poland/Belaurs area.

Ahead of the frontal zone and the large trough, in southwesterly flow, high lapse rates airmass is being advected from Northern Africa across large portions of Europe. This will be the primary factor in generation of instability with numerous areas experiencing thunderstorm during the given day. The major limiting factor, especially for the southern half of the Mediterranean will be capping inversion along with high CIN values.


DISCUSSION

... Northern Tunisia ...
Overlap of moderate CAPE - above 1000 J/kg and DLS approximately 15 m/s combined with very steep mid-level lapse and relatively dry airmass point to the enhanced threat of large hail and severe wind gusts from better organised multicells or marginal supercells. Initiation of cells seems to be of a primary concern regarding this situation, but especially towards the evening hours with the approach of the short-wave trough, few isolated storms might form in the region and a Level 1 is warranted at the moment.

... Italy ...
Especially for the southern half of the country, a favorable setup seems to be developing regarding the combination of the moderate instability and enhanced mid-level flow, contributing to strenghtening wind shear. DLS might exceed 20 m/s, MLS 15 m/s regionally, also thanks to the backing wind field with mesoscale low pressure features developing over the continent and subsequent enhancement of SREH. Steep mid-level lapse rates are forecast, atop of a capping inversion, which will be the crucial factor in the forecast. Initiation seems to be a very important issue for this region, with most of the models/forecast soundings revealing high CIN values. Values should be lowered inland, but e.g. for Sicily chance of DMC initiation seems to be pretty slim. A Level 1 is introduced for the region where initiation will be less of an issue and where moderate CAPE with at least 10-15 m/s DLS. Combined with steep mid level lapse rates this setup might yield strong multicells with attendant severe hail/marginally severe wind gust threat.

... Northern Greece/Macedonia ...
High lapse rate airmass will be advected over the region, contributing together with diurnal heating to release of a few hundreds J/kg of CAPE. Quite strong wind shear is forecast with DLS likely reaching 20 m/s inland, together with some directional shear leading to moderate values of SREH, in the layer 0-3 km reaching up to 300 m2/s2. Particularly in the afternoon hours initiation should not be an issue with low CIN values. Well organised convection is possible, including some rotating updrafts with attendant hail and severe wind gust threat. Especially hail threat will be augmented by steep lapse rates and high LCLs.