Storm Forecast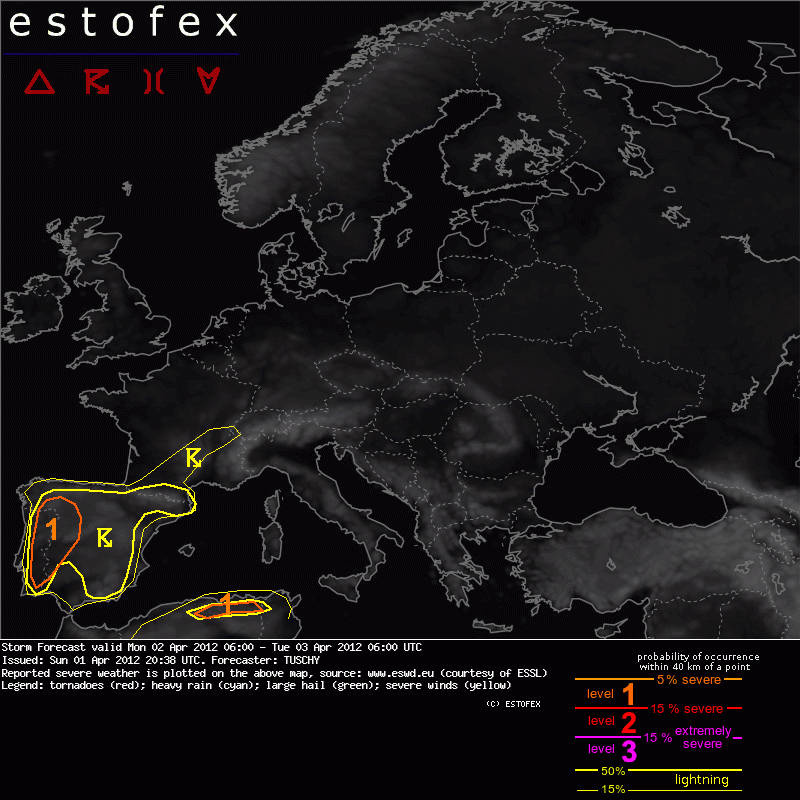 Storm Forecast
Valid: Mon 02 Apr 2012 06:00 to Tue 03 Apr 2012 06:00 UTC
Issued: Sun 01 Apr 2012 20:38
Forecaster: TUSCHY
A level 1 was issued for Portugal and parts of Spain mainly for an isolated large hail event.

A level 1 was issued for parts of N-Algeria mainly for large hail.

SYNOPSIS

A strong cyclonic vortex remains in place over NE-Europe with cool and dry air covering most parts of N/E and CNTRL Europe. A weakly organized upper low atop the Iberian Peninsula moves slowly eastwards and sparks numerous showers and thunderstorms. Sporadic thunderstorm activity is possible along the W-CNTRL coast of Norway but no lightning area will be added due to the sparse coverage.
A weak cold-core low crosses Ireland from NW to SE during peaktime heating. An isolated thunderstorm may evolve, but latest indications are that the coldest mid-level air mass remains offshore just to the west of Ireland. No thunderstorm area was added due to ongoing uncertainties of the exact path of the upper low. Otherwise no DMC is forecast.

DISCUSSION

...Portugal and Spain ...

No major changes compared to yesterday's outlook. The main difference will be better moisture now also evident over E-Spain with lowest values (in the lower single digits) along the S/E Meseta Central. Surface dewpoints elsewhere in the lower tens counteract marginal weaker mid-level lapse rates, so roughly 500 J/kg MLCAPE are expected within the level 1 and lower values to the east.

Shear remains weak, so again pulsating thunderstorm activity is anticipated with rapid and messy clustering forecast. Isolated large hail and gusty winds will be the main hazard. LL CAPE magnitude decreases somewhat compared to yesterday but low LCLs and locally enhanced shear along various outflow boundaries may assist in an isolated funnel/short-lived tornado event. The activity graduall decreases after sunset as the boundary layer cools down.

Despite marginal environment, we again went ahead and issued a low-end level 1 as yesterday's convection featured numerous short-lived but intense thunderstorm cores, enough for hail production.

A few thunderstorms may form as far to the NE as S-CNTRL France, as a warm front and attendant moist warm sector expand northeastwards. Surface dewpoints along the coasts of S/SW-France already approach 10°C (as of 20Z on the 1st), so with 500 hPa temperatures around -20°C enough CAPE build-up for a sporadic and short-lived non-severe thunderstorm event may materialize. The activity rapidly decays after sunset.


... N-Algeria ...

Focus for scattered thunderstorm development remains the Tell Atlas region, where surface dewpoints increase from the lower tens over NW Algeria to mid tens over NE Algeria. The plume of steep mid-level lapse rates slowly migrates eastwards but an overlap of high BL moisture and steepest lapse rates still exists over NE-Algeria. DLS around 15 m/s favors a few well organized multicells with large hail and strong wind gusts the primarily risk. The activity decays after sunset with weakening clusters of showers and storms moving offshore.