Storm Forecast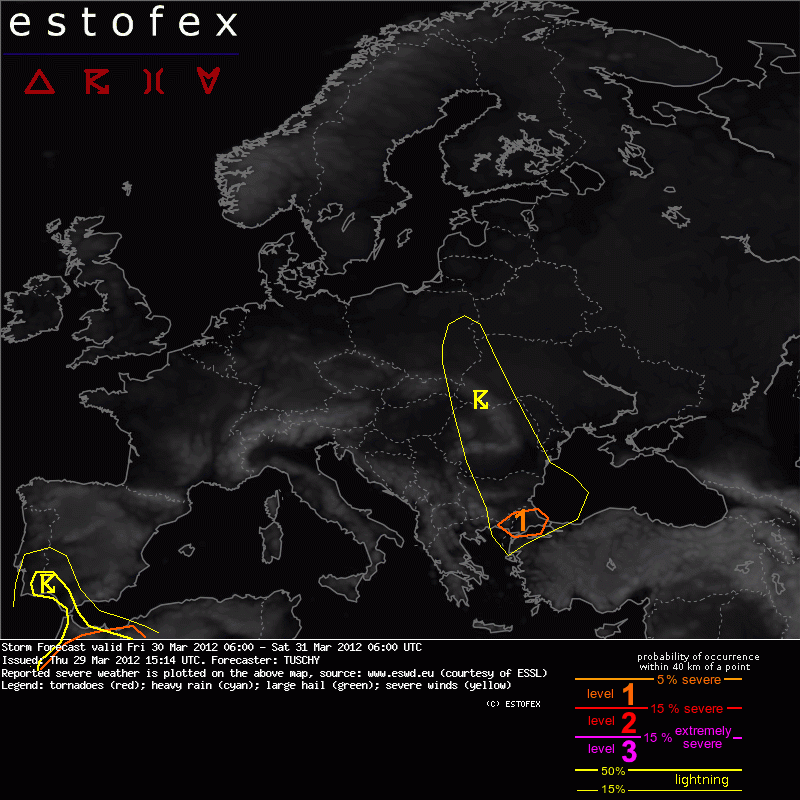 Storm Forecast
Valid: Fri 30 Mar 2012 06:00 to Sat 31 Mar 2012 06:00 UTC
Issued: Thu 29 Mar 2012 15:14
Forecaster: TUSCHY
A level 1 was issued for N-Morocco and far NW-Algeria mainly for heavy rainfall and isolated large hail.

A level 1 was issued for far NW Turkey and NE Greece mainly for large hail.

SYNOPSIS and DISCUSSION

A longwave trough is situated over E-Europe and steers cold and dry air far to the south. BL moisture is marginal, although global models hint at locally augmented moisture beneath moderate mid-level lapse rates. Most models show traces of instability, barely enough for electrified convection. Hence only a small area with best moisture/lapse rate overlap was highlighted. Despite strong shear, weak updraft strength precludes a more robust severe risk. Marginal hail and strong wind gusts will be the main hazard.

A level 1 was issued for far NW Turkey/NE Greece mainly for the afternoon hours. Up to 500 J/kg MLCAPE and strong speed/directional shear at all levels increase the risk for a few well organized multicells with large hail and strong wind gusts. The threat decreases after sunset, as drier air moves in from the north.

A quasi-stationary depression just to the SW of Portugal sparks numerous showers and thunderstorms during the forecast. Therefore, we expect repeatedly onshore moving showers and thunderstorms. The air mass onshore features very low BL humidity values, so onshore moving convection is forecast to weaken betimes. Nevertheless an isolated large hail event and strong wind gusts are still possible. Along the coast, a low-end waterspout risk is forecast due to 50-100 J/kg LLCAPE. Locally heavy rainfall may occur due to slow storm motion and good moisture influx from the south.

A level 1 was issued for extreme N-Morocco as multicells evolve during the daytime hours. Placed beneath the exit region of a strong upper level jet and good diffluence aloft all point to rapid clustering with heavy rainfall the primarily risk. Next to that, a few large hail and strong wind gust events are possible, too. After sunset the thunderstorm activity decreases but the risk of heavy rain continues all the way into far NW-Algeria.

For the rest of Europe no organized thunderstorm risk exists.