Storm Forecast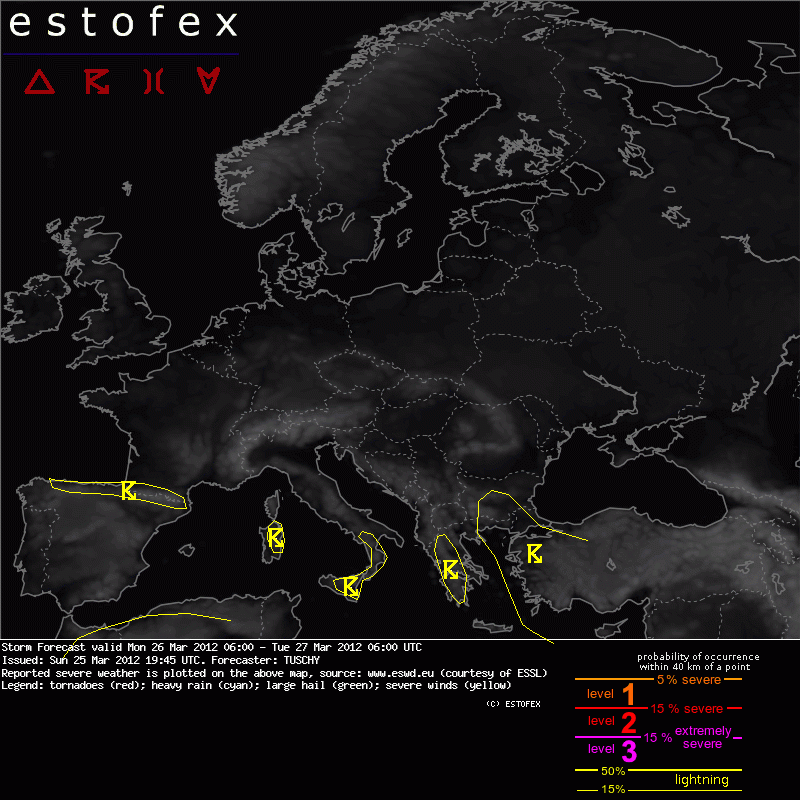 Storm Forecast
Valid: Mon 26 Mar 2012 06:00 to Tue 27 Mar 2012 06:00 UTC
Issued: Sun 25 Mar 2012 19:45
Forecaster: TUSCHY
SYNOPSIS and DISCUSSION

A weak geopotential height gradient pattern persists over most of Europe, excluding E-/NE-Europe, where progressive NW-flow pattern remains present.

Not much moisture is present to work with, although marginal enhanced atop the Mediterranean and SW-Europe. Plume of modest mid-level lapse rates atop aforementioned better BL moisture results in pockets of regionally enhanced MLCAPE. Main foci will be onshore areas, where diabatic heating assists in daytime driven convection, which may allow an isolated thunderstorm to evolve. Offshore areas like the Ionian Sea may also see adequate CAPE build-up, but no convergence zone can be detected. We won't exclude the chance for an isolated offshore event, but coverage remains too sporadic for any lightning area.

A very sporadic event (afternoon/early evening) is also possible over S-CNTRL France and far NW-Italy, but no lightning area is needed.

Marginal CAPE and weak shear preclude a severe risk, although cool troposphere may assist in marginal hail next to gusty winds.