Storm Forecast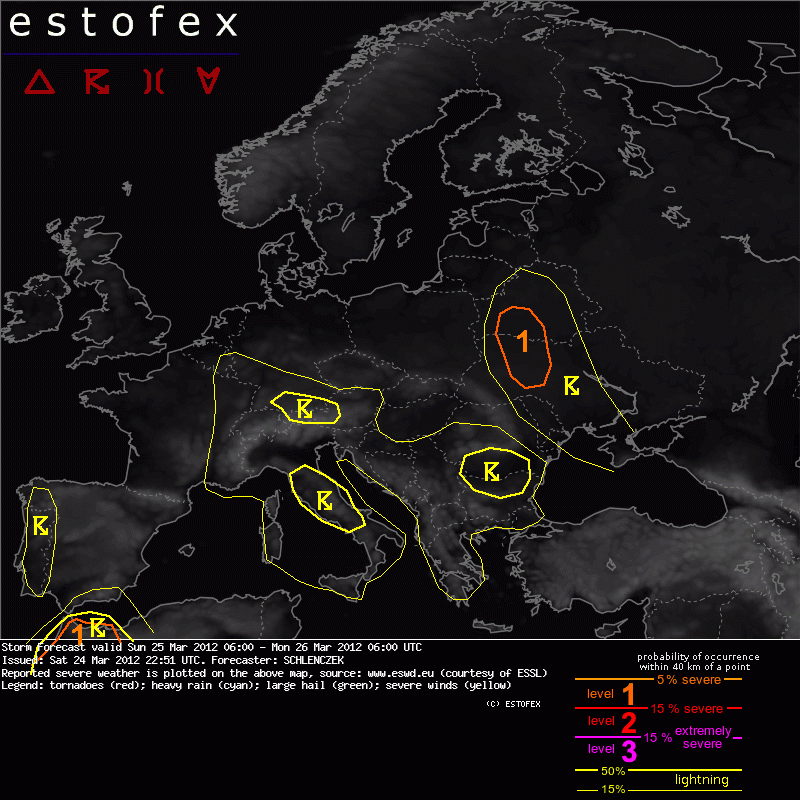 Storm Forecast
Valid: Sun 25 Mar 2012 06:00 to Mon 26 Mar 2012 06:00 UTC
Issued: Sat 24 Mar 2012 22:51
Forecaster: SCHLENCZEK
A level 1 was issued for N Morocco for isolated large hail and severe wind gusts.

A level 1 was issued for Belarus and W Ukraine mainly for severe wind gusts and for the chance of a tornado.

SYNOPSIS

The feature of interest is an upper trough over eastern Europe with some remnants of cold upper air along a line from the Black Sea towards Benelux. Given 4 to 6°C at 850 hPa and -24 to -26°C at 500 hPa, some slight instability is likely to be created by diurnal heating.

An embedded shortwave trough over the Baltic Sea will lead to cyclogenesis over the E Baltics. The developing surface low will likely reach a minimum pressure of 1000 hPa and surface winds in order of 15 m/s. As seen in many cases of cyclogenesis over land, the temperature gradient along the cold front steepens and some instability is created directly ahead of the cold front. Showers and thunderstorms may create a narrow multicellular line with severe wind gusts.

DISCUSSION

...Italy, Balkans, Adriatic coast, Alpine region, S Germany and Benelux...

Low-end CAPE and weak shear is forecast for the central parts of Europe. Electric activity should be rather sparse as overall buoyancy is quite low. An isolated hail/ brief tornado event is possible but overall probability does not justify a threat level.

...W Ukraine and Belarus...

An intense shortwave trough crosses the area of interest during the afternoon as diurnal heating may allow some instability in the vicinity of the developing surface low. Given 15 - 20 m/s of 0-3 km shear and 20 m/s wind speed at 850 hPa, some isolated severe wind gusts are likely to occur if convection develops. A small level 1 was issued for the area with the highest chance of severe wind gusts. As SRH3 and SRH1 are also augmented, a tornado is not ruled out either.

...N Morocco...

Some hundred J/kg CAPE are expected ahead of an upper trough which is centered over Portugal. As deep layer shear of 15 - 20 m/s and SRH3 in order of 150 m²/s² are in place, some storms might become supercellular and capable of producing large hail and severe wind gusts.