Storm Forecast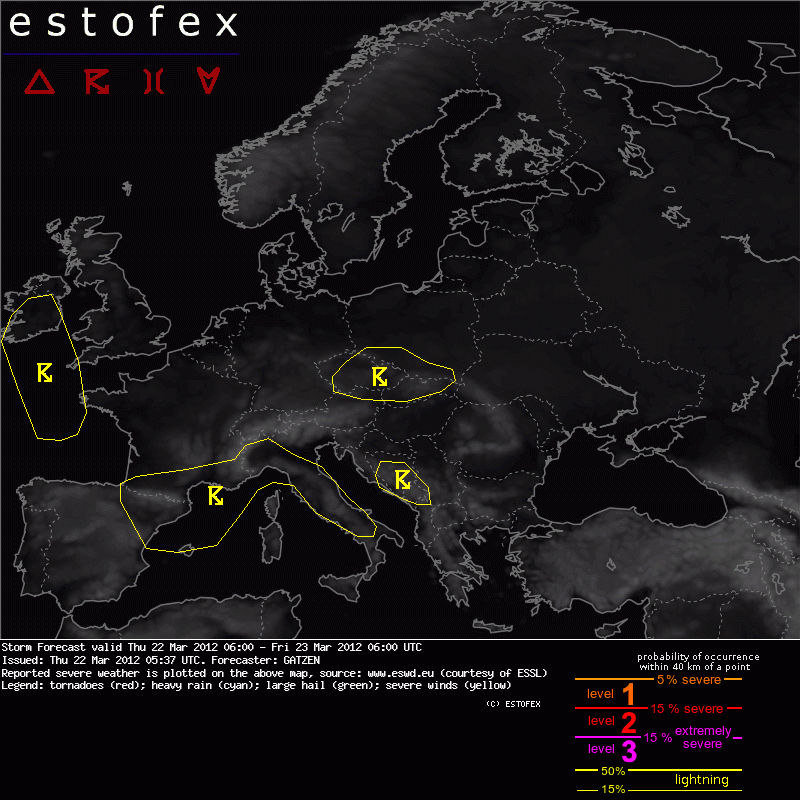 Storm Forecast
Valid: Thu 22 Mar 2012 06:00 to Fri 23 Mar 2012 06:00 UTC
Issued: Thu 22 Mar 2012 05:37
Forecaster: GATZEN
SYNOPSIS

A broad ridge covers most of Europe. Relatively cold mid-levels are present as indicated by latest soundings, leading to rather steep lapse rates. Steepest lapse rates are expected with mid-level cut-off lows across western and central Europe today.

The low-level moisture is poor over eastern Europe and the dry air mass spreads southward into the east and central Mediterranean. Better low-level moisture is located over the west Mediterranean Sea and advects into southern France and the Bay of Biscaya. Locally moisture pooling is also likely along weak fronts from Germany into the northern Balkans.

Especially the complex cut-off low currently over the Bay of Biscay and Iberia will lead to quasi-geostrophic forcing. The northern center of this trough will move northwards and will deepen over the western British Isles. The southern part will slowly move east into southern France. Weak low-level forcing can be expected along of sea-breeze fronts, upslope flow und weak frontal boundaries over Central Europe.

DISCUSSION

Pyrenees and surroundings

A moist and unstable air mass over the west Mediterranean advects into the Pyrenees region today. Latest Palma de Mallorca sounding indicates a moist boundary-layer and steep mid-level lapse rates. This air mass will be affected by QG forcing as the cut-off low moves eastward.

Latest observations indicate a stratiform precipitation area ahead of the warm Mediterranean air. Thunderstorm activity has deceased in the last hours. While the trough moves eastward, steepening lapse rates result in instability at the western flank of this rain band, and new thunderstorms have already formed. During the day, more thunderstorms are expected due to the moist low levels and steepening lapse rates and the low-level forcing due to upslope flow at the southern flanks of the Pyrenees.

Some thunderstorms may become intense or severe given rather strong vertical wind shear of 15 m/s in the lowest 3 km. However, westerly low-level winds and some cold air advection will likely result in weak hodographs and supercells are not likely. Locally large hail seems to be the main threat given the low wet-bulb zero. The threat is quite marginal and a level 1 is not issued. Farther east, weak instability will reduce the chance of severe storms as well.

British Isles

Strong QG forcing can be expected with the cut-off low moving northwards today. Moist maritime air that will spread into Ireland may destabilize in response to the lift, and showers and thunderstorms may develop during the period. Weak vertical wind shear near the trough's center will limit the severe potential.

Central Europe and Balkans

Weak vertical wind shear will limit the severe potential of storms in these regions. Given the cold air masses and mixed low-levels in the afternoon hours, small hail and gusty winds are forecast.