Storm Forecast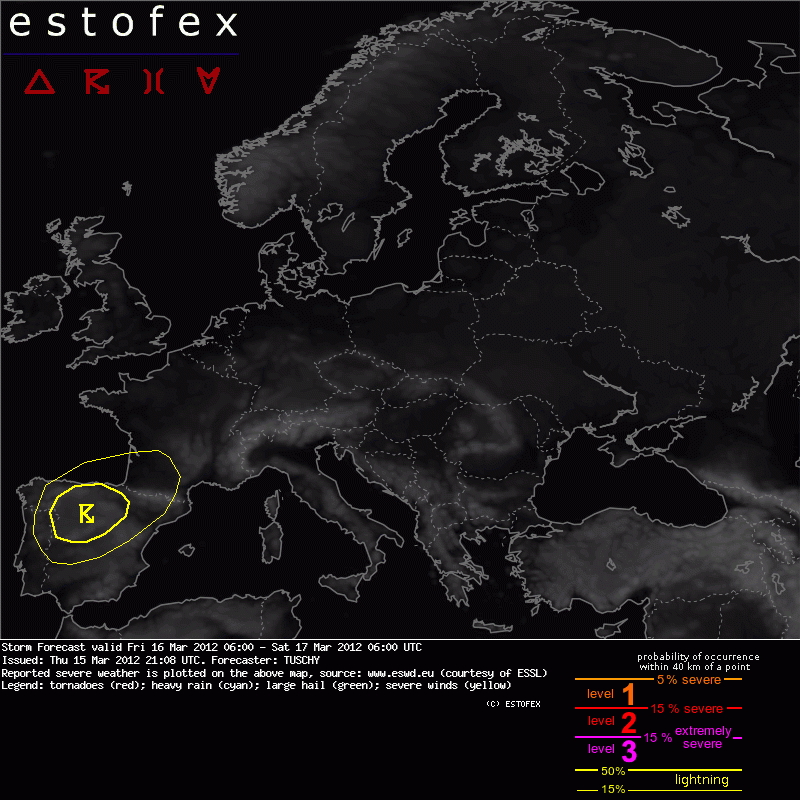 Storm Forecast
Valid: Fri 16 Mar 2012 06:00 to Sat 17 Mar 2012 06:00 UTC
Issued: Thu 15 Mar 2012 21:08
Forecaster: TUSCHY
SYNOPSIS

An upper low, well structured in WV imagery, affects the Iberian Peninsula during the forecast. This low gradually feels the influence of an approaching N-Atlantic trough, which results in a marginal speed-up of that low to the NE. At the same time, weakening is forecast and this trough will open up to a wave over France during the night.

Quiet conditions persist for the rest of Europe with strong ridging/surface high pressure in place. The progressive SW-erly flow over N-Europe results in unsettled weather with showers/sporadic short-lived thunderstorms. Marginal BL moisture and modest mid-level lapse rates preclude supportive CAPE build-up and therefore no thunderstorm area was added.

DISCUSSION

... Portugal and Spain...

Questionable boundary layer moisture damps overall thunderstorm probabilities. However, surface dewpoints are forecast to increase a bit beneath plume of steep mid-level lapse rates, which may offer up to 400 J/kg MLCAPE over N-Spain. 0-6 km DLS remains at or below 10 m/s, so pulsating and short-lived storms are forecast. The main risk will be marginal hail with an isolated large hail event possible due to steep lapse rates and a cool and dry subcloud layer. This may also assist in a few strong downdraft events. Limited instability and weak shear preclude a level 1. After sunset, a cooling BL assists in a rapid decay of showers and thunderstorms.

... France 18Z onwards ...

Steep mid-level lapse rates mix northeastwards ahead of a cold front, which approaches NW France during the night hours from the NW. At the same time, a tongue of maritime air advects ahead of the cold front beneath those lapse rates. Also, a weak pre-frontal convergence zone sets-up from W-CNTRL France to NE France with weak forcing above. GFS again is the only model with more robust surface dewpoints recovery ahead of the front, whereas the rest of the models remain much more conservative. Some MUCAPE evolves over N-France but weak forcing prevents thunderstorm initiation. We can't rule out an isolated and short lived non-severe thunderstorm event over N-France, but expected coverage remains too sporadic for a lightning area.

We expanded the 15-% thunderstorm all the way towards SW-France, where EZ and GFS both indicate enough MLCAPE for an isolated thunderstorm event before 00Z.