Storm Forecast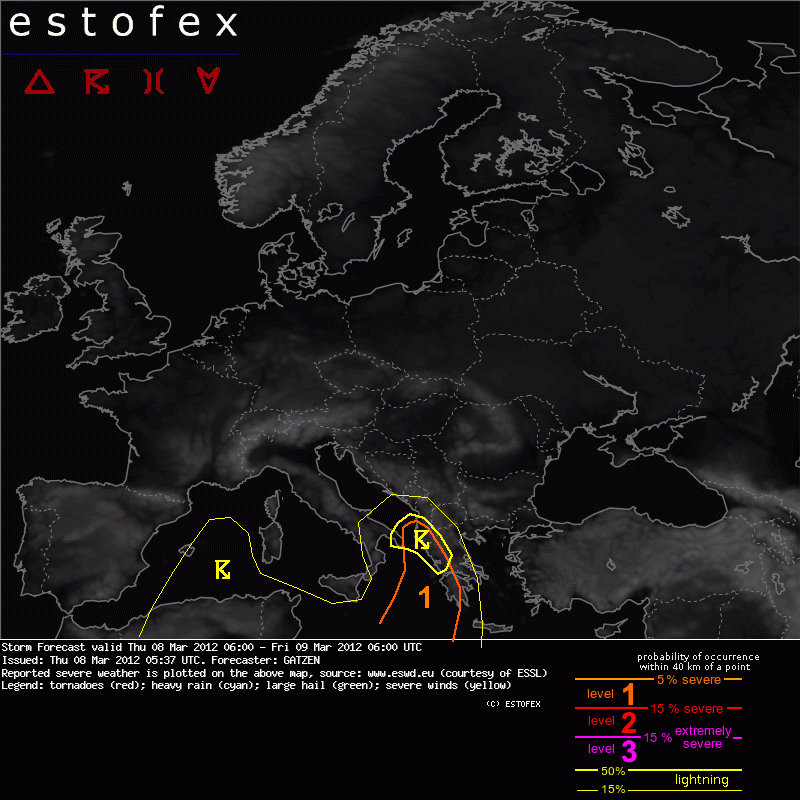 Storm Forecast
Valid: Thu 08 Mar 2012 06:00 to Fri 09 Mar 2012 06:00 UTC
Issued: Thu 08 Mar 2012 05:37
Forecaster: GATZEN
A level 1 was issued for the Ionian Sea region mainly for tornadoes and excessive precipitation.

SYNOPSIS / DISCUSSION

Weak geopotential is present over Europe. A high over the north-eastern Atlantic ridges into Scandinavia associated with a new jet streak moving southward across western Europe today. The best potential of deep moist convection is expected from southern Italy to Greece. Ahead of a cold front, moist low-level air masses advect northward. Rather steep lapse rates overlap this moisture tongue given cold mid-level air masses as indicated by latest Brindisi sounding. The cold front provides a source of lift and thunderstorms have already formed in the Sicily and southern Italy region. Together with the frontal system, these storms are forecast to spread north-eastward affecting Greece and the southern Adriatic region today.

The storms will occur together with a southerly low-level jet reaching 15-20 m/s at 850 hPa. This provides strong low-level vertical wind shear of 10-12 m/s and favorably veering profiles with SRH 200 mē/sē in the lowest km. This supports a slight threat of rotating updrafts and tornadoes given the rather good low-level buoyancy. Additionally, upslope flow along the Balkan coasts and a potential for back-building storms pose a threat of locally excessive precipitation. During the day, the threat will weaken as the lapse rates and low-level winds will weaken as well.

The thunderstorm potential is low over most of the remaining forecast region. Some storms may develop at the cyclonically sheared flank of the new jet streak impulse from central Germany across the Alps to the west Mediterranean, but the low-level moisture is rather limited except for the northern regions of Algeria and surroundings, where storms are a little bit more likely. Organize storms are not forecast due to the weak instability and vertical wind shear.