Storm Forecast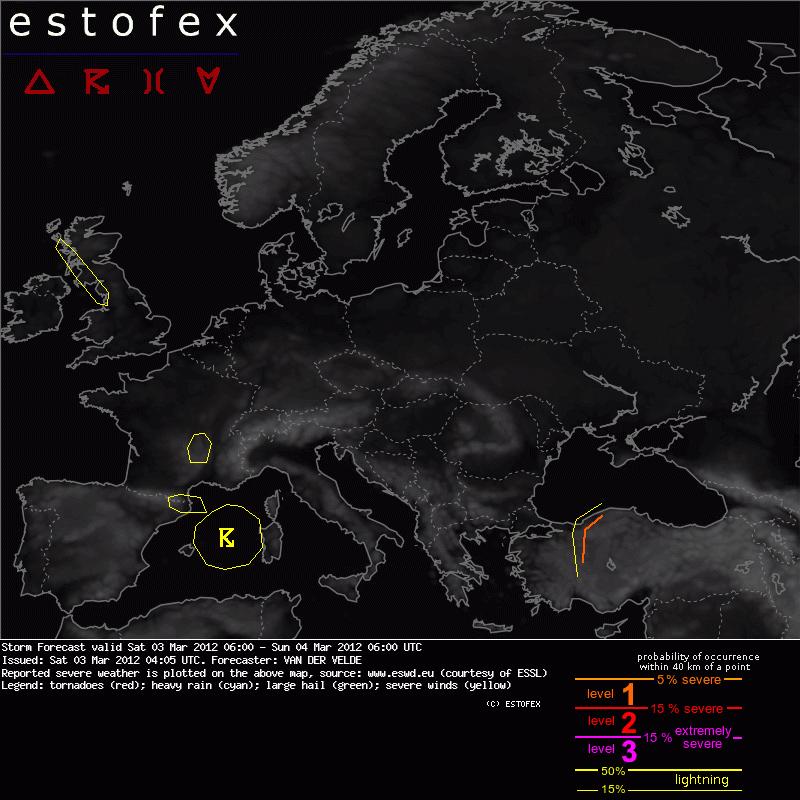 Storm Forecast
Valid: Sat 03 Mar 2012 06:00 to Sun 04 Mar 2012 06:00 UTC
Issued: Sat 03 Mar 2012 04:05
Forecaster: VAN DER VELDE
A level 1 was forecast for northern Turkey mainly for a chance of isolated severe convective wind gusts / tornado.

SYNOPSIS and DISCUSSION

The Iberian upper cut-off low shifts into the western Mediterranean. Weak CAPE will be present and also the cap is not zero, so activity will likely be sparse. Both GFS and HiRLAM produce a thunderstorm just south of the Pyrenees in northeastern Spain, but HiRLAM produces more precipitation and is less capped than GFS due to much higher mixing ratios. It also has a more unstable situation with SBCAPE over southern France than GFS, but both do have slightly uncapped possibilities for a few locations.

A depression moving from the Black Sea into northern Turkey also spawns very slight CAPE but cold EL temperatures on its cold front in aforementioned models, but CIN seems limiting. Forcing on the other hand is strong and the situation may well produce a narrow convective line with some severe wind gusts and perhaps an isolated tornado, as low-level and deep layer shear (>35 m/s) are royally present.

Other slight instability appears around a backbent occlusion over the British isles. The cold front of the same depression lies over western France. The axis southern Norway-Italy lies under a ridge and has stable conditions.