Storm Forecast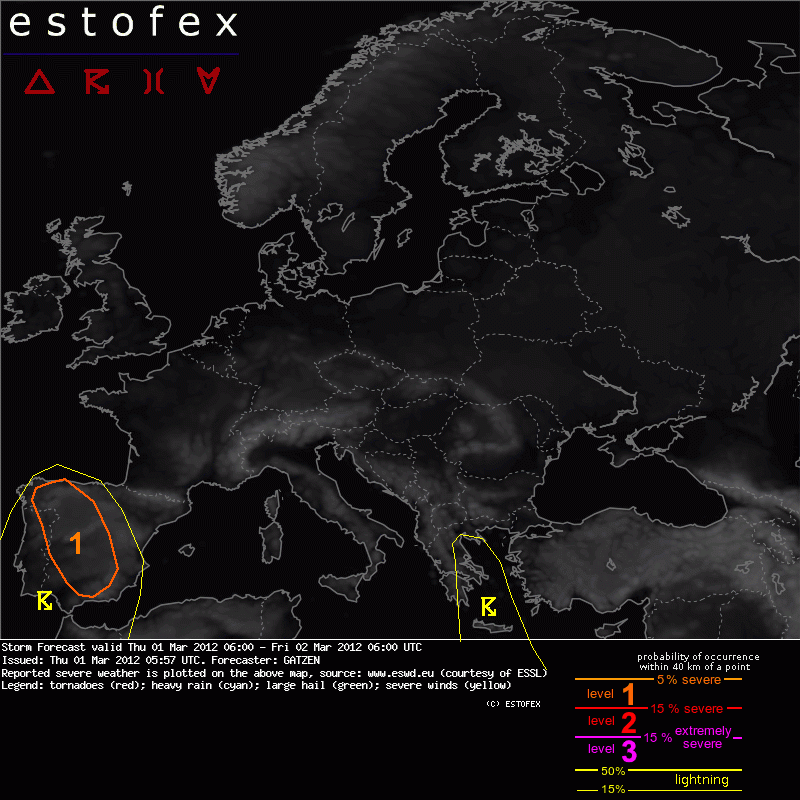 Storm Forecast
Valid: Thu 01 Mar 2012 06:00 to Fri 02 Mar 2012 06:00 UTC
Issued: Thu 01 Mar 2012 05:57
Forecaster: GATZEN
A level 1 was issued for central Spain mainly for severe wind gusts.

SYNOPSIS

A deep trough is located over eastern Europe. Cold and dry air masses spread into the east Mediterranean. Although only marginal moisture is present, some instability may develop over the Aegean Sea as the mid-level trough axis move southward leading to steep lapse rates. Low-level moisture is expected to be best over the western Aegean, where additional lift can be anticipated along the coasts. Some weak thunderstorms are forecast. Organized convection is not forecast given the very weak instability. Over western Europe, a broad ridge leads to weak lapse rates over most places. Over the Iberian Peninsula, a cut-off low will move eastward.

DISCUSSION

Iberia

Steep mid-level lapse rates have developed across the Iberian Peninsula. Latest Madrid sounding indicates an inverted-v profile up 600 hPa. Boundary-layer moisture is weak, but with diurnal heating, some CAPE will likely develop. High-based storms are forecast in the afternoon hours that will pose a threat of severe downbursts given the well-mixed and dry subcloud layer. Additionally, some large hail may occur locally. The overall threat is limited, though, and most storms are forecast to decay quickly given rather weak vertical wind shear.