Storm Forecast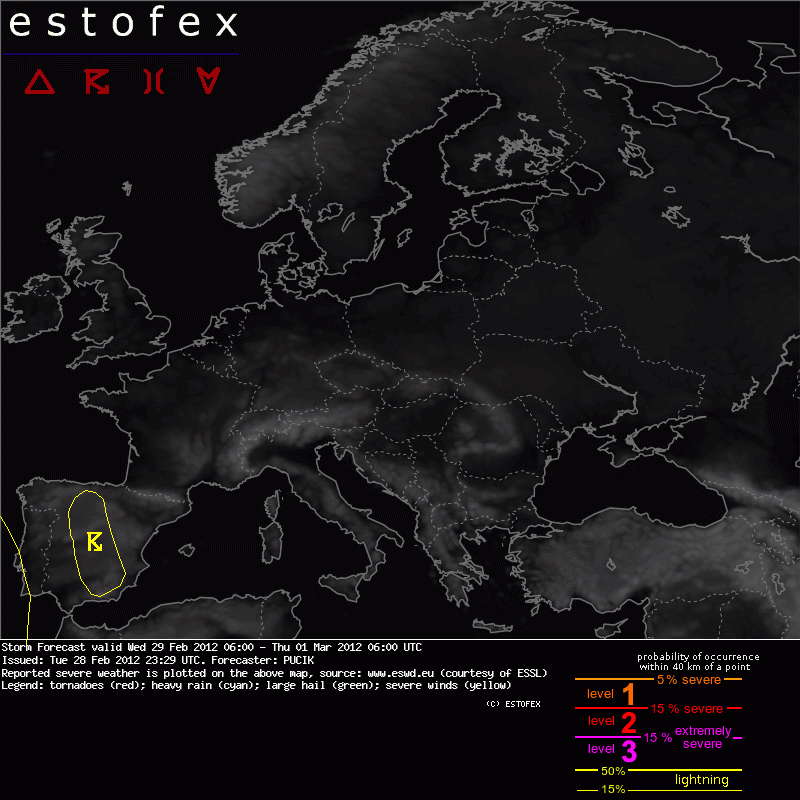 Storm Forecast
Valid: Wed 29 Feb 2012 06:00 to Thu 01 Mar 2012 06:00 UTC
Issued: Tue 28 Feb 2012 23:29
Forecaster: PUCIK
No threat levels have been issued.

SYNOPSIS and DISCUSSION

Two main synoptic scale features of the day will be a large, pronounced high pressure/high geopotential system centered over Eastern France and a deep trough stretching from Northern Scandinavia to Turkey. Both of the systems have significant meridional extent, with strong northerly flow developing between them. Surface pressure systems are less developed and feature also bipolar mode with a high pressure centred over France and a low pressure centred over Turkey.

Most of Europe will be thanks to relatively dry airmass combined with weak lapse rates in a stable environment, hostile to any DMC. Only two exceptions will be Spain, where marginal to weak instability is predicted by models and southeastern Europe. Weak forcing and/or wind shear with only marginal instability preclude enhanced chances of severe DMC and thus, no Level is required attm.