Storm Forecast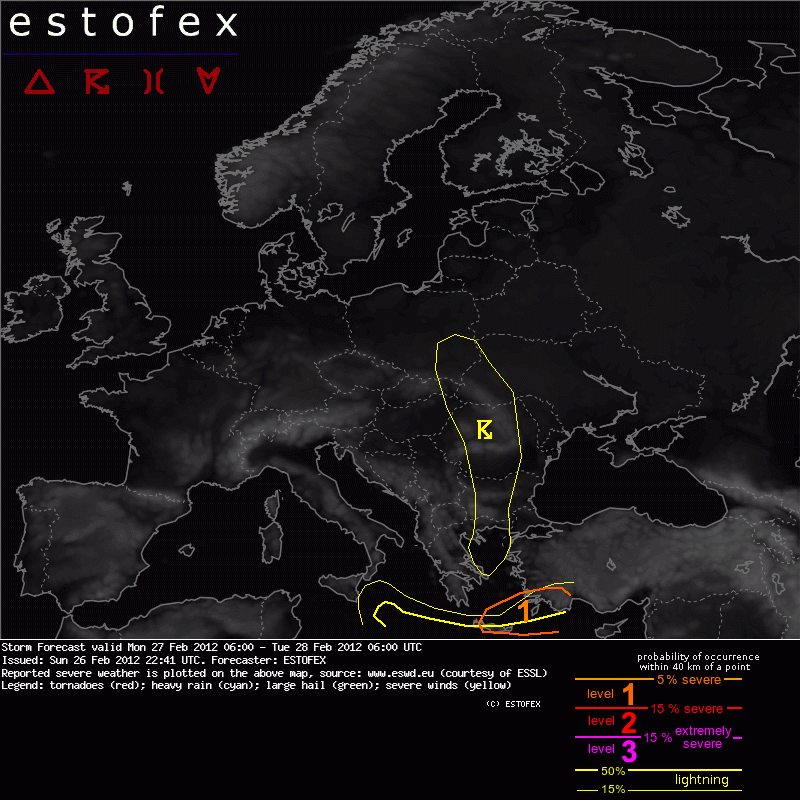 Storm Forecast
Valid: Mon 27 Feb 2012 06:00 to Tue 28 Feb 2012 06:00 UTC
Issued: Sun 26 Feb 2012 22:41
Forecaster: ESTOFEX
A level 1 was issued for Crete and surrounding areas mainly for heavy rainfall.

SYNOPSIS and DISCUSSION

A gradually evolving omega block becomes established over the NE Atlantic as seen in the latest CPC forecast. The set-up favors a constantly amplifying difluent trough over parts of CNTRL/E-Europe. It assists in a broad and unstable warm sector mainly atop and east of Crete which will be weakly sheared. Scattered to widespread showers and thunderstorms evolve beneath the trough with a rapid movement to the east
(and hence out of our forecast area). Heavy rainfall will be the dominant risk, especially if GFS solution verifies, showing a rapidly developing LL depression just S/E of Crete. This would place that island beneath an active deformation zone with heavy rainfall.

A low-end chance for a few storms exists during the period of maximized daytime heating over SE Poland, W-Ukraine, Slovakia all the way to Bulgaria and the NW Aegean Sea as an upper cold-core low moves in from the NW. Low-end CAPE precludes any severe risk, so only sleet and gusty winds are forecast with that sporadic activity.

Also a thunderstorm or two can't be ruled out over S-CNTRL Spain with cool mid-levels and strong diabatic heating in place. However latest surface dewpoint readings show low singles over CNTRL Spain and this is also seen in forecast soundings. Hence confidence in adequate CAPE build-up is too low for a 15-% area.